Quiche mit Blumenkohlkruste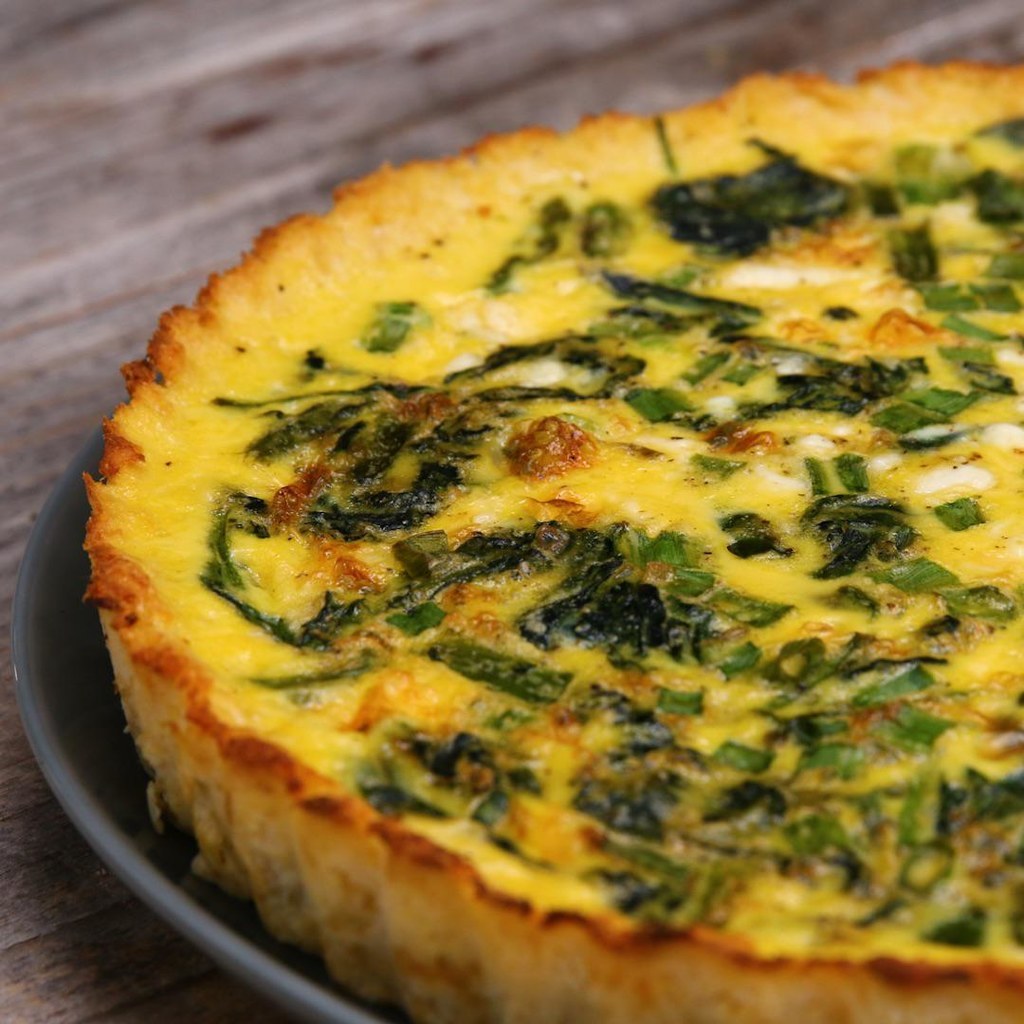 Zutaten:
Ergibt 8 Portionen
1 Blumenkohl, in Röschen geschnitten
55 g Parmesan, gerieben
¼ TL Knoblauchpulver
¾ TL Salz, aufgeteilt
6 Eier, aufgeteilt
240 ml Milch
50 g Feta, zerkrümelt
½ TL Pfeffer
½ EL Olivenöl
8 Stangen grüner Spargel, geschält und in Stücke von 2 cm geschnitten
160 g Babyspinat
4 Frühlingszwiebeln, gehackt
Zubereitung:
1. Backofen auf 220 °C vorheizen.
2. Den Blumenkohl in die Schüssel einer Küchenmaschine geben und zerkleinern, bis feine Krümel entstanden sind.
3. In ein mikrowellenfestes Gefäß geben und 5 Minuten in der Mikrowelle erhitzen. Vollständig abkühlen lassen.
4. Den gekochten Blumenkohl in ein Handtuch geben und so viel Wasser wie möglich auswringen. Flüssigkeit wegschütten.
5. Den Blumenkohl mit 1 Ei, Parmesankäse, Knoblauchpulver, und ¼ Teelöffel Salz in eine Schüssel geben.
6. Die Krustenmischung gleichmäßig in einem runden Kuchenblech verteilen und darauf achten, dass auch der Außenrand bedeckt ist.
7. 15-18 Minuten backen, bis die Mischung golden ist. Zur Seite stellen und abkühlen lassen.
8. Die Ofentemperatur auf 190 °C senken.
9. In einer anderen Schüssel 5 Eier, Milch, zerkrümelten Fetakäse, ½ Teelöffel Salz und Pfeffer verquirlen.
10. Olivenöl in einer mittelgroßen Pfanne bei mittlerer Hitze erwärmen. Spargelstücke zugeben und garen, bis sie leicht zart geworden sind.
11. Den Spinat zugeben und garen, bis er schlaff ist.
12. Die Spargel-Spinat-Mischung auf der Lage mit der Blumenkohlkruste verteilen. Die Ei-Käse-Mischung darüber gießen und mit Frühlingszwiebeln bestreuen.
13. 45 Minuten backen oder so lang, bis die Quiche stockt und einen leichten Goldton annimmt.
14. Vor dem Servieren 15 Minuten abkühlen lassen.
15. Guten Appetit!
Dieser Artikel erschien zuerst auf Englisch.
Looks like there are no comments yet.
Be the first to comment!