Matcha-Schicht-Käsekuchen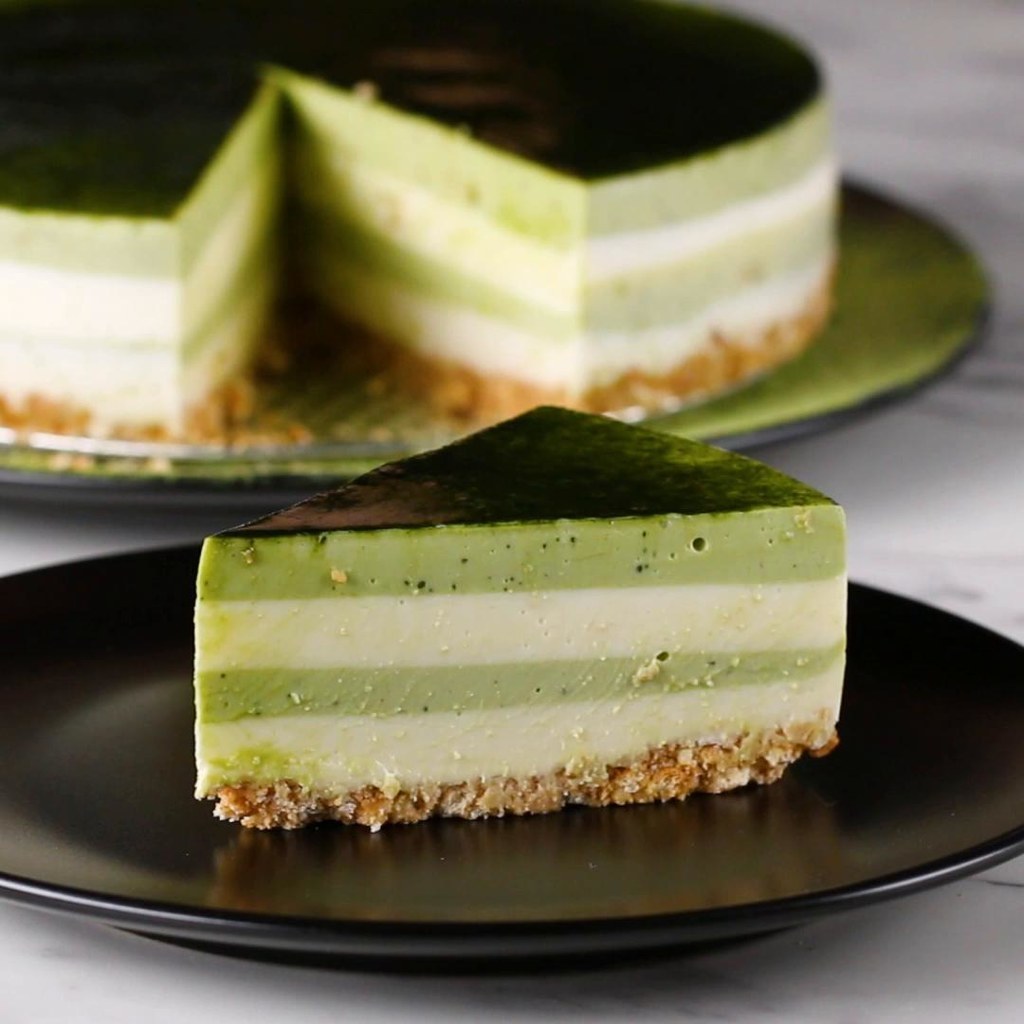 ZUTATEN:
8 Portionen
140g Kekse
80g zerlassene Butter
2 EL Milch
5 TL Gelatinepulver
2 EL Wasser
400g Frischkäse
120g Zucker
400g Joghurt
400ml (1 2/3 Tassen) Schlagsahne
2 Esslöffel Wasser, heiß
2 Esslöffel Matcha-Pulver
SO WIRD'S GEMACHT:
1. Den Keks in einen Reißverschlussbeutel geben und fein zerdrücken. In eine Schüssel geben, zerlassene Butter und Milch dazugeben und verrühren.
2. Die Mischung in eine Form (Durchmesser 20 cm) geben und in Form bringen, in dem du sie mit den Fingern festhältst. In den Kühlschrank stellen und abkühlen lassen (ca. 30 Minuten).
3. Gelatine in eine hitzebeständige Schale geben, Wasser hinzugeben und aushärten lassen.
4. Zucker zum Frischkäse geben und gut verrühren. Joghurt und Schlagsahne dazugeben und gut mischen.
5. Gelatine ca. 30 Sekunden bei 600W in der Mikrowelle erhitzen und alle 15 Sekunden gut durchmischen. Wenn die Gelatine flüssig wird, mische sie gut.
6. Die Mischung in zwei gleiche Teile teilen, den mit heißem Wasser geschmolzenen Matcha dazugeben und gut vermischen.
7. Die Hälfte der weißen Füllung in den Boden der Form gießen, 15 Minuten in den Gefrierschrank stellen und aushärten lassen.
8. Die Hälfte der Füllung mit dem Matcha in die Form geben und 15 Minuten abkühlen lassen.
9. Wiederholen, bis alles verbraucht ist.
10. Im Kühlschrank ca. 3 Stunden abkühlen lassen.
11. Den Kuchen aus der Form nehmen und mit Matcha bestreuen.
12. Guten Appetit!
Dieser Artikel erschien zuerst auf Englisch.
Looks like there are no comments yet.
Be the first to comment!