Chili-cheese Garlic Bread Rolls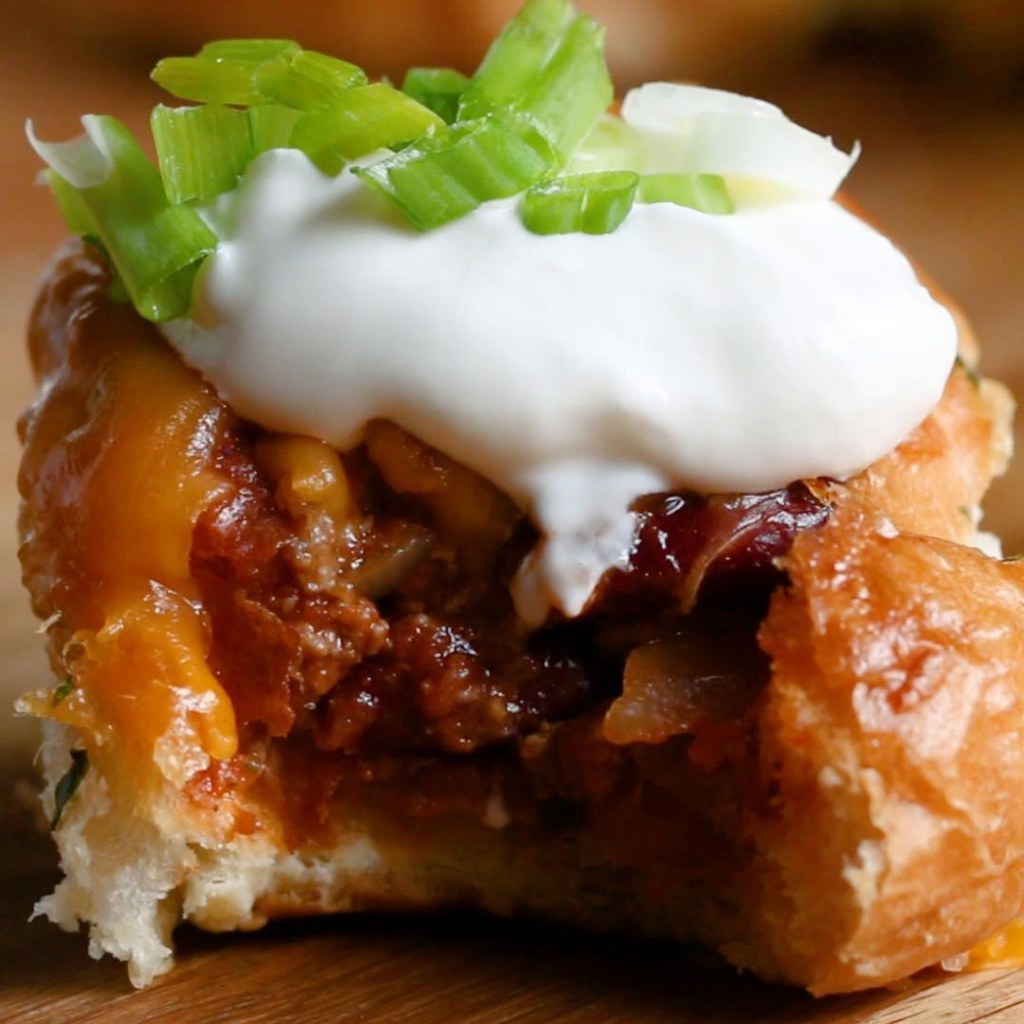 Zutaten
Ergibt 12
Chili
1 Zwiebel, gewürfelt
3 Knoblauchzehen, gehackt
450 g Hackfleisch
1 TL Salz
1/2 TL Pfeffer
425 g Tomatensauce
1 TL Kreuzkümmel
1 TL Oregano, getrocknet
1 TL Chilipulver
425 g Kidney-Bohnen, abgetropft
Knoblauch-Butter
55 g Butter, geschmolzen
2 Knoblauchzehen, gehackt
1 EL frische Petersilie, geschnitten
1 EL geriebener Parmesan
12 kleine Brötchen
50 g geriebener Cheddar
Sour Cream, zum Servieren
Frühlingszwiebeln, geschnitten, zum Servieren
Zubereitung
1. Öl in einem großem Topf auf mittlerer Flamme erhitzen. Zwiebel hinzufügen und braten, bis sie durchsichtig sind.
2. Knoblauch hinzufügen und für 2 Minuten kochen.
3. Hackfleisch hinzufügen und mit Salz und Pfeffer würzen. Das Hackfleisch mit einem Holzlöffel verteilen und braten, bis es braun wird.
4. Tomatensauce, Kreuzkümmel, Oregano und Chili-Pulver hinzugeben. Verrühren, bis alles gut vermischt ist.
5. Auf niedrige Hitze umschalten, mit einem Deckel abdecken und 1 Stunde köcheln lassen.
6. Deckel abnehmen und Kidney Bohnen einrühren.
6. Ofen auf 200°C.
7. Butter, Knoblauch, Petersilie und Parmesan in eine Schüssel geben. Verrühren, bis alles eins ist.
8. Die Brötchen auf ein Backblech legen. Schneide mit einem Messer oben einen Kreis ins Brötchen. Drücke das weiche nach unten, um einen soliden Boden zu bekommen.
9. Bepinsele das Brötchen mit Knoblauchbutter und backe es für 5 Minuten, bis es leicht getoasted ist.
10. Mit einem Löffeln das Chili ins Brötchen füllen.
11. Mit Cheddar berieseln und noch einmal für 5 Minuten backen oder bis der Käse geschmolzen ist.
12. Mit Sour Cream und Frühlingszwiebeln darauf servieren.
13. Guten Appetit!
Inspiriert von: Cheesy Chicken Parmesan Roll
HIER folgst du Einfach Tasty auf Youtube und HIER folgst du Einfach Tasty auf Facebook.

Dieser Artikel erschien zuerst auf Englisch.
Looks like there are no comments yet.
Be the first to comment!