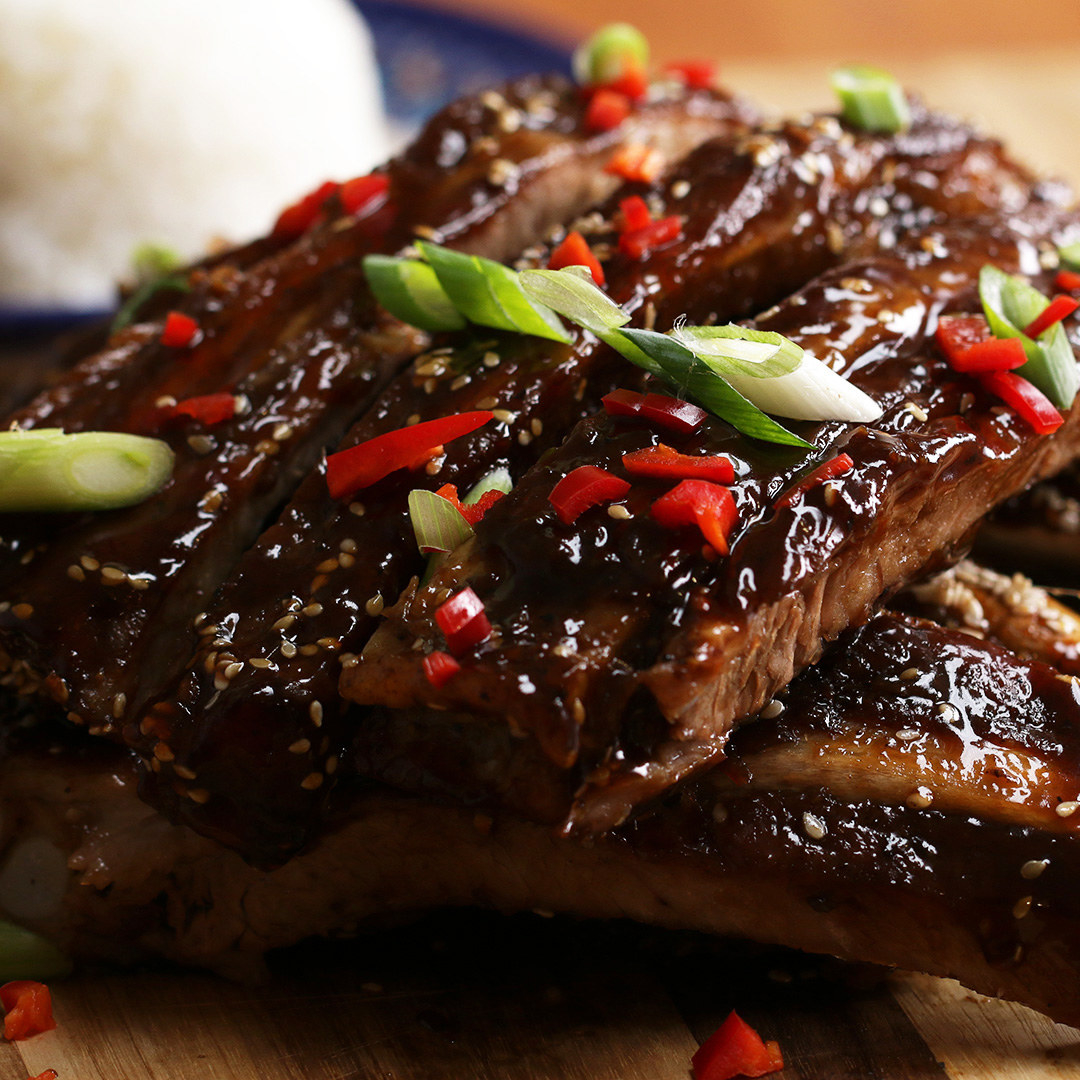 Zutaten:
Reicht für 3-4 Personen
1 Reihe Spare ribs
Gewürze
1 EL Salz
1 EL Pfeffer
1 EL Asiatische Gewürzmischung mit Sternanis, Szechuanpfeffer, Zimtkassis, Gewürznelke und Fenchel)
Marinade
1 EL gehackter Knoblauch
1 EL gehackter Ingwer
1 Zwiebel, gehackt
3 EL Hoisin Sauce
200 ml Hühnerbrühe
BBQ Sauce
übrigebliebene Flüssigkeit aus dem Slow Cooker
50 ml Wasser
2 TL Maismehl
2 EL brauner Zucker
2 EL Sesamsamen
Frühlingszwiebeln und rote Chili zum Verzieren
Reis als Beilage
Zubereitung
1. Würze die Spare Ribs mit Salz, Pfeffer und der asiatischen Gewürzmischung.
2. Die Ribs in den Slow Cooker geben, zusammen mit dem Knoblauch, Ingwer, Zwiebel, Hoisin Ssauce und der Hühnerbrühe. Vermische die Zutaten mit deinen Händen.
3. Auf hoher Stufe 3 Stunden, oder auf niedriger Stufe 6 Stunden kochen lassen.
4. Den Ofen auf 170°C vorheizen.
5. Wenn die ribs gekocht sind, sie vorsichtig aus dem Cooker rausnehmen und auf ein mit Alufolie ausgelegtes Backblech legen.
6. Um die BBQ Sauce vorzubereiten, nimm die restliche Flüssigkeit aus dem Slow Cooker und gieße sie in eine Bratpfanne, die auf mittlerer Hitze steht.
7. In einer kleinen Schüssel das Wasser und das Maismehl mischen und dann in die Pfanne einrühren. Die restlichen Zutaten hinzugeben und solange köcheln, bis eine zähflüssige Sauce entstanden ist.
8. Diese Sauce beidseitig auf den Rippchen verteilen und für 15 Minuten backen.
9. Die Rippchen schneiden und mit Frühlingszwiebeln und rotem Chili verzieren.
10. Mit Reis servieren. Guten Appetit!!
Looks like there are no comments yet.
Be the first to comment!