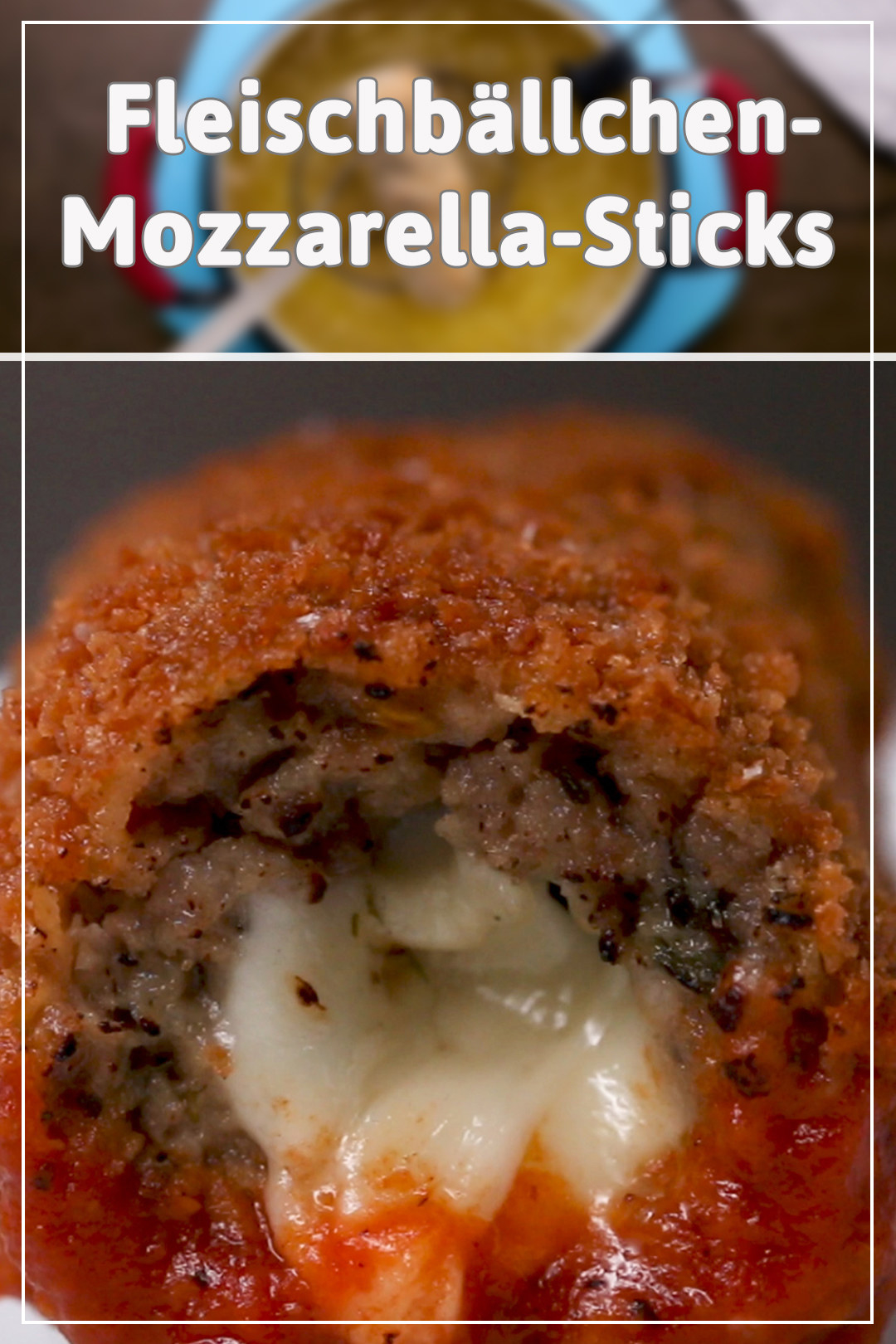 Zutaten:
für 12 Portionen
450 g Rinderhack
450 g Schweinehack
½ Zwiebel, fein gehackt
4 Knoblauchzehen, fein gehackt
2 Eier
90 g Paniermehl
Salz nach Belieben
Pfeffer nach Belieben
1 EL getrocknetes Basilikum
1 EL getrockneter Oregano
1 EL getrocknete Petersilie
12 Stück Mozzarellasticks
250g Mehl
4 Eier, verquirlt
350 g Paniermehl
Marinarasauce, zum Anrichten
Zubereitung:
1. Rind, Schwein, Zwiebel, Knoblauch, Paniermehl, verquirlte Eier, Salz, Pfeffer, getrocknetes Basilikum, getrockneten Oregano, getrocknete Petersilie und rote Paprikaflocken in eine große Schüssel geben. Umrühren, damit sich alles vermengt.
2. 50 g Fleisch auf der Handfläche zu einer dünnen Frikadelle formen.
3. Ein Mozzarellastück in die Mitte der Frikadelle legen und mit dem Hackfleisch umschließen. Mit dem Rest wiederholen.
4. Den Fleischbällchen-Mozzarella-Stick zuerst in Mehl, dann in verquirltem Ei und zum Schluss in Paniermehl wenden. Mit den anderen wiederholen.
5. Mozzarella-Sticks bei 180 ° C in Olivenöl frittieren bis sie außen goldbraun sind und das Fleisch durch ist, was etwa 5 Minuten dauert. Mozzarella-Sticks aus der Pfanne nehmen und auf einem Gitter abtropfen lassen. Mit Salz abschmecken.
6. Die Fleischbällchen-Mozzarella-Sticks mit Marinarasauce servieren.
7. Guten Appetit!
Dieser Artikel erschien zuerst auf Englisch.
Looks like there are no comments yet.
Be the first to comment!