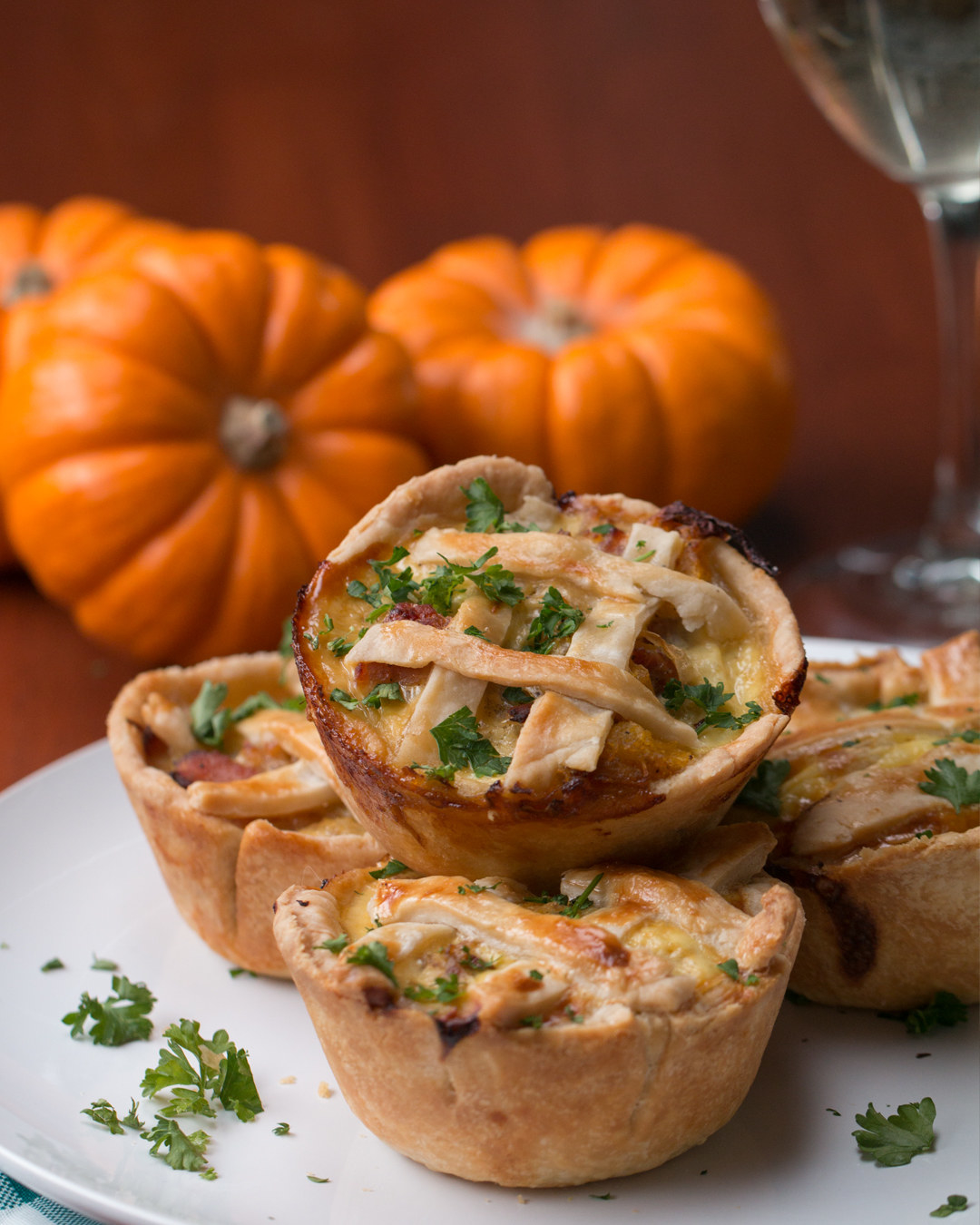 ZUTATEN:
Pastetenteig (Die Mini-Zwiebelkuchen können auch mit Quark-Öl Teig oder Hefeteig gemacht werden):
150 g Mehl
120 g Butter (kalt und in Stücke geschnitten)
60 ml kaltes Wasser
Prise Salz
Füllung
350 g Zwiebeln, fein geschnitten
350 g Kürbis (zum Beispiel Hokkaido)
150 g Speckwürfel
¼ TL Salbei, gerieben
Öl zum Braten
2 Eier
100 g Saure Sahne
50 ml Milch
Salz, Pfeffer
Ei zum Bestreichen
ZUBEREITUNG:
1. Wenn Pastetenteig für die Mini-Zwiebelkuchen gewünscht ist, mit den Händen in einer großen Schüssel Mehl, Butter und Salz vermischen, bis grobe Brösel entstehen. Dann kaltes Wasser teelöffelweise hinzugeben, bis ein Teigball entsteht. 4 Stunden in Folie gewickelt im Kühlschrank ruhen lassen.
2. Ofen auf 170˚C vorheizen.
3. Speckwürfel in etwas Öl anbraten. Zwiebelringe und Kürbis hinzugeben, bis die Zwiebeln glasig und der Kürbis goldbraun sind. Mit Salz, Pfeffer und Salbei würzen. Dann abkühlen lassen.
4. Pastetenteig auf einer bemehlten Fläche mit einem Nudelholz zu einem gleichmäßig dünnen Teig rollen. Mithilfe einer Schüssel 6 Kreise mit ungefähr 10 cm Durchmesser ausstechen und in eine 6-er Muffinform geben.
5. Eier, Saure Sahne und Milch verrühren, mit Salz und Pfeffer würzen.
6. Die Zwiebel-Speck-Kürbis-Mischung auf dem Teig verteilen.
7. Eiermasse gleichmäßig über die Zwiebeln gießen. Nach Belieben mit den Teigresten dekorieren.
8. Den Rand und die Deko mit einem verquirlten Ei bestreichen.
9. Für etwa 40 Minuten backen oder bis die Eimasse gar und die Kruste goldbraun ist.
10. Guten Appetit!
Looks like there are no comments yet.
Be the first to comment!