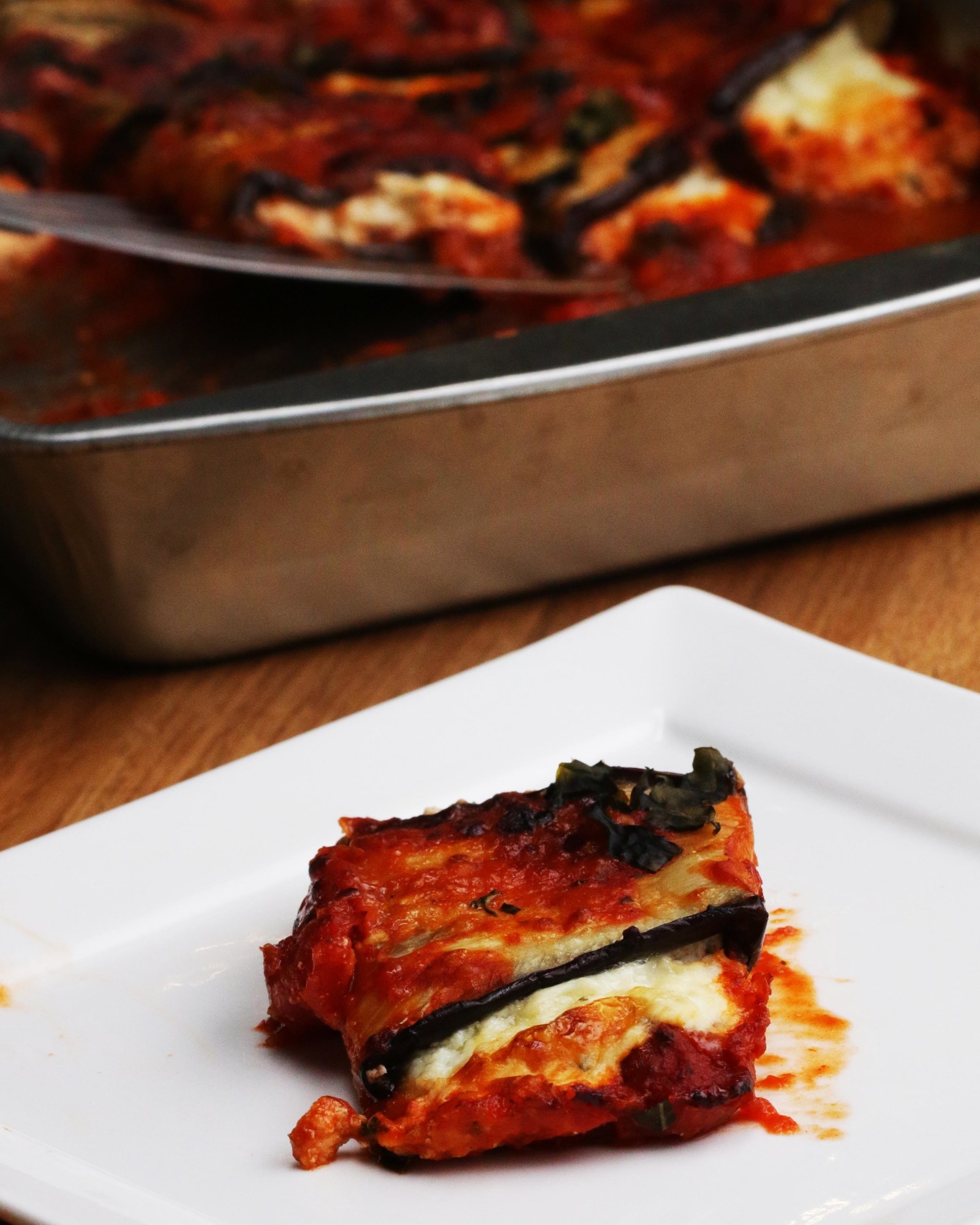 Hier siehst Du, wie Du die Auberginen-Lasagne-Röllchen ganz einfach selbst machen kannst:
Zutaten:
Ergibt: 13 Stück
500g Ricotta
100g Mozzarella
55g Parmesan
5g Basilikum
1 Ei
Salz
Pfeffer
250ml Tomatensauce
Zubereitung:
1. Ofen auf 175ºC vorheizen.
2. Schneide die Enden der Aubergine ab und schneide sie der Länge nach in einen halben Zentimeter breite Stücke. Lege sie auf ein mit Backpapier ausgelegtes Backblech.
3. Beide Seite der Auberginen-Scheiben salzen und für 20 Minuten einwirken lassen. Dann mit einem Tuch Küchenrolle abtupfen.
4. Für 20 Minuten in den Backofen, bis sie weich sind.
5. In der Zwischenzeit Ricotta, Mozzarella, Parmesan, Basiliukum und das Ei in einer Schüssel vermischen.
6. Die Auberginenscheiben aus dem Ofen nehmen und dann die Hitze des Ofens auf 200ºC stellen.
7. Ungefähr 2 Esslöffel der Käse-Masse auf eine Auberginen-Scheibe geben und dann aufrollen. Das mit allen Auberginen-Scheiben wiederholen.
8. Die Hälfte der Tomatensauce auf dem Backpapier verteilen, dann die Auberginen-Röllchen drauflegen. Dann der Rest der Sauce drübergeben. Zum Schluss noch Basilikum und Parmesan drüberstreuen.
8. 25 Minuten backen, bis der Käse geschmolzen und goldbraun ist.
9. Genießen!
Looks like there are no comments yet.
Be the first to comment!