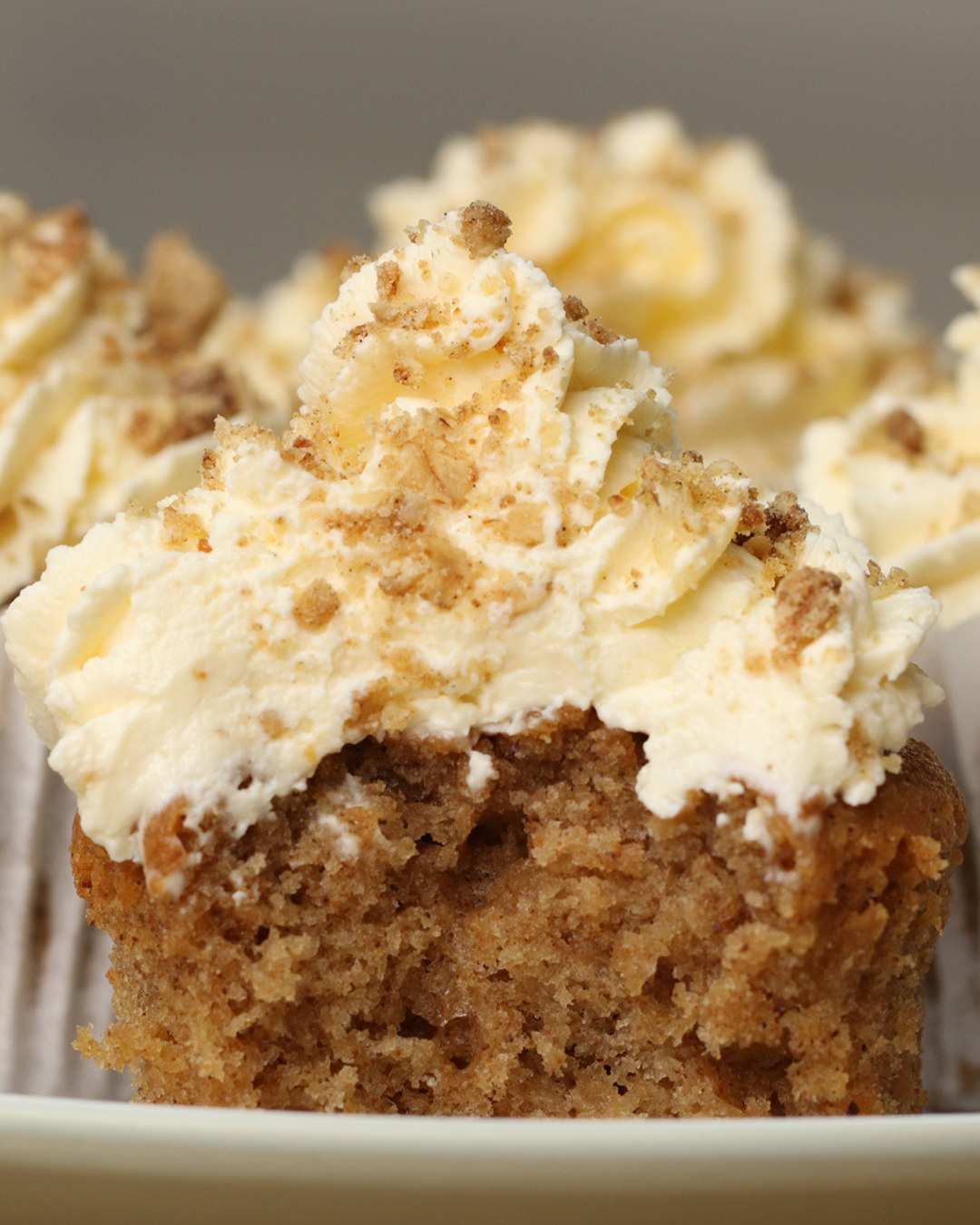 Zutaten
Apfel-Mischung
200 g Äpfel, gewürfelt
1 EL Rohrzucker
1 TL Zimt
1 TL Muskat
1 EL Zitronenschale
Saft einer halben Zitrone
1 TL Vanille-Extrakt
Cupcake-Teig
150 g ungesalzene Butter, weich
150 g Rohrzucker
150 g Mehl
1 TL Backpulver
1 EL Speisestärke
1 TL Zimt
½ TL gemahlene Nelken
3 Eier
Streusel-Teig
1 EL Mehl
2 EL Haferflocken
1 EL Rohrzucker
1 EL Butter
Für das Topping Schlagsahne benutzen.
ZUBEREITUNG
1. Ofen auf 160° C vorheizen.
2. In einem mittleren Topf die Äpfel, Zucker, Zimt, Muskat, Zitroneschale, Vanille-Extrakt und den Zitronensaft bis alles weich ist und gut duftet. Vom Herd nehmen und so lange zerdrücken, bis alles eine Masse ist ist. Abkühlen lassen.
3. Butter und Rohrzucker mit einem Handmixer verrühren. Dann das Mehl, Backpulver, Zimt und die gemahlenen Nelken hinzugeben und vermischen bis alles eine Masse ist. Dann ein Ei dazugeben und verrühren. Das mit den anderen beiden Eiern jeweils wiederholen.
4. Jetzt den Apfel-Mix in den Cupcake-Teig geben und unterheben.
5. Den fertigen Apfel-Cupcake-Teig jetzt in Cupcake-Förmchen bis zur Hälfte füllen. 30-35 Minuten backen und dann abkühlen lassen.
6. In einer kleinen Schüssel das Mehl, die Haferflocken, den Rohrzucker und die Butter mit den Händen kneten, bis ein Streuselteig entsteht. Auf einem Blech verteilen und bei 180°C für 5-10 Minuten im Ofen backen, bis sie goldbraun sind.
7. Die Cupcakes mit Schlagsahne verzieren und die Streusel darüber streuen.
8. Genießen!
Looks like there are no comments yet.
Be the first to comment!