Apfel-Feuerzangenbowle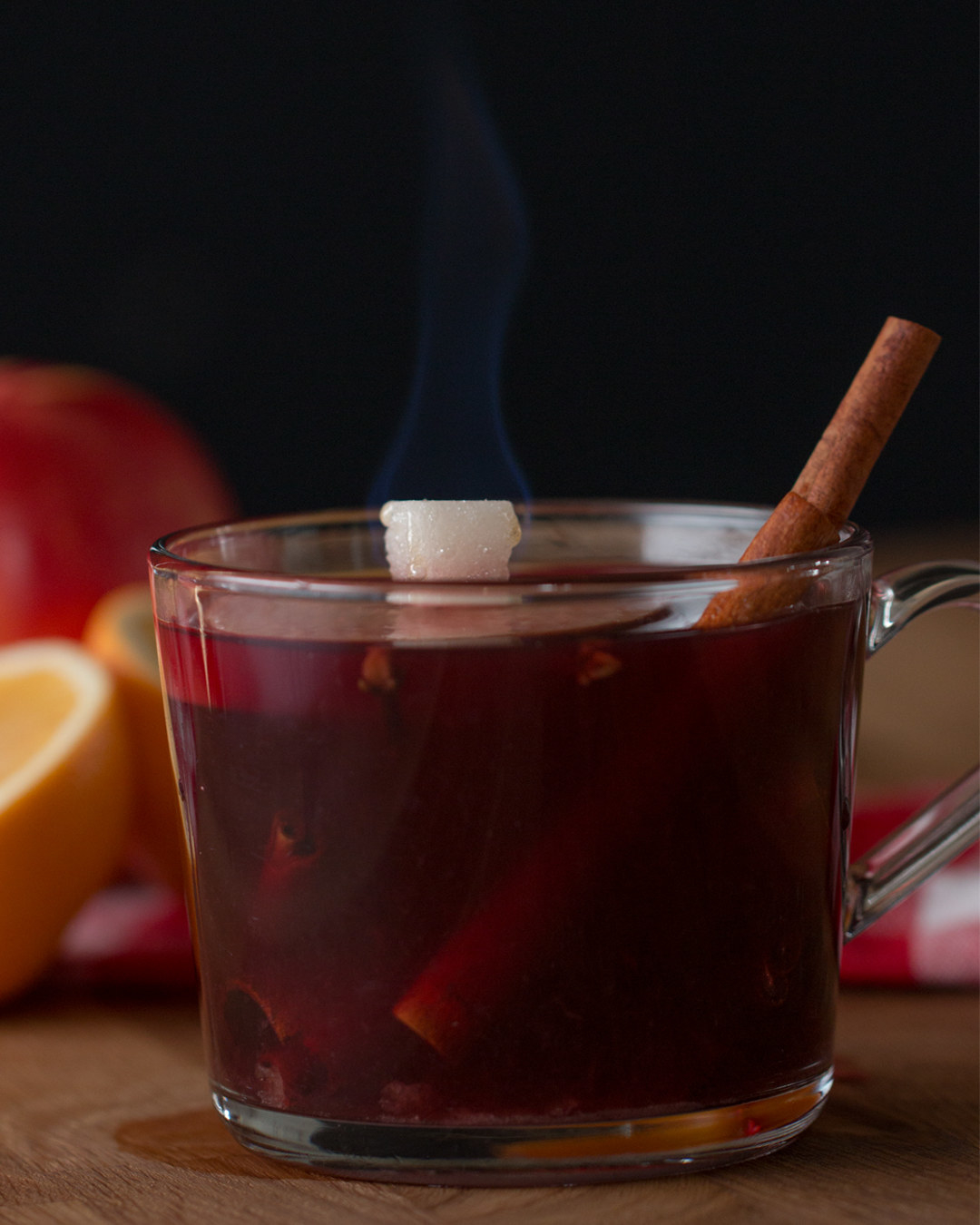 ZUTATEN:
Saft von 2 Orangen
2 Äpfel
¼ Liter Cidre
1 Liter Wein, rot
1 TL Nelken
8 Stangen Zimt
Zuckerwürfel
Rum (mindestens 54%), je nach Bedarf
Zucker, nach Geschmack
ZUBEREITUNG:
1. Orangen halbieren und auspressen.
2. Den Rotwein in einen mittelgroßen Topf geben. Den Fruchtsaft durch ein Sieb hinzugeben, um das Fruchtfleisch zu entfernen.
3. Cidre, Nelken und die Hälfte der Zimtstangen dazugeben und zum Sieden bringen, aber nicht kochen.
4. Apfel in 0,5 cm bis 1 cm dicke Scheiben schneiden, aber Schale und Stern in der Mitte intakt lassen. Die mittleren Scheiben mit einem sichtbaren Stern beiseite legen und die restlichen Enden in die Bowle geben.
5. Zum Servieren die Bowle in ein hitzebeständiges Glas füllen.
6. In den mittleren Scheiben mit Stern, die Löcher von Kernen und hartem Belag befreien, den Stern aber intakt lassen.
7. Die Apfelscheibe vorsichtig auf die Bowle geben, so dass sie schwimmt.
8. Einen Zuckerwürfel in Rum tränken und im Glas in der Mitte des Apfels platzieren.
9. Mit einem Stabfeuerzeug den Zuckerwürfel vorsichtig anzünden, bis er Blasen schlägt und man eine bläuliche Flamme sieht.
10. Wenn nötig, vorsichtig mit einem Löffel Rum nachgießen, bis der Zucker vollständig geschmolzen ist.
11. Mit einer Zimtstange gut umrühren und heiß genießen. Wem es noch nicht zu süß ist, der kann den Schmelzvorgang mit dem Zucker wiederholen oder einfach mehr Zucker in das heiße Getränk geben.
Looks like there are no comments yet.
Be the first to comment!