Guacamole-Zwiebel-Ringe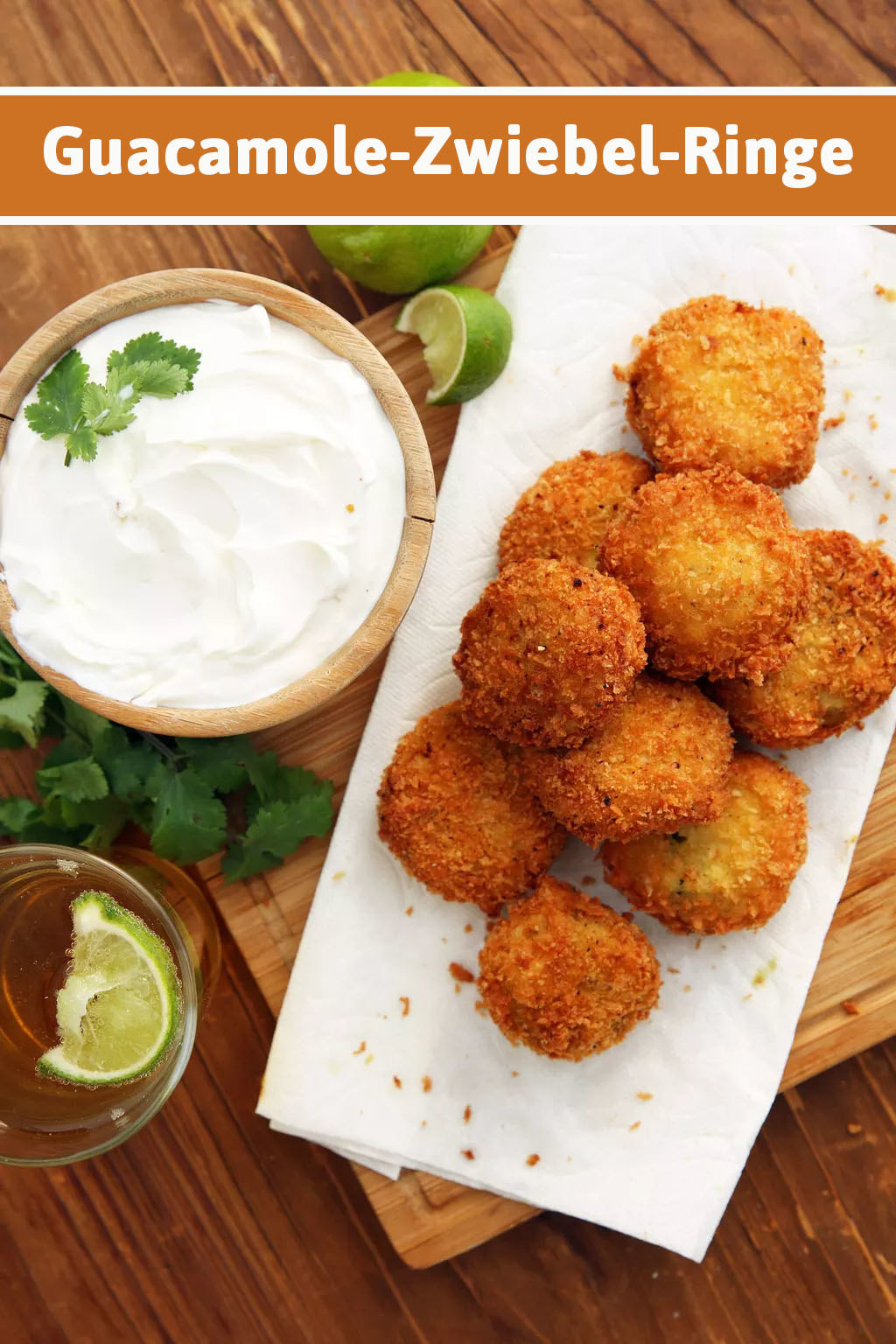 Zutaten:
3 reife Avocados
1 Limette
1Tomate, gewürfelt und entsaftet
1/4 Tasse gehackter Koriander
2 Knoblauchzehen, gehackt
1 Teelöffel Salz
1/2 Teelöffel Chilipulver
2 klein- bis mittelgroßge Zwiebeln
Mehl
2 geschlagene Eier
2 Tassen Panko-Brotkrümel
Öl zum Braten
Zubereitung:
1. In einer mittelgroßen Rührschüssel die Avocados mit dem Saft einer Limette pürieren. Mit gewürfelten Tomaten, Koriander, Knoblauch, Salz und Chilipulver mischen.
2. Die Zwiebel in etwa 1 cm dicke Scheiben schneiden. Vorsichtig die Schichten in einzelne Ringe zertrennen. Die Zwiebelringe auf einem mit Wachspapier ausgelegten Tablett verteilen und jeden mit Guacamole füllen. Das Tablett in einen Tiefkühler stellen, bis die Masse fest ist (etwa eine Stunde).
3. Mehl, geschlagene Eier und Semmelmehl in drei getrennten Schüsseln füllen. Die gefrorenen Guacamole-Ringe aus dem Tiefkühler nehmen. Jeden erst in Mehl, dann in Ei und zuletzt im Semmelmehl wälzen.
4. Das Öl in einer großen Pfanne auf 180°C aufheizen. Die Zwiebelringe nacheinander braten, bis sie auf beiden Seiten braun sind. Auf einen Teller mit einem Papiertuch legen, um überschüssiges Öl aufzunehmen.
5. Mit Salz und Limettensaft abschmecken.
6. Mit saurer Sahne servieren.
7. Guten Appetit!
Looks like there are no comments yet.
Be the first to comment!