Rindereintopf-Kartoffelgratin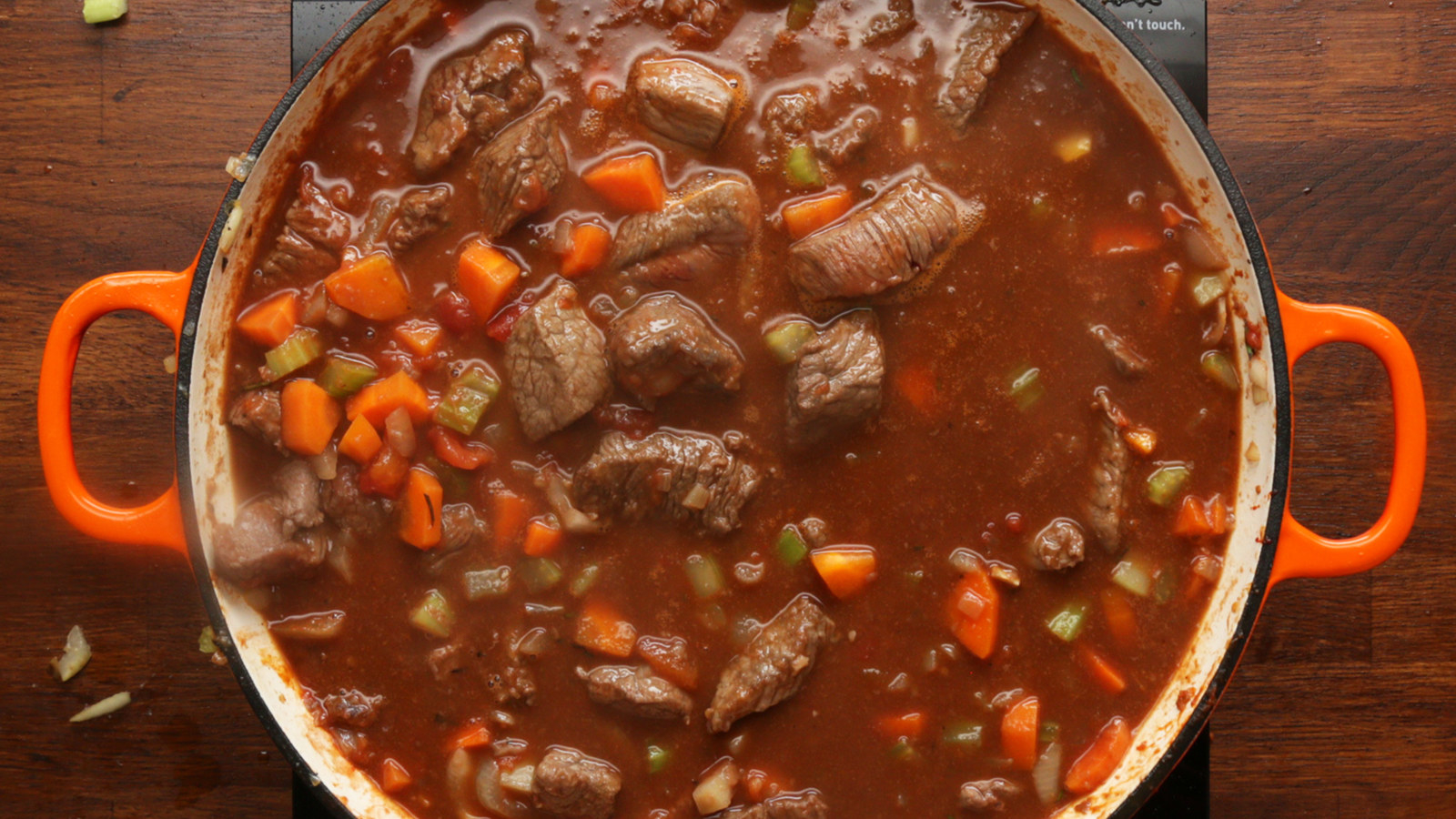 ZUTATEN
6-8 Personen
500 g Rindfleisch
50 g Mehl
Olivenöl
1 gewürfelte Zwiebel
2 gewürfelte Möhren
2 gewürfelte Selleriestangen
2 EL Tomatenpüree
2 gewürfelte Knoblauchzehen
Rosmarin
200 g gewürfelte Tomaten
125 ml Rotwein
300 ml Rinderbrühe
2 große Kartoffeln, in feine Scheiben geschnitten
2 El geschmolzene Butter
Salz
Pfeffer
Thymian
50 g geriebener Gruyère
ZUBEREITUNG
1. Ofen auf 180°C vorheizen.
2. Das Mehl mit Salz und Pfeffer vermengen und Rindfleisch darin wenden. Das Fleisch in einer tiefen ofenfesten Pfanne mit Olivenöl scharf anbraten und dann beiseite stellen.
3. Mehr Öl hinzufügen und die Zwiebeln glasig dünsten. Die Möhren und die Sellerie hinzufügen und 3-5 Minuten braten. Dann den Knoblauch hinzufügen und weitere 2 Minuten braten.
4. Das Tomatenpüree und Rosmarin hinzugeben und für weitere 2-3 Minuten braten. Danach die gehackten Tomaten hinzufügen und das Ganze 2 Minuten lang köcheln lassen. Nach und nach den Rotwein hinzugeben und weiter köcheln lassen. Die Rinderbrühe hinzufügen und 10 Minuten lang köcheln lassen.
5. Den Eintopf 2 Stunden lang köcheln zugedeckt köcheln lassen.
6. Deckel entfernen und den Eintopf mit dünnen Kartoffelscheiben bedecken, die einander überlappen.
7. Die geschmolzene Butter, das Salz, den Pfeffer und eine Prise Thymian über den Auflauf geben und bei 200°C 45 Minuten lang ohne Topf in den Ofen stellen.
8. Wenn die Kartoffeln durch sind, die Pfanne aus dem Herd nehmen und mit dem geriebenen Gruyère bestreuen. Danach nochmal 5 - 10 Minuten backen.
9. Guten Appetit!
Looks like there are no comments yet.
Be the first to comment!