Kartoffelpuffer mit Käse und Bacon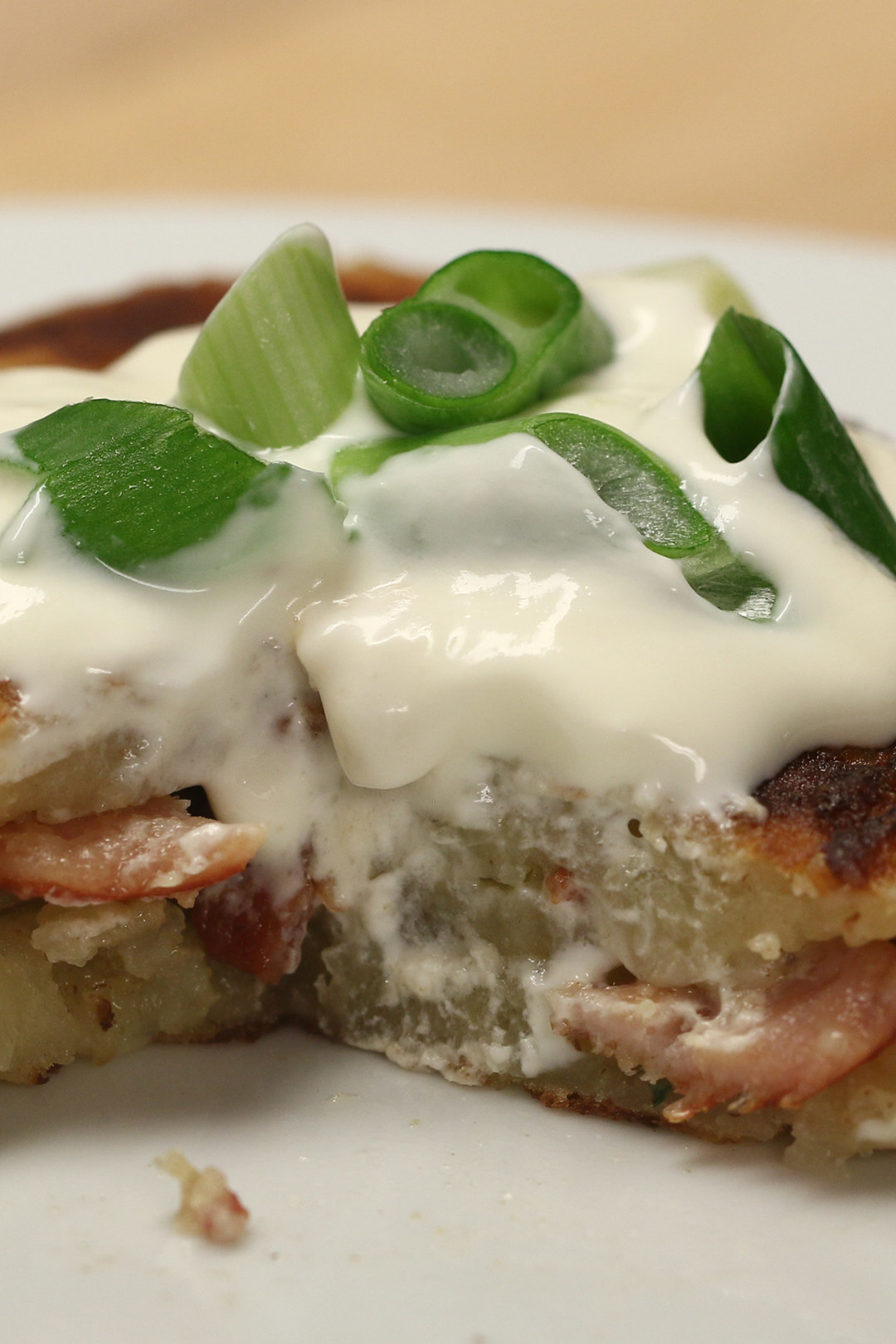 ZUTATEN
300 g rohe Kartoffeln (gerieben)
300 g Kartoffelbrei
250 g Mehl
20 g geschmolzene Butter (etwa 2 EL)
Salz
Pfeffer
geriebener Käse
ein paar Scheiben gebratener Bacon
saure Sahne
Frühlingszwiebeln
Butter
ZUBEREITUNG
1. Kartoffeln schälen und mithilfe einer Vierkantreibe zerreiben. Die geriebenen Kartoffeln dann auf ein Tuch geben und den überschüssigen Kartoffelsaft auswringen.
2. Die Kartoffelmasse mit Kartoffelbrei und Mehl vermengen und die geschmolzene Butter hinzufügen. Nach Wunsch würzen.
3. Nach und nach Milch hinzufügen und das Ganzen zu einem gleichmäßigen, etwas klebrigem Teig verrühren. Ist der Teig zu feucht, etwas Mehl hinzugeben.
4. Die Handinnenflächen mit Mehl bedecken. Dann die Kartoffelmasse auf einer mit Mehl bedeckten Fläche zu 1-cm-dicken Klumpen formen, mit geriebenem Käse und Bacon füllen und dann 'zudecken'.
5. Mit einer großen Plätzchenform oder einem Glas die Puffer ausstechen.
Wichtig: Die Puffer nicht zu dick formen, sonst sind sie nach dem Braten innen noch gar. Wenn sie versehentlich doch zu dick geraten sind, dann die Temperatur reduzieren.
6. Die Kartoffelpuffer bei mittelstarker Hitze 4-6 Minuten lang von jeder Seite braten.
7. Die Kartoffelpuffer mit saurer Sahne und Frühlingszwiebeln garnieren.
8. Guten Appetit!
Looks like there are no comments yet.
Be the first to comment!