Am Dienstag teilte @_zolarmoon auf Twitter eine unglaubliche Geschichte über einen Trip nach Florida zusammen mit einer Frau, die sie in einer Filiale der Restaurant-Kette Hooters getroffen hatte.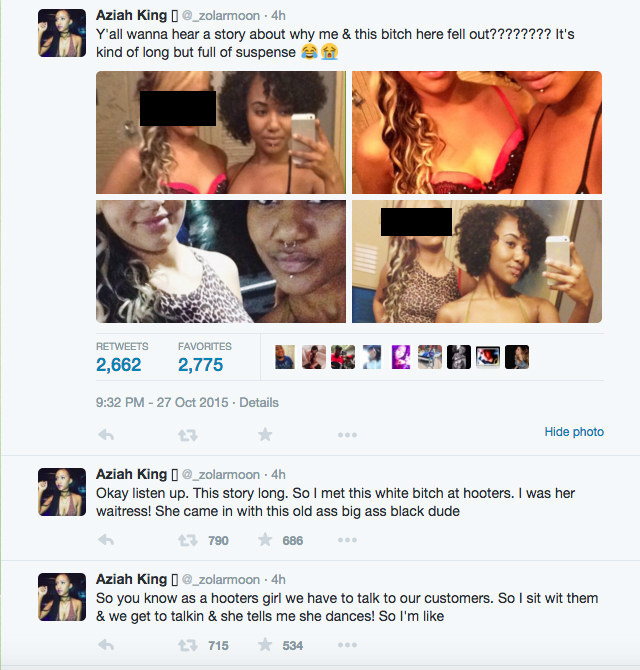 _zolarmoon hat ihre Geschichte inzwischen gelöscht, aber Du kannst sie hier immer noch nachlesen. Bei all der Aufmerksamkeit, die sie auf sich zieht, ist allerdings unklar, wie wahr die Geschichte ist. _zolarmoon hat auf BuzzFeeds Anfrage nach einer Stellungnahme nicht reagiert.
In der Geschichte wird in allen Einzelheiten ein Trip von _zolarmoon nach Florida beschrieben, der Prostitution, Kidnapping und eventuell sogar einen Mord umfasst. Sie war mehr als hundert Tweets lang. Die Tweets wurden inzwischen alle gelöscht.
Kurz nachdem die Geschichte ursprünglich online ging, wurden fast alle Charaktere daraus weltweit zu Trending Topics auf Twitter.
Die Reaktionen umfassen das gesamte Spektrum. Manche bewundern die Figuren in der Geschichte.
Andere sind einfach nur entsetzt.
Die Leute fingen an zu twittern, dass die Geschichte verfilmt werden solle.
Und dann fingen sie an, die Traumbesetzung für #TheStory zusammenzustellen.
Die Geschichte löste auch eine Debatte über das Outing der darin vorkommenden Charaktere aus. _zolarmoon hatte die Fotos und Namen der Leute ohne deren Einwilligung in ihren Tweets veröffentlicht.
Und dann gibt es da noch jene, die es einfach nicht glauben und auf die Ungereimtheiten hinweisen.
Aber am Ende ist das egal, weil sich das Internet nicht wirklich darum kümmert, ob es wahr ist oder nicht. Es flippt einfach aus.
Hol Dir BuzzFeed auf Facebook!
Looks like there are no comments yet.
Be the first to comment!