Honig-Lachs mit Sojaglasur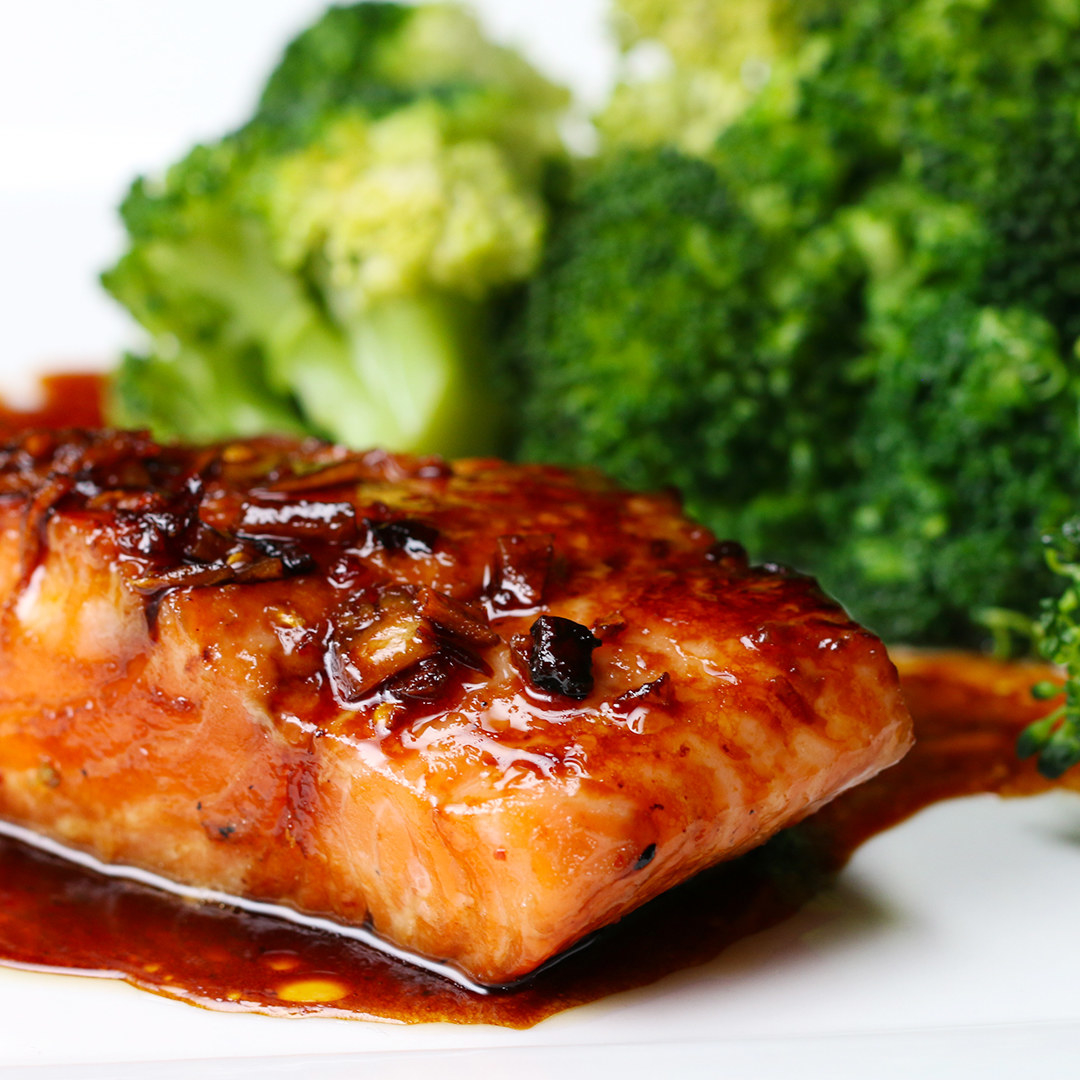 ZUTATEN
340 g Lachs ohne Haut
1 Esslöffel Olivenöl
Für die Honig-Soja-Marinade:
4 Knoblauchzehen, fein gehackt
1 Teelöffel Ingwer, fein gehackt
½ Teelöffel roter Paprika
1 Esslöffel Olivenöl
80 ml Sojasauce mit weniger Natrium
80 ml Honig
ZUBEREITUNG
1. Ofen auf 200˚C vorheizen.
2. Lachs in einen verschließbaren Beutel oder eine mittelgroße Schüssel legen.
3. In einer kleinen Schüssel oder einem Messbecher die Zutaten für die Marinade mischen.
4. Die Hälfte der Marinade auf den Lachs gießen. Die andere Hälfte für später aufheben.
5. Den Lachs 30 Minuten im Kühlschrank ruhen lassen.
6. In einer mittelgroßen Pfanne Öl erhitzen. Den Lachs in die Pfanne geben, aber die gebrauchte Marinade wegschütten. Den Lachs auf einer Seite etwa 2-3 Minuten braten, dann wenden und weitere 1-2 Minuten braten.
7. Den Lachs aus der Pfanne nehmen. Die restliche Marinade hineingießen und reduzieren lassen.
8. Den Lachs mit Sauce und Gemüse als Beilage servieren. Wir haben Broccoli genommen.
9. Bon Appétit!
Dieser Artikel erschien zuerst auf Englisch.
Looks like there are no comments yet.
Be the first to comment!