Limettenkuchen-Pops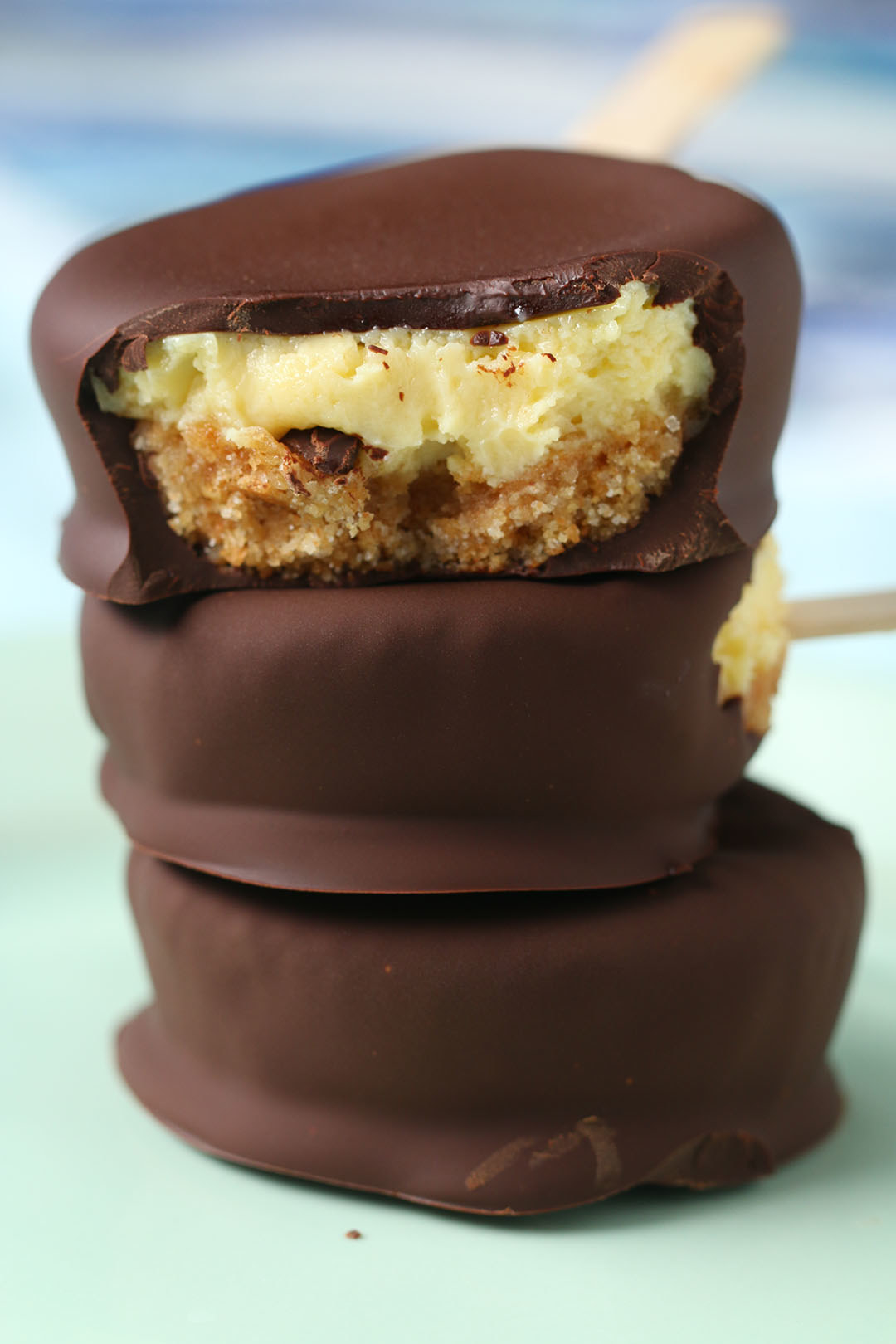 ZUTATEN
Tortenboden:
85 g Vollkorn-Butterkekse, fein zerstoßen
2 Esslöffel Zucker
Eine Prise Salz
2 Esslöffel geschmolzene Butter
Füllung:
3 Eigelb
Ca. 400 g Kondensmilch
8 Limetten oder ca. 120 ml Limettensaft
Eine Prise Salz
Ca. 340 g geschmolzene Schokolade
ZUBEREITUNG
1. Den Ofen auf 180 °C vorheizen.
2. Die Zutaten für den Tortenboden in einer mittleren Schüssel vermengen und gut vermischen.
3. In einer mit Backförmchen ausgelegten Muffinform einen Esslöffel des Tortenbodens hineingeben und mit deinen Fingern festdrücken. Stelle sie zur Seite.
4. In einer mittleren Schüssel Eigelb, Kondensmilch und eine Prise Salz verquirlen. Den Limettensaft hinzufügen und gut vermengen.
5. Schöpfe die Füllung auf den Boden in der Form, jeweils etwa 60 ml. Im vorgeheizten Ofen 15 Minuten lang backen. Auf Raumtemperatur abkühlen lassen. 2 Stunden lang einfrieren.
6. Nimm die Backförmchen heraus und führe behutsam einen hölzernen Stiel in jeden Kuchen ein. 30 Minuten lang einfrieren.
7. Gefrorenen Limettenkuchen-Pop in geschmolzener Schokolade eintauchen. Leg sie auf ein mit Backpapier ausgelegtes Backblech und friere sie 15 Minuten lang ein, oder bis die Schokolade fest ist.
8. Guten Appetit!
Inspiriert von dem Rezept hier.
Dieser Artikel erschien zuerst auf Englisch.
Looks like there are no comments yet.
Be the first to comment!