Aquarium Cookies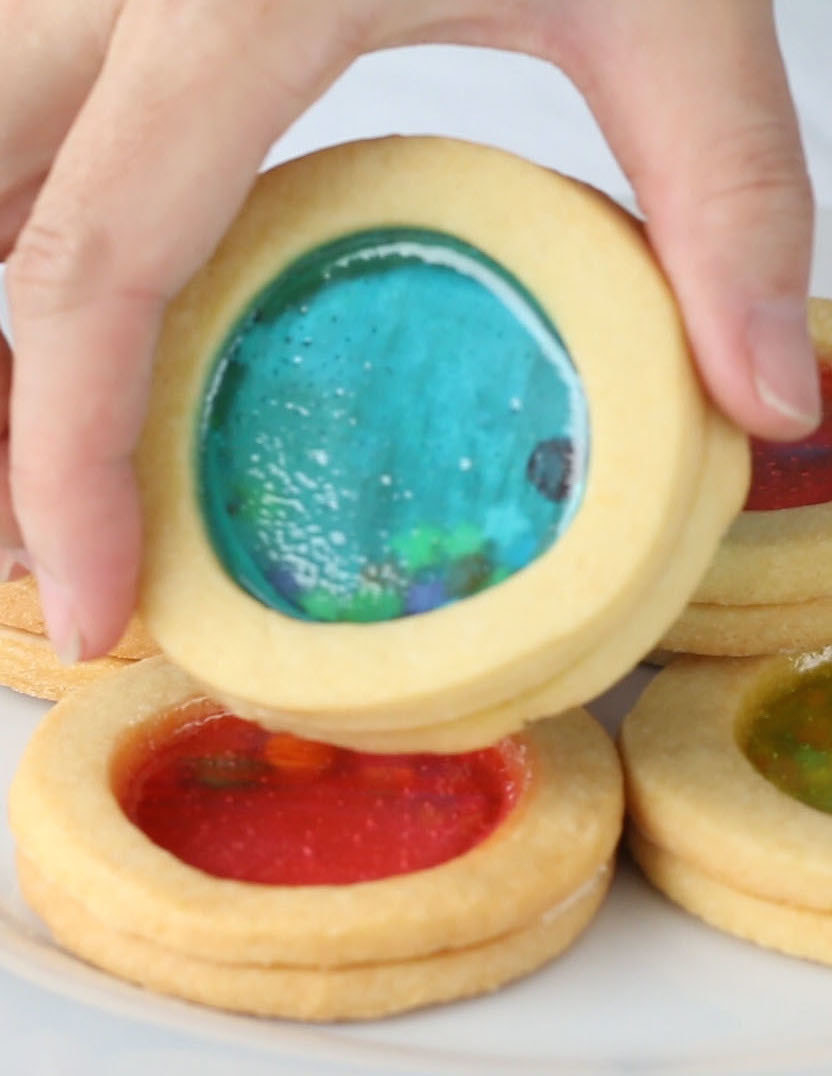 ZUTATEN
Ergibt 8-10 Stück
115g weiche, ungesalzene Butter
100g Zucker
1 Ei
250g Mehl
16-20 Bonbons (ohne Füllung)
Streusel
Weiße Schokolade, geschmolzen
ZUBEREITUNG
# Die Plätzchen machen, indem du in einer mittelgroßen Schüssel Butter und Zucker mixt, bis eine glatte Masse entstanden ist. Das Ei hineingeben und gut verrühren. Dann das Mehl durch ein Sieb in den Teig geben und gut vermischen.
# Teig mit Frischhaltefolie bedecken und mindestens 30 Minuten in den Kühlschrank stellen.
# Ofen auf 180˚C vorheizen.
# Die Arbeitsfläche und ein Nudelholz einmehlen, damit der Teig nicht klebt. Den Teig ausrollen und dann die Kekse so ausstechen, dass ein Ring entsteht.
# Die Plätzchen auf Backpapier legen und 10 Minuten backen.
# Das Backblech aus dem Ofen nehmen und Bonbons in die Mitte der Ringe platzieren. Dann weitere 3-5 Minuten backen oder bis die Bonbons zerlaufen sind. Dann komplett abkühlen und aushärten lassen.
# Die weiße Schokolade schmelzen. Auf die Hälfte der Kekse Streusel geben, dann die weiße Schokolade als "Kleber" benutzen und den zweiten Keks auf den anderen kleben. Dann für 15 Minuten in den Kühlschrank stellen.
# Auffuttern!
Dieser Artikel erschien zuerst auf Englisch.
Looks like there are no comments yet.
Be the first to comment!