Schokoladen-Erdnussbutter-Lavaküchlein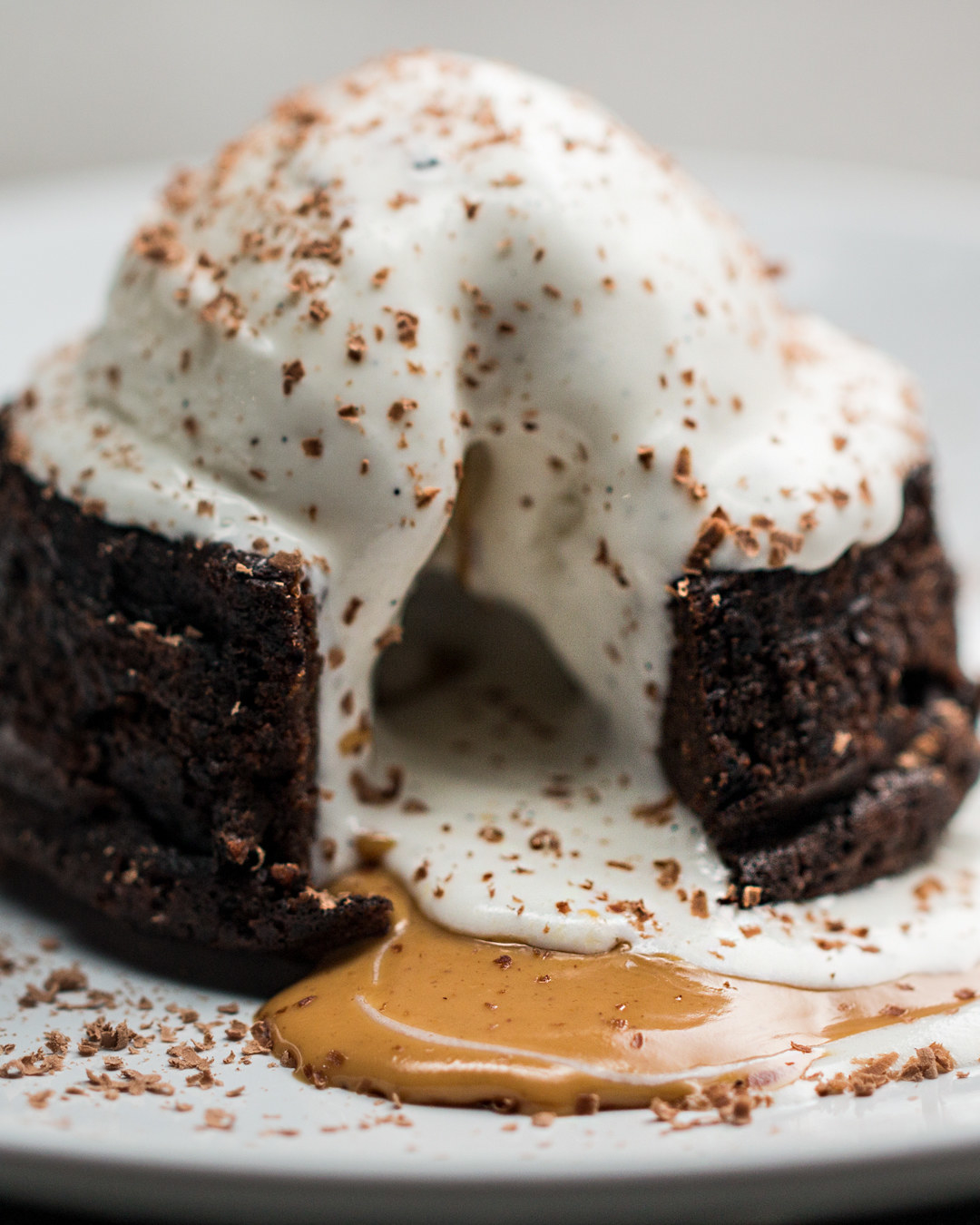 ZUTATEN
Portionen: 4
8 EL Butter
2 Esslöffel Kakaopulver
115 g Zartbitterschokolade, gehackt
125 g Erdnussbutter
50 g Zucker
3 Eier
1 Teelöffel Vanille-Extrakt
ZUBEREITUNG
1. Ofen auf 220˚ C vorheizen.
2. 4 Soufflé-Förmchen mit Butter einfetten und mit etwas Kakaopulver einstauben.
3. Gib Zartbitterschokolade und Butter in eine mittelgroße Schüssel und stell sie immer für 15 Sekunden in die Mikrowelle. Rühre nach jedem 15-Sekunden-Intervall um, bis alles geschmolzen ist.
4. Verquirle Eier, Zucker und Vanille in einer mittelgroßen Rührschüssel und gieße dann die Schokoladenmischung hinein.
5. Gib Teig in jedes Soufflé-Förmchen. Anschließend ein kleines Häuflein Erdnussbutter (ungefähr 2 Esslöffel) in die Mitte jedes Förmchens. Obenauf kommt zum Schluss noch einmal Teig.
6. Bei 220° C 10-12 Minuten backen oder bis die Küchlein an der Seite fest und innen weich sind.
7. Leg eine Servierplatte auf die Soufflé-Form und dreh mit Hilfe eines Küchenhandtuchs beide um, sodass die Lavaküchlein nun auf der Servierplatte liegen (falls nötig schüttel die Soufflé-Form vorsichtig, sodass die Küchlein herauskommen).
8. Guten Appetit!
Dieser Artikel erschien zuerst auf Englisch.
Looks like there are no comments yet.
Be the first to comment!