Hasselback-Kartoffeln mit Bacon-Cheddar-Dip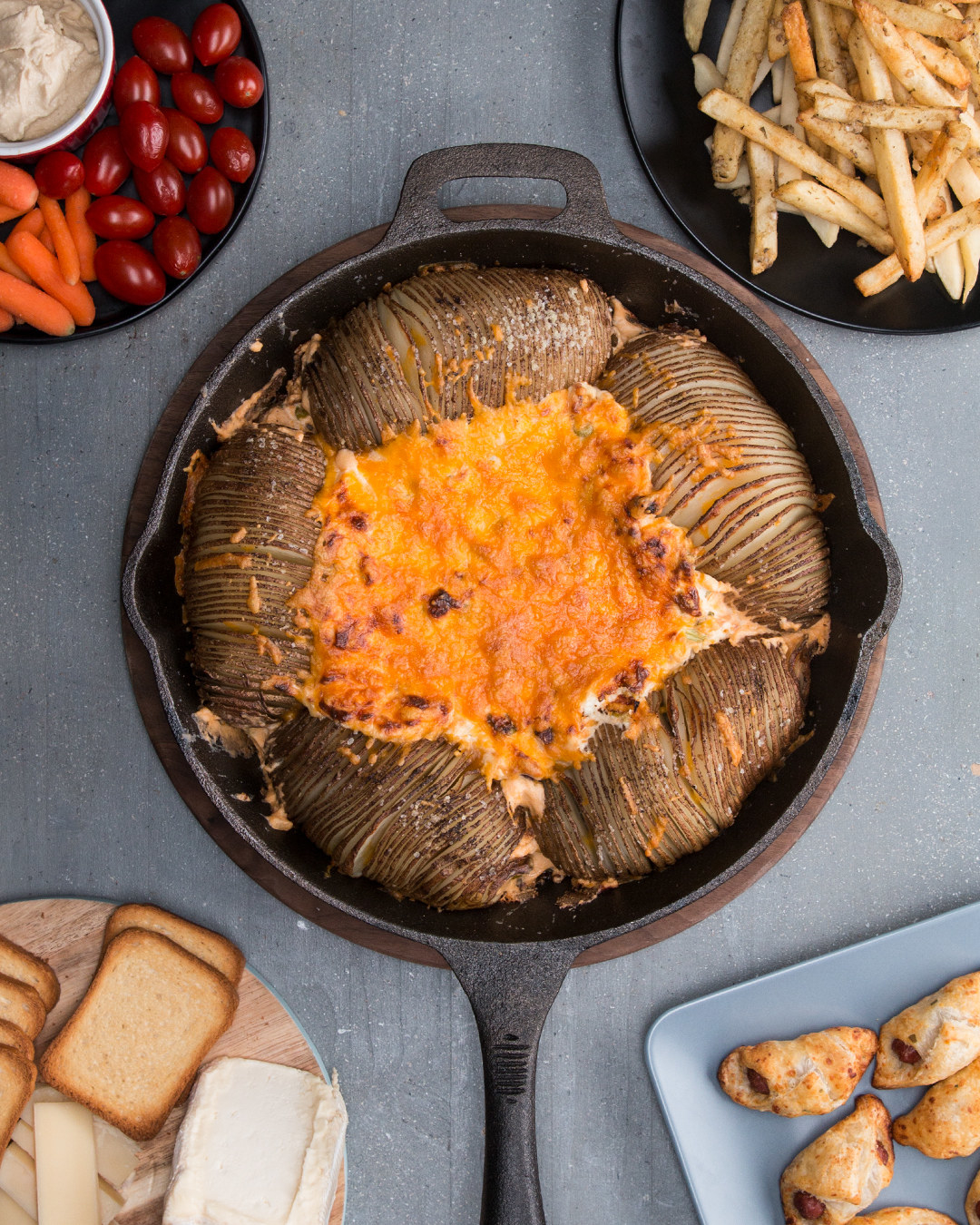 ZUTATEN
Portionen: 6-8
Hasselback-Kartoffeln
4-5 mehlig kochende Kartoffeln
Olivenöl
Salz
Pfeffer
2 Holzspieße
Bacon-Cheddar-Dip
Cheddar-Käse
Frischkäse
Saure Sahne
Frühlingszwiebeln
Bacon
ZUBEREITUNG
1. Ofen auf 200˚C vorheizen.
2. Lege die Kartoffeln auf 2 Holzspieße und schneide sie der Breite nach in dünne, fächerartige Scheiben. Achte dabei darauf, dass du sie nicht komplett durchschneidest. Dafür helfen dir die Holzspieße.
3. Die Kartoffeln für 20 Minuten einweichen lassen, damit sie etwas an Stärke verlieren und sich die Kartoffel-Spalten mehr weiten.
4. Mische alle Dip-Zutaten in einer großen Schüssel zusammen. Gut verrühren.
5. Nimm die Kartoffeln aus dem Wasserbad und trockne sie gut ab. Lege sie in jeweils an den Rand eines großen Bräters.
6. Bestreiche die Kartoffeln ausreichend mit Olivenöl, bestreue sie mit Salz und Pfeffer.
7. Den Bräter in den Ofen stellen und eine Stunde, also bis die Kartoffeln knusprig und durch sind, backen lassen.
8. Nimm den Bräter vorsichtig aus dem Ofen und befülle die Mitte mit dem Bacon-Cheddar-Dip.
9. Das Ganze noch mit etwas Cheddar überstreuen und nochmals für 10-15 Minuten bei 200˚C in den Backofen geben. Der Käse sollte goldbraun sein.
10. Genießen!
Dieser Artikel erschien zuerst auf Englisch.
Looks like there are no comments yet.
Be the first to comment!