Brezel-Dogs auf 4 Arten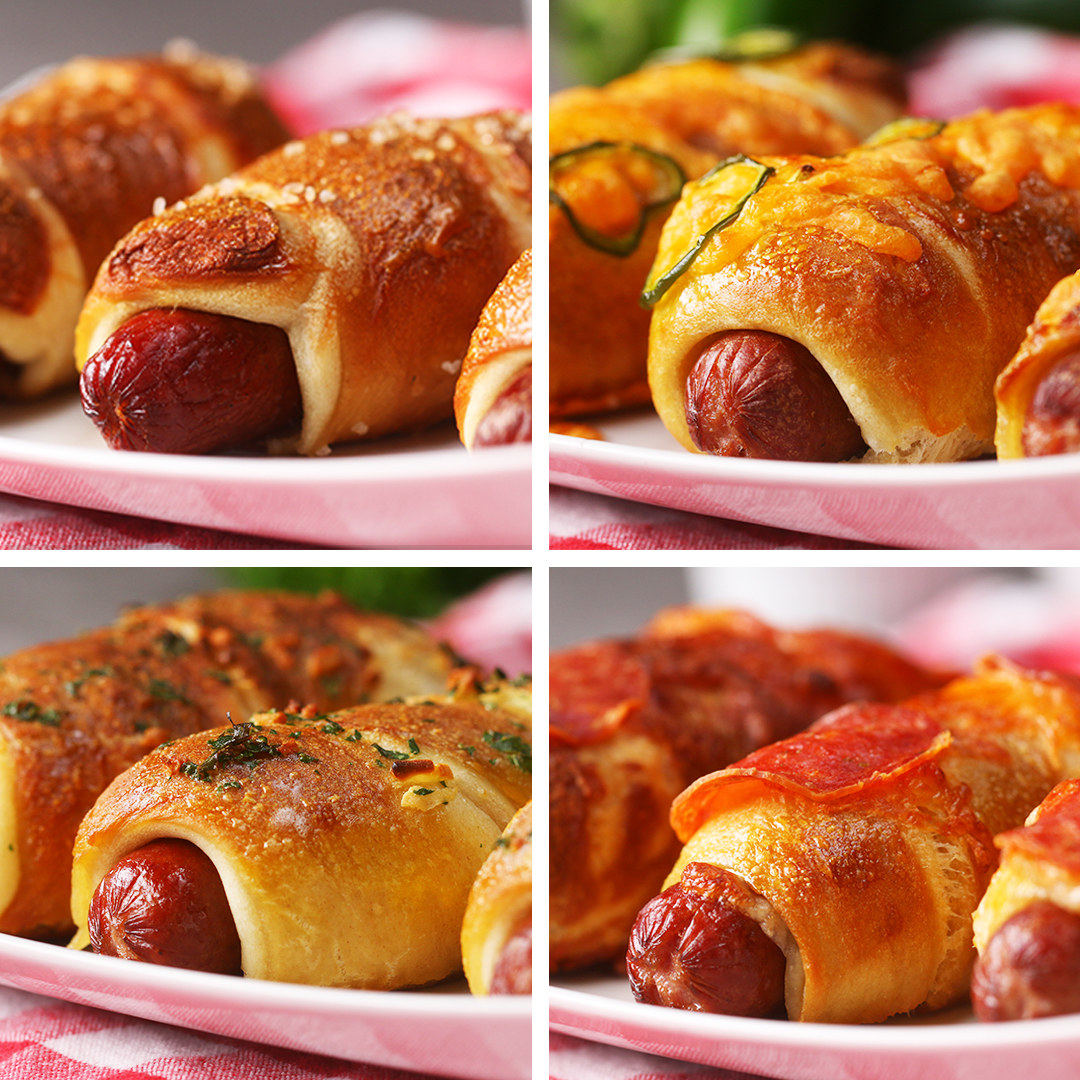 ZUTATEN
Mehl
340 g Pizzateig
4 heiße Würstchen
1,2l Wasser
40 g Backnatron
1 Eigelb, geschlagen
Grobes Meersalz
Cheddar, gerieben
Jalapeños, in Ringe geschnitten und ohne Samen
2 Esslöffel Butter, geschmolzen
2 Knoblauchzehen, gehackt
1 Esslöffel Petersilie, gehackt
Mozzarella, gerieben
Pfeffersalami
ZUBEREITUNG
1. Den Ofen auf 230°C vorheizen.
2. Das Schneidebrett mit Mehl bestäuben und den Pizzateig in 4 gleich große Stücke teilen.
3. Jedes Teigstück ausrollen, bis es ein 30,5 cm langer Strang ist. Es ist in Ordnung, wenn der Teig natürlich schrumpft.
4. Nimm den ausgerollten Teig und wickle ihn in einer sich schraubenden Bewegung um ein heißes Würstchen, lass dabei an den Enden Raum.
5. Vermenge in einem Topf das Backnatron mit dem Wasser und bring es zum Kochen.
6. Koche jeden Brezel-Dog 30 Sekunden in der Lösung. Mit einem Schaumlöffel herausnehmen und auf ein Backblech legen.
7. Jeden Brezel-Dog mit Ei bestreichen.
8. Die Brezeln mit dem Belag deiner Wahl belegen.
9. Bei Meersalz, mit dem Salz bestreuen. Bei Jalapeño-Cheddar, die Brezel mit Cheddar-Käse belegen und dann mit Jalapeños. Bei Knoblauchbutter die Butter, Knoblauch und Petersilie vermengen und Oberfläche bepinseln. Bei Pizza, mit Mozzarella belegen und dann mit Pfeffersalami.
10. 12-15 Minuten im Ofen backen, oder bis ein dunkles Goldbraun erreicht ist.
11. Guten Appetit!
Dieser Artikel erschien zuerst auf Englisch.
Looks like there are no comments yet.
Be the first to comment!