Chili-Limetten-Regenbogenspieße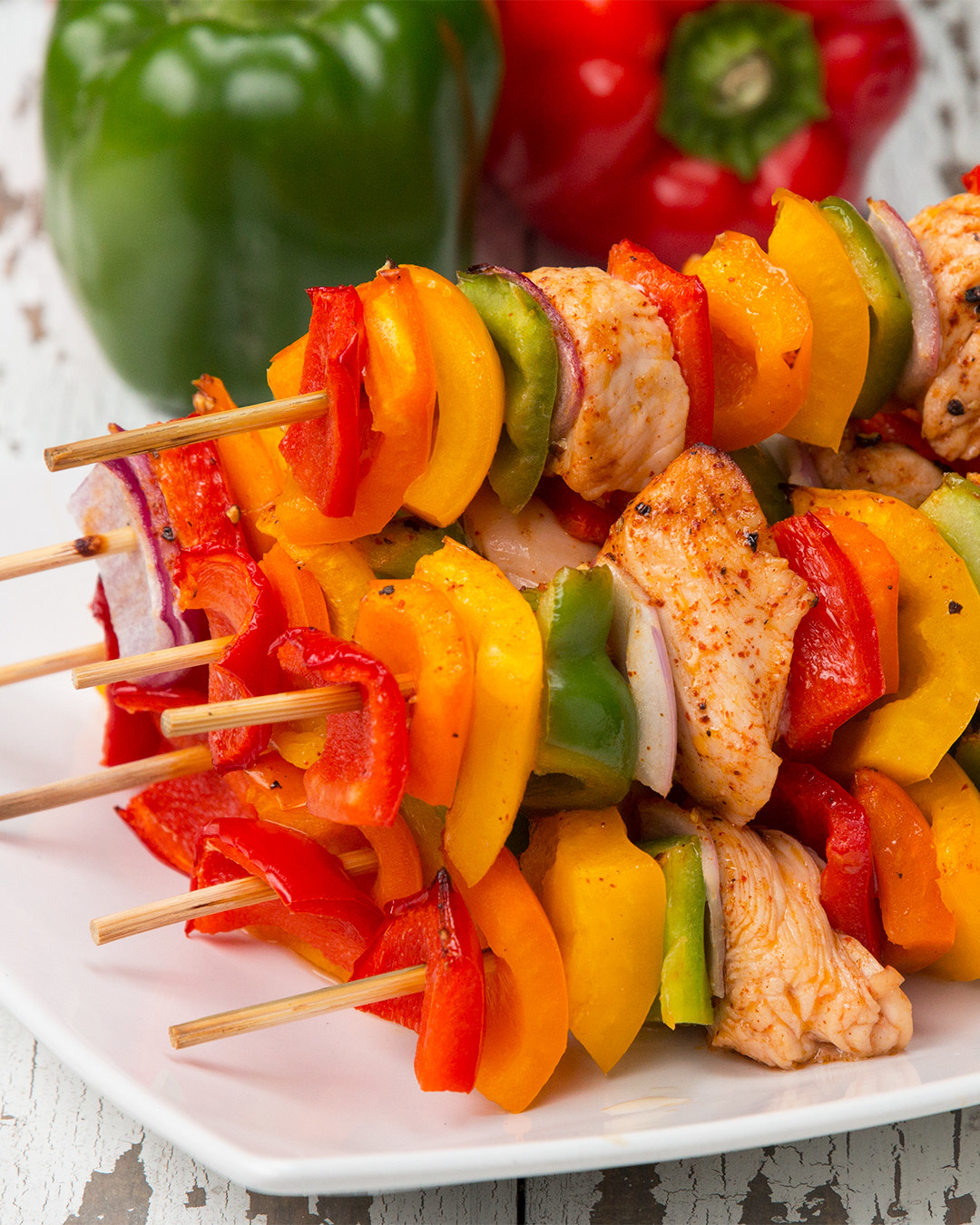 ZUTATEN
Marinade
120ml Limettensaft
60ml Olivenöl
2 EL Honig
1 TL Chilipulver
1 TL Salz
1 TL Pfeffer
Spieße
10 Holzspieße
3 Pfund Hühnerbrust, gewürfelt
2 rote Paprika, in 2,5-cm-große Stücke geschnitten
2 orange Paprika, in 2,5-cm-große Stücke geschnitten
2 gelbe Paprika, in 2,5-cm-große Stücke geschnitten
2 grüne Paprika, in 2,5-cm-große Stücke geschnitten
1 rote Zwiebel, in 2,5-cm-große Stücke geschnitten
frischen Koriander zum Garnieren
ZUBEREITUNG
1. Wenn du sie im Backofen zubereiten willst, heize ihn auf 200° C vor.
2. Lege die Holzspieße für 5-10 Minuten in Wasser und stell sie beiseite.
3. Vermische in einer großen Schüssel das Hühnchen mit den Zutaten für die Marinade. Deck die Schüssel mit Frischhaltefolie ab und lass das Fleisch im Kühlschrank für mindestens eine Stunde marinieren.
4. Bestücke die Spieße, indem du zuerst die rote Paprika aufspießt, dann die orange, die gelbe, die grüne, die rote Zwiebel und dann das marinierte Hühnchen. Wiederhole dies bis der Spieß voll ist.
5. Spieße auf ein Backblech legen und mit der verbleibenden Marinade bepinseln.
6. Für 20-30 Minuten backen oder grillen, bis das Hühnchen nicht mehr rosa ist.
7. Mit frischem, gehacktem Koriander garnieren.
8. Guten Appetit!
Dieser Artikel erschien zuerst auf Englisch.
Looks like there are no comments yet.
Be the first to comment!