Gesunder Dip aus weißen Bohnen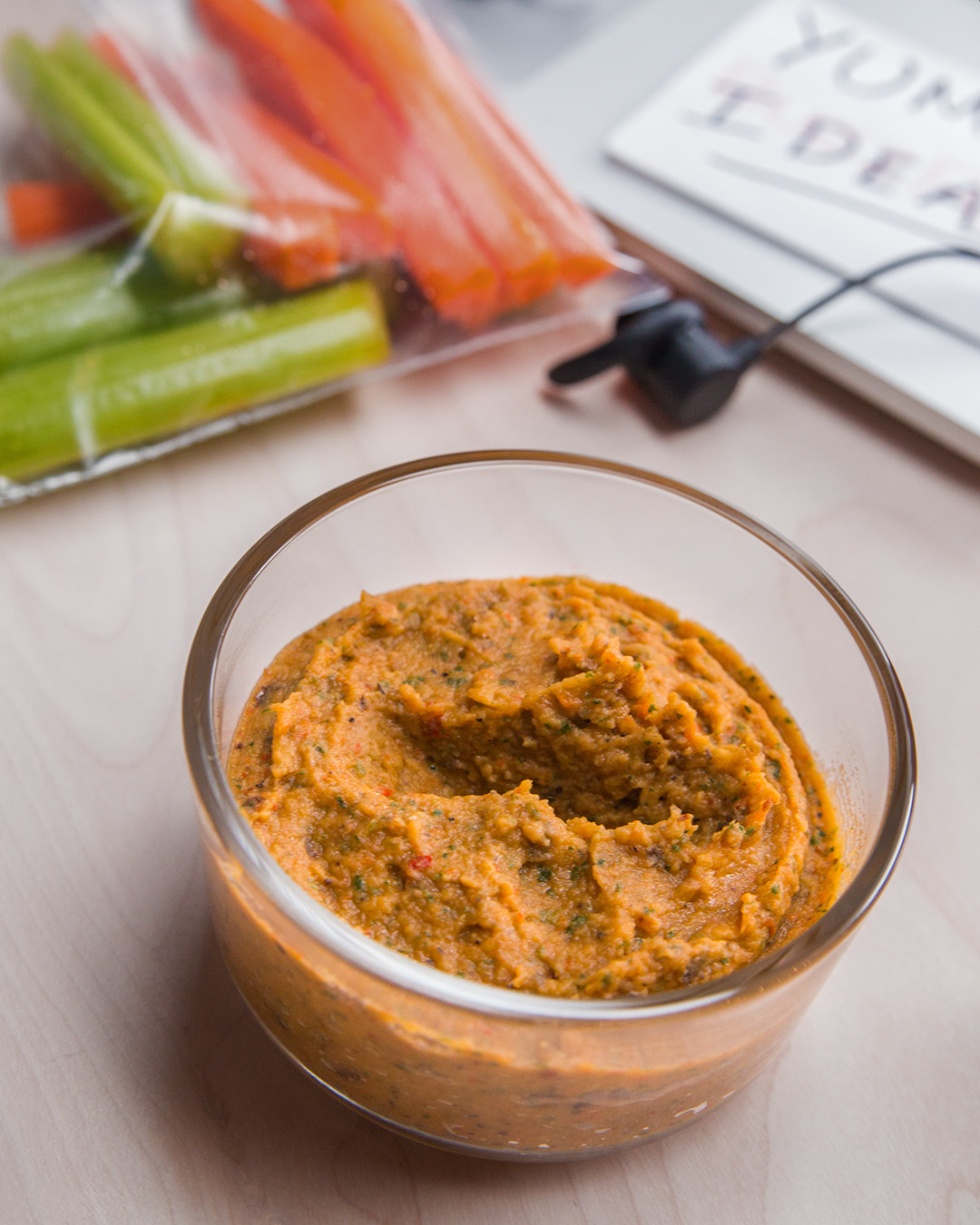 ZUTATEN
Portionen: 4
1 mittelgroße Aubergine
1 rote Paprika
6 EL Olivenöl (2 EL zum Rösten, 4 EL zum Verarbeiten)
1 Dose Cannellini oder andere weiße Bohne, abgetropft und abgespült
2 Knoblauchzehen, geschält
Petersilie, lose gepackt
3 EL Zitronensaft (entspricht etwa 1 Zitrone)
½ TL Salz
½ TL schwarzer Pfeffer
½ TL rote Chiliflocken
ZUBEREITUNG
Ofen auf 230˚C vorheizen.
Aubergine und Paprika in mittelgroße Stücke schneiden, darauf achten, dass die Samen entfernt werden, und auf einem mit Backpapier ausgelegten Backblech ausbreiten.
Das Gemüse leicht mit Olivenöl, Salz und Pfeffer bedecken.
Das Gemüse für 20 - 25 Minuten rösten, bis die Ecken anfangen dunkel zu werden und die Haut Blasen wirft.
Das geröstete Gemüse zusammen mit Bohnen, Knoblauch, Petersilie, Zitronensaft und Gewürzen in eine Küchenmaschine geben. Solange verarbeiten, bis die Zutaten grob zerkleinert sind. Dann, während die Maschine läuft, die restlichen 4 Esslöffel Olivenöl in die Küchenmaschine füllen und solange mischen, bis die Mischung weich ist.
Die Mischung in eine Schüssel füllen und mit frisch geschnittenem Gemüse, Cracker oder Pitabrot servieren. Alternativ kann die Mischung in individuelle portionsgroße Behälter gefüllt und für bis zu 4 Tage im Kühlschrank aufbewahrt werden.
Guten Appetit!
Inspiriert von: http://www.foodnetwork.com/recipes/giada-de-laurentiis/white-bean-and-roasted-eggplant-hummus-recipe.html
Dieser Artikel erschien zuerst auf Englisch.
Looks like there are no comments yet.
Be the first to comment!