Hühnersuppe mit Klößen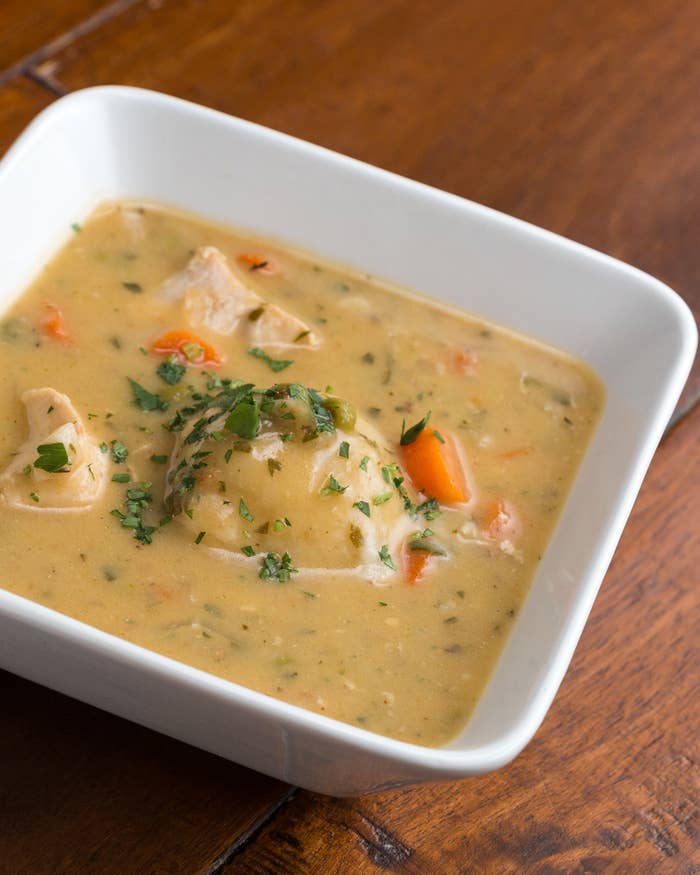 ZUTATEN
6 Portionen
Suppe
2 EL Öl
900 g Hähnchenbrust
1 große Zwiebel, gewürfelt
4 Möhren, in Scheiben geschnitten
3 gehackte Knoblauchzehen
1 TL Salz
5 EL ungesalzene Butter
6 EL Mehl
1,5 l Hühnerbrühe
115 g Konditorsahne
1/2 TL Thymian
2 Lorbeerblätter
225 g TK-Erbsen
4 El frische Petersilie, gehackt
Klöße
200 g Mehl
1 EL Backpulver
1/2 TL Salz
1/2 TL Pfeffer
310 g Sahne
ZUBEREITUNG
1. Hähnchenbrust in großem Kopf bei mittelstarker Hitze anbraten bis das Fleisch gebräunt ist und dann aus dem Topf entfernen und beiseite legen.
2. Möhren und Zwiebel in den Topf geben und etwa 3 Minuten lang braten.
3. Knoblauch hinzufügen und etwa 1 Minute lang unterrühren.
4. Die Hitze reduzieren und Butter und Mehl unter konstantem Rühren (etwa 3 Minuten) erhitzen.
5. Fleisch und Saft erneut in den Topf geben und in der Sauce wenden. Hühnerbrühe, Konditorsahne, Thymian und Lorbeerblätter hinzufügen und zum Köcheln bringen. Dann TK-Erbsen hinzufügen und Topf abdecken.
6. Mehl, Backpulver, Salz, Pfeffer und Sahne in einer Schüssel zu einer Masse verarbeiten.
7. Aus dem Teig etwa 14-16 Klöße formen und diese in die köchelnde Suppe geben (sie sollten sich nicht berühren.
8. Den Topf wieder abdecken und die Suppe weitere 15 Minuten köcheln lassen, oder bis die Klöße durch sind (mit Zahnstocher testen).
9. Guten Appetit!
Want BuzzFeed Tasty right in your inbox? Sign up for our newsletter!
If you can't see the signup box above, just go here to sign up for the BuzzFeed Tasty newsletter!
Dieser Artikel erschien zuerst auf Englisch.