One-Pot Fettuccine Alfredo mit Garnelen und Spinat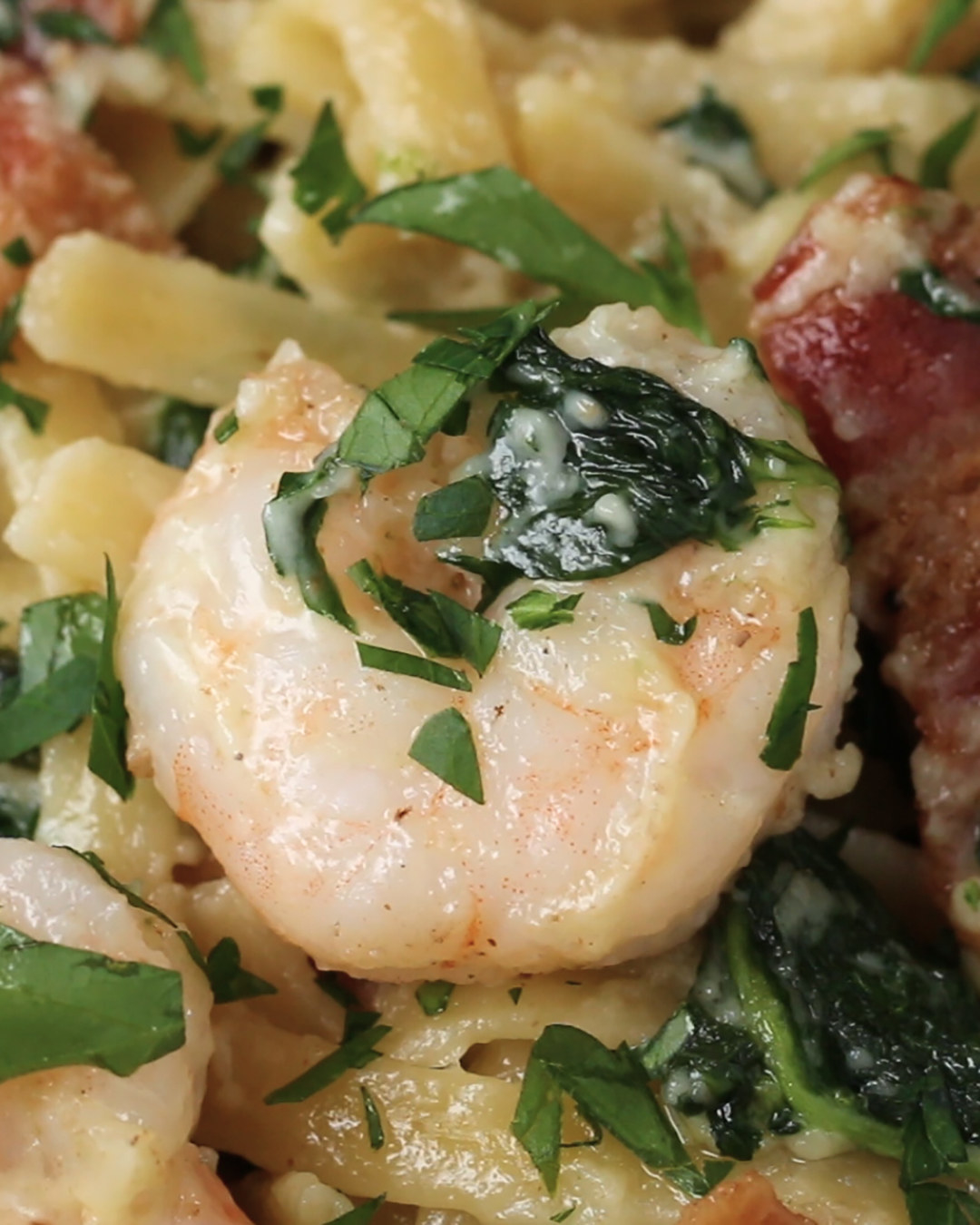 ZUTATEN
2 EL Butter
450g Garnelen, geschält und entdarmt
Salz
Schwarzer Pfeffer
3 Knoblauchzehen, fein gehackt
230g Bacon, gebraten, in kleine Streifen geschnitten
200 g Spinat
350g Konditorsahne
450g Fettuccine, gekocht
75g Parmesankäse, gerieben
10g Petersilie, gehackt
ZUBEREITUNG
1. Erhitze die Butter bei mittlerer Hitze in einem großen Topf bis sie etwas braun wird ist.
2. Gib die Garnelen hinein und würze mit Salz und schwarzem Pfeffer. Brate sie scharf an bis sie auf beiden Seiten rosa sind. Nimm die Garnelen aus dem Topf raus und stell sie beiseite.
3. Brate den Knoblauch und den Bacon kurz an bis es duftet, ungefähr 30 Sekunden. Füg den Spinat hinzu und rühre bis er zusammenzufallen anfängt.
4. Gieße die Schlagsahne dazu und rühre im Topf, um alles zu vermengen. Bring die Soße zum Köcheln und reduziere sie bis sie dick und cremig ist, ungefähr 5 Minuten.
5. Gib die Fettuccine dazu, streue den Parmesankäse darüber und schwenke, um alles zu vermengen.
6. Streue die Petersilie darüber und gib die Garnelen wieder in den Topf. Schwenke bis alles aufgewärmt ist.
7. Nimm es vom Herd und serviere.
8. Guten Appetit!
Dieser Artikel erschien zuerst auf Englisch.
Looks like there are no comments yet.
Be the first to comment!