One-Pot Pilz & Hühnchen Pasta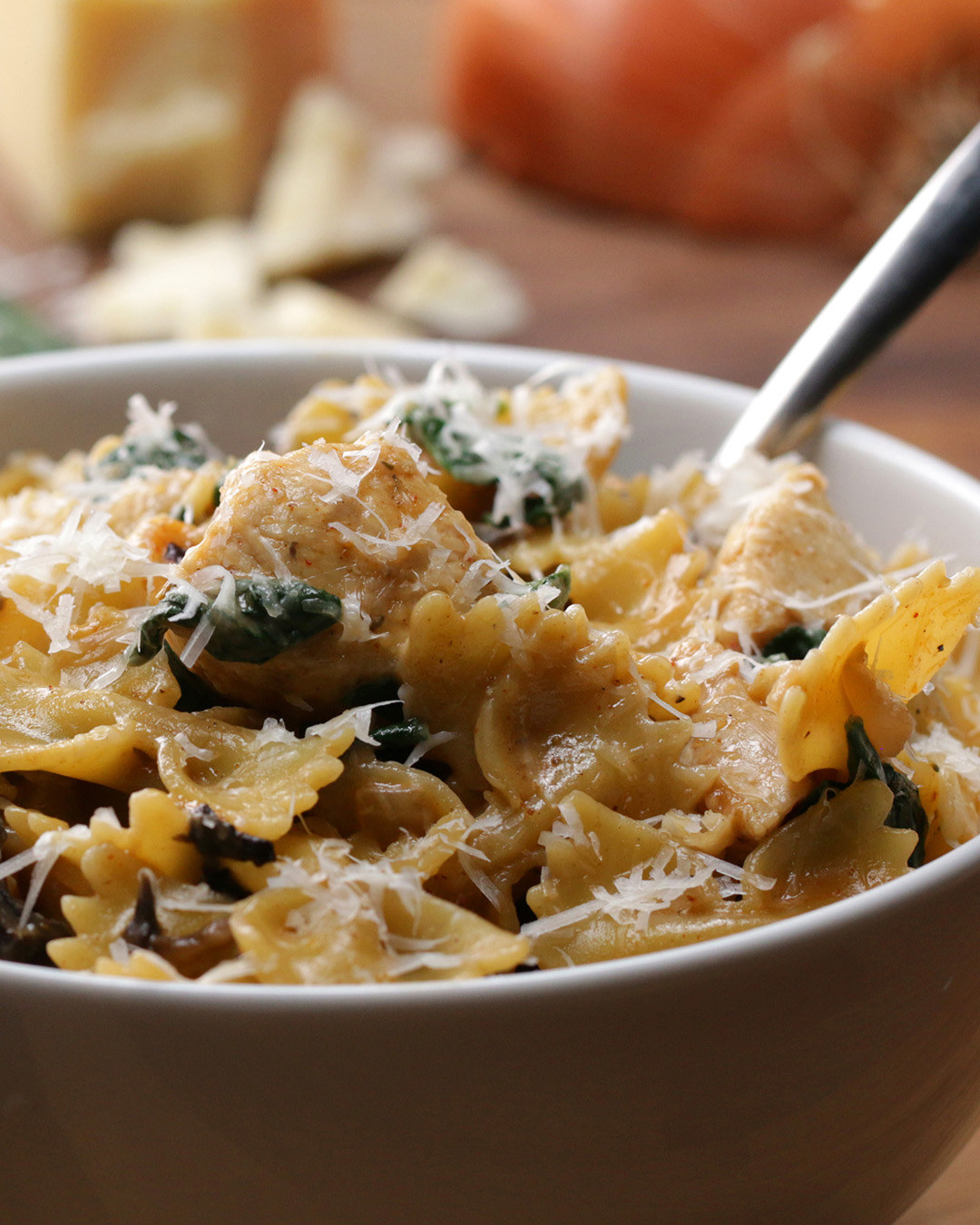 ZUTATEN
Portionen: 4
3 EL Olivenöl
680g Hühnchenbrust
½ Zwiebel
Salz
Pfeffer
150g Pilze
3 Knoblauchzehen
1 TL Thymian
2 TL Paprika
950ml Hühnerbrühe
240g Konditorsahne
450g Farfalle
140g Spinat
100g Parmesan
ZUBEREITUNG
1. Zwei Esslöffel Olivenöl in einem großen Topf bei mittlerer Hitze erhitzen. Hühnchen hineingeben und anbraten und darauf achten, dass es durchgebraten ist. Dann beiseite stellen.
2. Einen Esslöffel Olivenöl hinzugeben und die Zwiebel im Topf anbraten, dabei gut umrühren und 1-2 Minuten leicht brutzeln lassen.
3. Pilze und Knoblauch hineingeben und mit der Zwiebel gut vermischen. Mit Salz und Pfeffer würzen, dann auch Thymian und Paprika hineingeben. Gut umrühren.
4. Die Hühnerbrühe und Sahne in den Topf geben und umrühren. Zum Kochen bringen, dann die Farfalle hineingeben.
5. Nach Packungsanweisung kochen, dabei alle 1-2 Minuten umrühren, damit die Pasta nicht verklumpt. Die Kochdauer ist hier möglicherweise etwas länger im Vergleich zum Kochen im Wasser.
6. Sobald die Pasta al dente ist, den Spinat und das Hühnchen hinzugeben und gut vermischen. Dann den Parmesan hineingeben, bis eine sähmige Sauce entstanden ist.
7. Servieren und mit Parmesan bestreuen.
8. Guten Appetit!
Dieser Artikel erschien zuerst auf Englisch.
Looks like there are no comments yet.
Be the first to comment!