Bacon Mac 'N' Cheese Pot Pie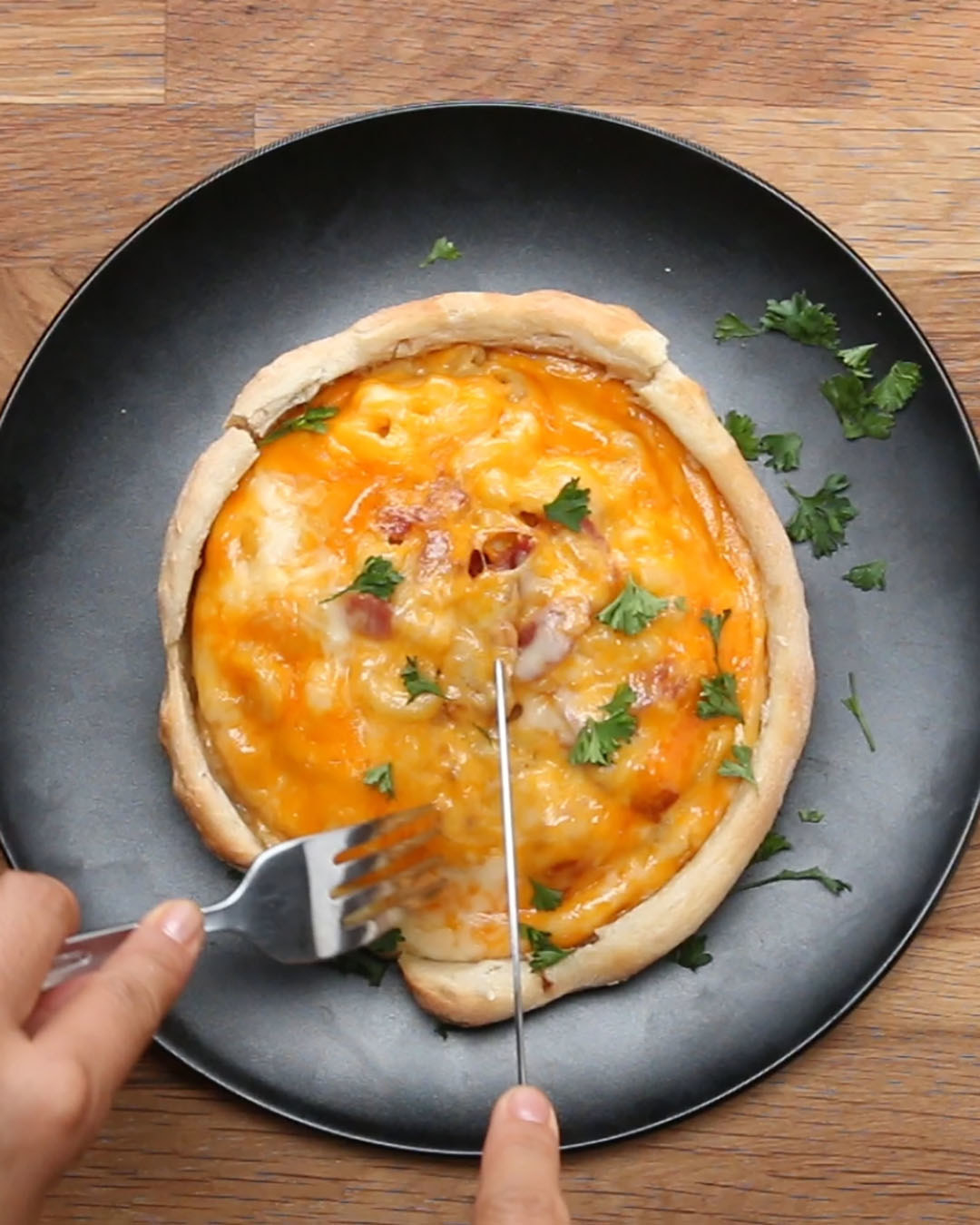 ZUTATEN
Reicht für 1-2
720ml Milch
200g Makkaroni
110g Cheddar
110g Mozzarella
1 EL Salz
2 TL Pfeffer
8 Scheiben Käse deiner Wahl
Butter oder Öl
Pizzateig
2 EL geschmolzene Butter
½ TL Knoblauchpulver
1 TL Salz
1 TL Italienische Kräuter
ZUBEREITUNG
1. Ofen auf 180°C vorheizen.
2. In einem Topf 480ml Milch, Nudeln, Salz und Pfeffer zum kochen bringen.
3. Milch und Nudeln ständig umrühren, damit es nicht anbrennt.
4. Wenn die Hälfte der Flüssigkeit verdampft ist, noch 240ml Milch hinzufügen.
5. Umrühren, bis die Nudeln al dente sind.
6. Käse hinzufügen und umrühren, bis der Käse geschmolzen ist. Hitze wegnehmen, damit es nicht überkocht.
7. Die Innenseite einer ofensicheren Keramikschüssel mit Butter einpinseln.
8. Die Käsescheiben in der Schüssel so platzieren, bis alles bedeckt ist.
9. Bacon hinzufügen und Pasta darauf platzieren.
10. Pizzateig in Größe der Schüssel ausrollen.
11. In eine kleine Schüssel geschmolzene Butter hineingeben. Knoblauchpulver, Salz und italienische Kräuter dazu geben, verrühren und dann damit den Teig bestreichen.
12. 25 Minuten backen.
13. Vorsichtig einen Teller auf die Schüssel legen und dann umdrehen.
14. Mit einem Messer von der Schüssel lösen.
15. Mit Petersilie bestreuen und genießen!
Inspiriert vom berühmten Pizza Pot Pie von Chicago Pizza und Oven Grinder Co.
Dieser Artikel erschien zuerst auf Englisch.
Looks like there are no comments yet.
Be the first to comment!