Zitrone-Ricotta-Pancakes mit Heidelbeer-Kompott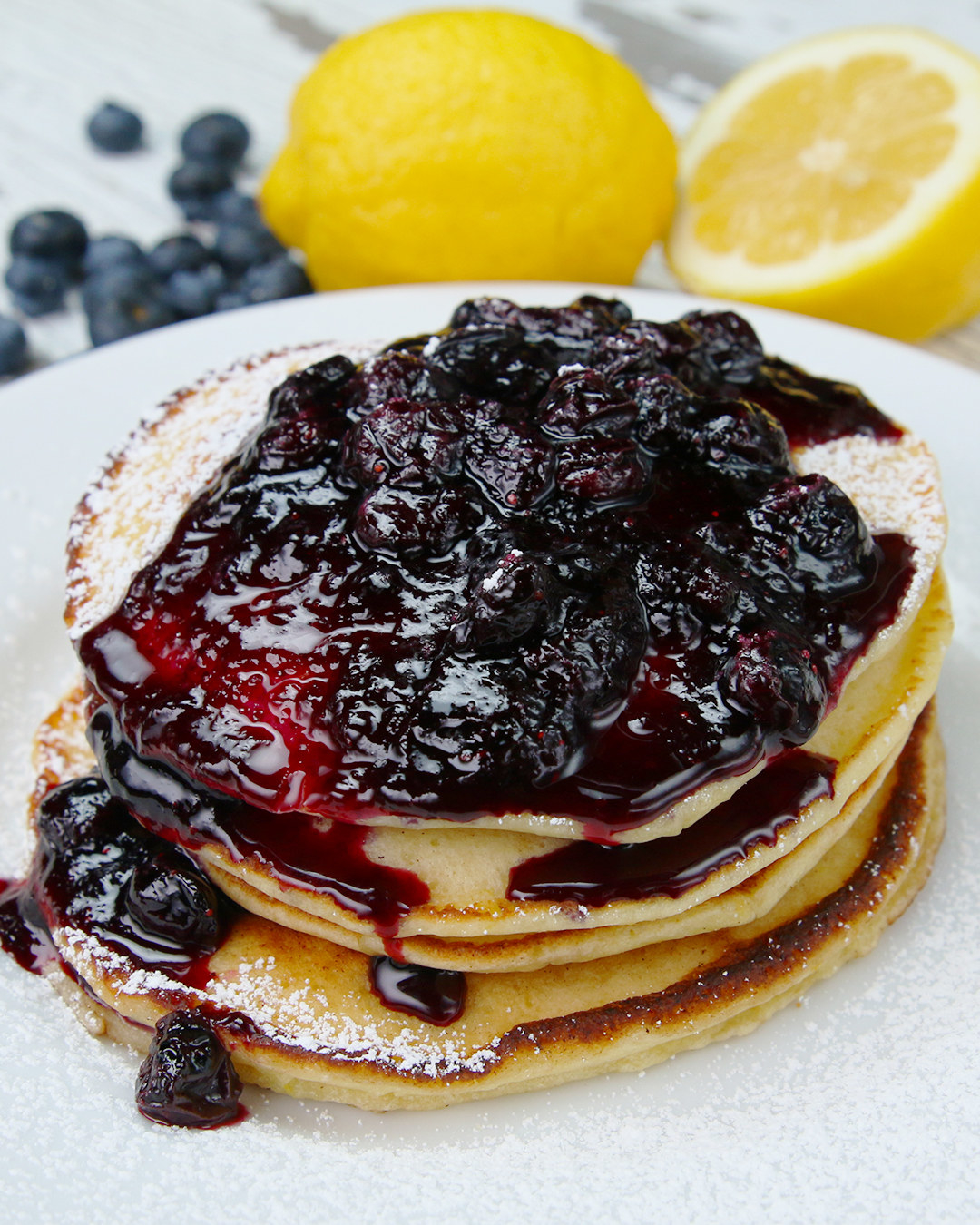 ZUTATEN
Reicht für 6 Pancakes
Pancake-Teig
225g Ricotta
2 Eigelb
180ml Milch
½ TL Vanilleextrakt
2 EL geriebene Zitronenschale
120g Mehl
1½ TL Backpulver
2 Eiweiß
2 EL Zucker
Puderzucker
Heidelbeeren-Kompott
200g Heidelbeeren
200g Zucker
115 ml Wasser
1 EL Zitronensaft
ZUBEREITUNG
1. Ricotta in eine große Schüssel geben. Eigelb, Milch, Vanilleextrakt und geriebene Zitronenschale dazugeben – gut verrühren. Wenn sich die Zutaten gut vermischt haben, Mehl und Backpulver hinzugeben. Jetzt cremig rühren.
2. In einer seperaten Schüssel das Eiweiß mit einem Hand-Mixer steifschlagen. Unterdessen Zucker hinzugeben. Solange weiterschlagen, bis sich kleine fluffige Spitzen bilden.
3. Das fluffige Eiweiß langsam unter die Ricotta-Masse heben.
4. Erhitze etwas Butter in einer Pfanne. Gib eine Suppenkelle voll mit Pancake-Masse in die Mitte der Pfanne und brate sie 2-3 Minuten von beiden Seiten. Pancakes sollten golbraun sein.
5. Bereite eine seperate Pfanne vor und erhitze sie. Gib dann die Heidelbeeren, Zucker, Wasser und Zitronensaft hinzu. Umrühren nicht vergessen, damit der Zucker nicht anbrennt. 8-10 Minuten köcheln lassen, bis das Kompott schön dickflüssig ist.
7. Pancakes auf einem Teller stapeln und das heiße Kompott darübergießen. Puderzucker nicht vergessen.
8. Guten!
Dieser Artikel erschien zuerst auf Englisch.
Looks like there are no comments yet.
Be the first to comment!