Schokoladen-Crepes-Kuchen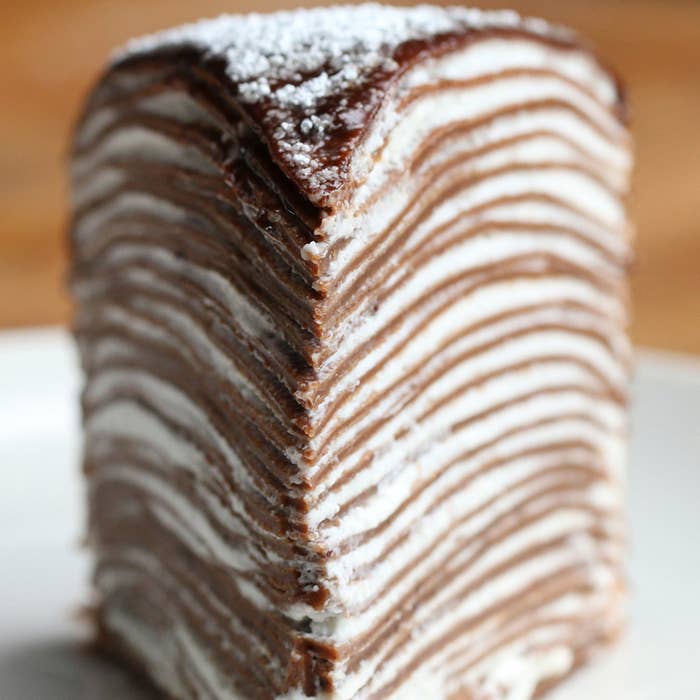 Zutaten:
Für die Crepes:
6 EL Butter
720ml Milch
6 Eier
150g Mehl
65g Kakaopulver
7 EL Zucker
240g Sahne
Für die Ganache:
60g Konditorsahne
4 EL Zucker
180 Schokolade
1 EL Butter
40g Puderzucker, optional
Zubereitung
1. Für den Crepes-Teig die Butter schmelzen und warten bis sie leicht braun wird. Beiseite stellen.
2. Im gleichen Top die Milch erwärmen. Von der Hitze nehmen.
3. In einer Schüssel Mehl, Kakao und Zucker mit einem Schneebesen vermischen. Die Eier hinzugeben und nach und die Butter und warme Milch hineingießen. Abkühlen lassen.
4. Eine kleine Kelle des Crepe-Teigs - genug, dass die komlette Fläche dünn überzogen ist - in eine antihaftbeschichtete Pfanne geben und bei mittlerer Hitze backen, bis die Unterseite des Crepes braun wird, dann umdrehen. Wiederholen bis der komplette Teig aufgebraucht ist. Crepes abkühlen lassen.
5. Die Crepes aufeinander stapeln und Sahne zwischen jede Schicht geben. Danach die Ränder abschneiden, damit eine saubere Kante entsteht.
6. Die Konditorsahne mit dem Zucker kochen und über Schokolade und Butter gießen, so dass die Ganache entsteht. Dann über den Crepes-Kuchen verteilen.
7. Optional mit Puderzucker besträuen.
8. Lecker!
Want BuzzFeed Tasty right in your inbox? Sign up for our newsletter!
If you can't see the signup box above, just go here to sign up for the BuzzFeed Tasty newsletter!
Dieser Artikel erschien zuerst auf Englisch.