Steinaofen-Style Pizza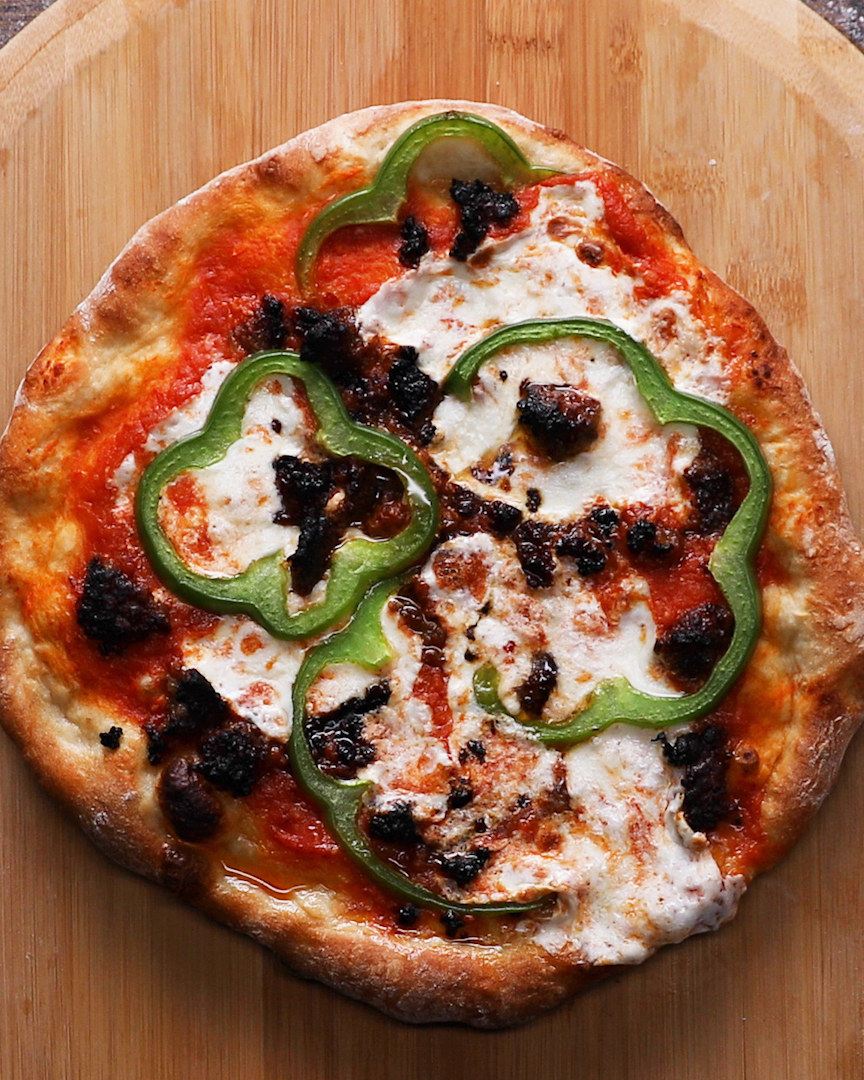 ZUTATEN
Portionen: 4
Teig:
480 g Mehl
2½ EL Salz
1 EL Zucker
235 ml Wasser
1½ TL Hefe
1 EL Olivenöl
Tomatensauce:
400 g passierte Tomaten
2 EL Olivenöl
1 EL Salz
4 Knoblauchzehen
Belag:
Mozzarella
Basilikum
Paprika
Zwiebeln
ZUBEREITUNG
1. In eine Schüssel Mehl, Salz, Zucker geben. Einmal umrühren.
2. Neue Schüssel nehmen. Gib das Wasser, Hefe und Olivenöl dazu. Gut vermischen und für 2 Minuten ruhen lassen.
3. Dann gibst du die Mischung über die Schüssel mit dem Mehl und knetest es mit deinen Händen zu einem festen Teig. Diesen lässt du dann 20 Minuten ruhen.
4. Arbeitsfläche mit Mehl bestreuen. Das verhindert, dass der Teig kleben bleibt. Teig aus der Schüssel nehmen und gut durchkneten. Dann teilst du ihn in der Mitte und legst die 2 Teile auf ein Backblech. Überdecke es mit einem Tuch und lasse den Teig 4 Stunden ruhen.
5. In der Zwischenzeit kannst du die Tomatensauce vorbereiten. Passierte Tomaten in einen Mixer geben. Olivenöl, Salz, Knoblauchzehen dazu. Alles mixen.
6. Ofen auf 290°C vorheizen und einen Pizzastein oder eine gusseiserne Pfanne darin aufheizen.
7. Den Teig aus der Schüssel nehmen und erneut durchkneten und den Pizzaboden durch Ziehbewegungen formen. Vergiss nicht den Rand etwas dicker zu machen. Jetzt den Teig mit der Tomatensauce bestreichen, Mozzarella und frisches Basilikum darüberlegen. Ab in den Ofen.
8. Der Teig sollte nicht zu dunkel werden. Achte darauf, dass dir die Pizza nicht verbrennt – es geht superschnell.
9. Servieren und genießen!
Dieser Artikel erschien zuerst auf Englisch.
Looks like there are no comments yet.
Be the first to comment!