Einfaches Butter Chicken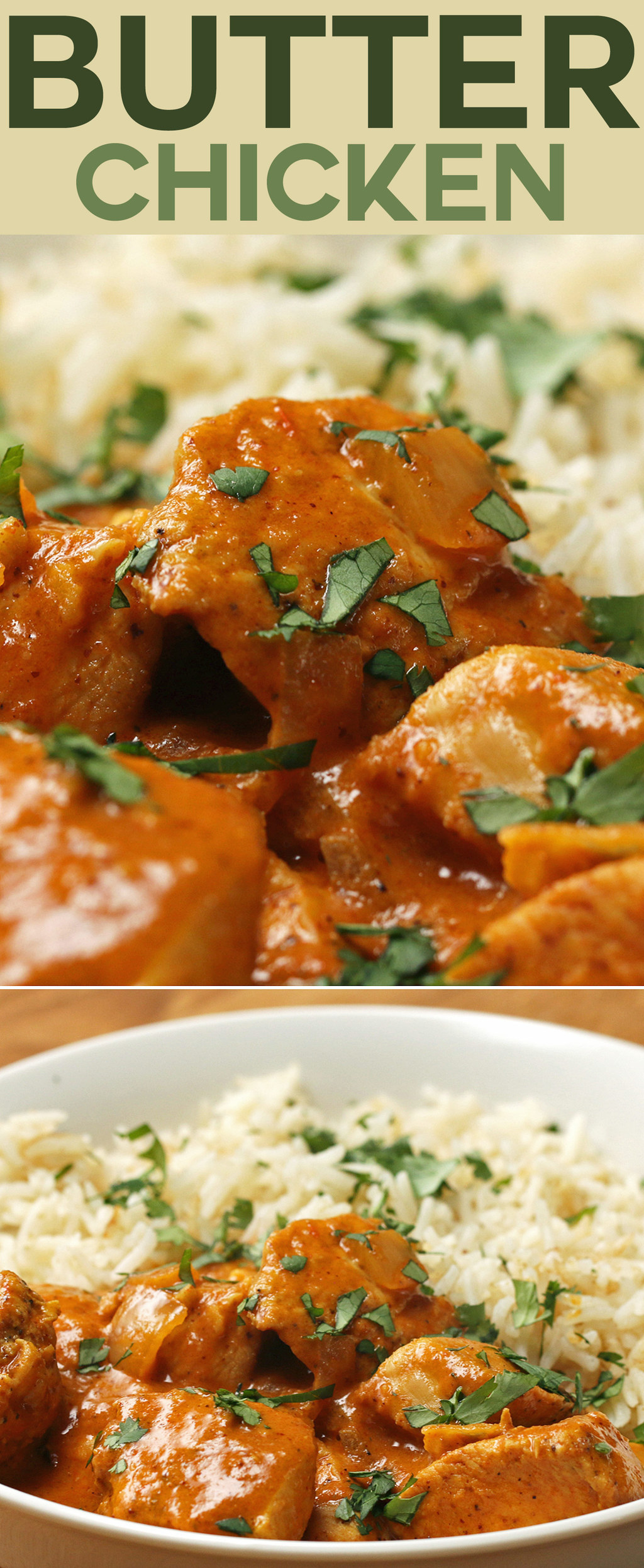 ZUTATEN
900g Hähnchenbrust
Salz und Pfeffer
1 TL Chillipulver
1/2 TL gemahlener Kurkuma
6 EL Butter, aufgeteilt in 2 EL Stücke
1 große Zwiebel (etwa 225 g)
3 TL Garam Masala
1 TL Chillipulver
1 TL Kreuzkümmel
1 TL Cayennepfeffer
1 EL gemahlener Ingwer
3 zerquetschte Knoblauchzehen
Zimtstange
400g Tomatensoße
240 ml Wasser
235g Konditorsahne
Gehackter Koriander zum Bestreuen
Reis
ZUBEREITUNG
Mariniere die Hähnchenbrust in Chillipulver, Kurkuma, Salz und Pfeffer. Lass alles für 15 Minuten ziehen.
Brate das Hähnchen in 2 EL Butter an, nimm es vom Herd und stell es zur Seite.
Schmilz zwei weitere EL Butter über mittlerer Hitze, gib Zwiebeln, Knoblauch, Garam Masala, gemahlenen Ingwer, Chillipulver, gemahlenen Kreuzkümmel, Cayennepfeffer, Zimt, Salz und Pfeffer hinzu. Brate dies an, bis alles duftet.
Gib die Tomatensoße hinzu und bring alles zum Kochen. Gib Wasser und Sahne hinzu und lass es wieder aufkochen. Nun gib das Hähnchen wieder hinzu und lass es abgedeckt für 10 - 15 Minuten köcheln.
Rühre die letzten zwei EL Butter hinein und schmecke es mit Salz und Pfeffer ab.
Serviere es mit Koriander und auf Reis. Guten Appetit!
Dieser Artikel erschien zuerst auf Englisch.
Looks like there are no comments yet.
Be the first to comment!