Reissalat mit Orangen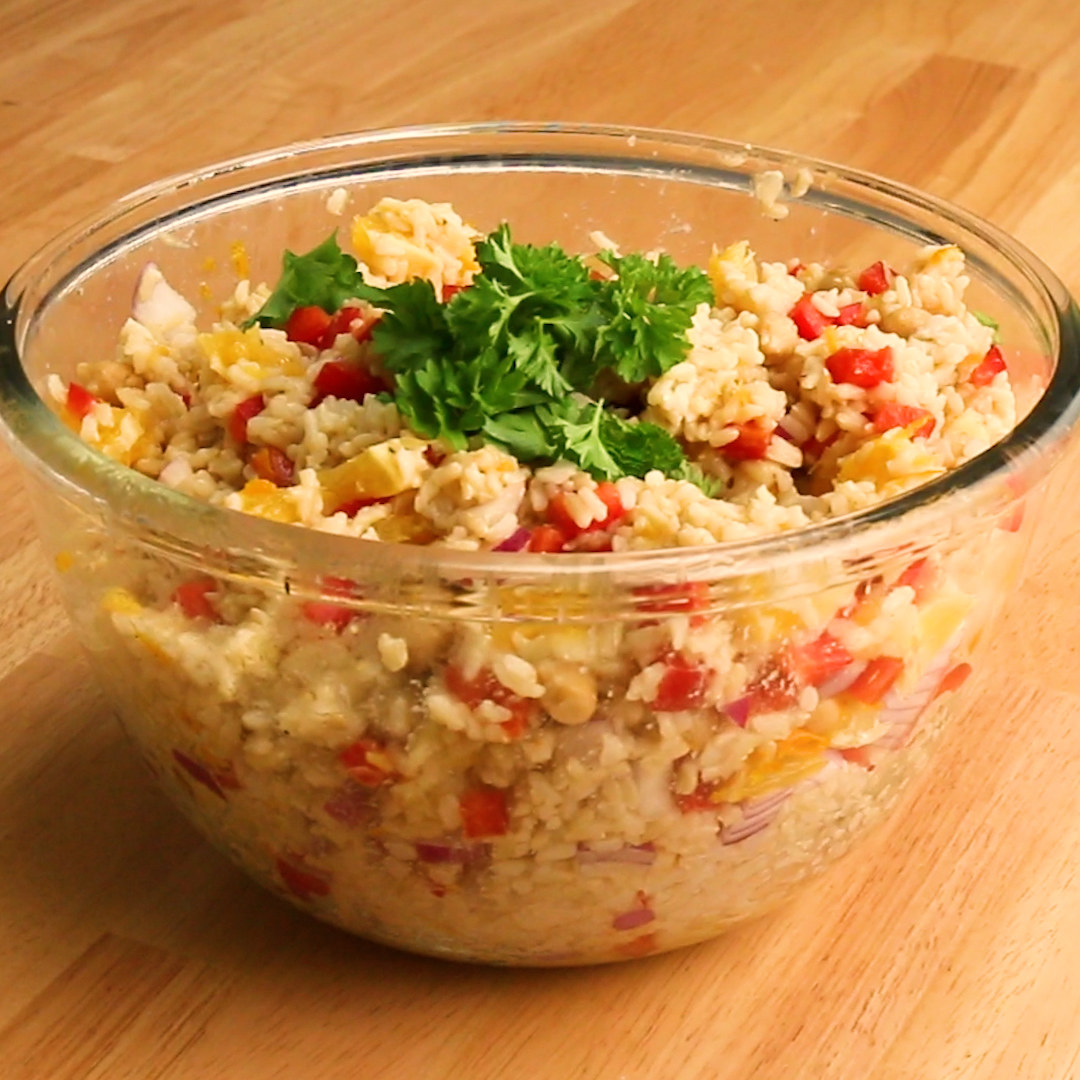 ZUTATEN
250g Naturreis, gekocht
1 rote Paprika, klein geschnitten
1 rote Zwiebel, klein geschnitten
1 kleine Orange, geschnitten
Orangenschalenabrieb
50g Kichererbsen
Vinaigrette
50ml Orangensaft
1 EL Olivenöl
4 Prisen Salz
2 TL Pfeffer
1 TL Chilliflocken
1 TL Sojasauce
frische Petersilie (optional)
ZUBEREITUNG
1. Den Naturreis mit einer Prise Salz kochen.
2. Während der reis abkühlt, das Gemüse in Stückchen schneiden. Da von der Orange jedoch sowohl das Fleisch, als auch die Schale verwendet wird, muss sie zunächst gut abgewaschen und getrocknet werden. Daraufhin mit einer Reibe die Orangenschale abreiben. Dabei jedoch das weiße Mark, das die Schale von dem Fruchtfleisch trennt vermeiden, da dieses sehr bitter schmeckt.
3. Anschließend das Fruchtfleisch der Orange in Stücke schneiden und gemeinsam mit der Paprika, der Zwiebel, den Kichererbsen und dem Orangenschalenabrieb zu dem Reis geben.
4. Für die Vinaigrette Orangensaft, Olivenöl, Salz, Pfeffer, Chilliflocken und Sojasauce mischen. Die Vinaigrette auf den Salat geben und alles gut miteinander vermengen.
5. Mit frischer Petersilie servieren. Guten Appetit!
Looks like there are no comments yet.
Be the first to comment!