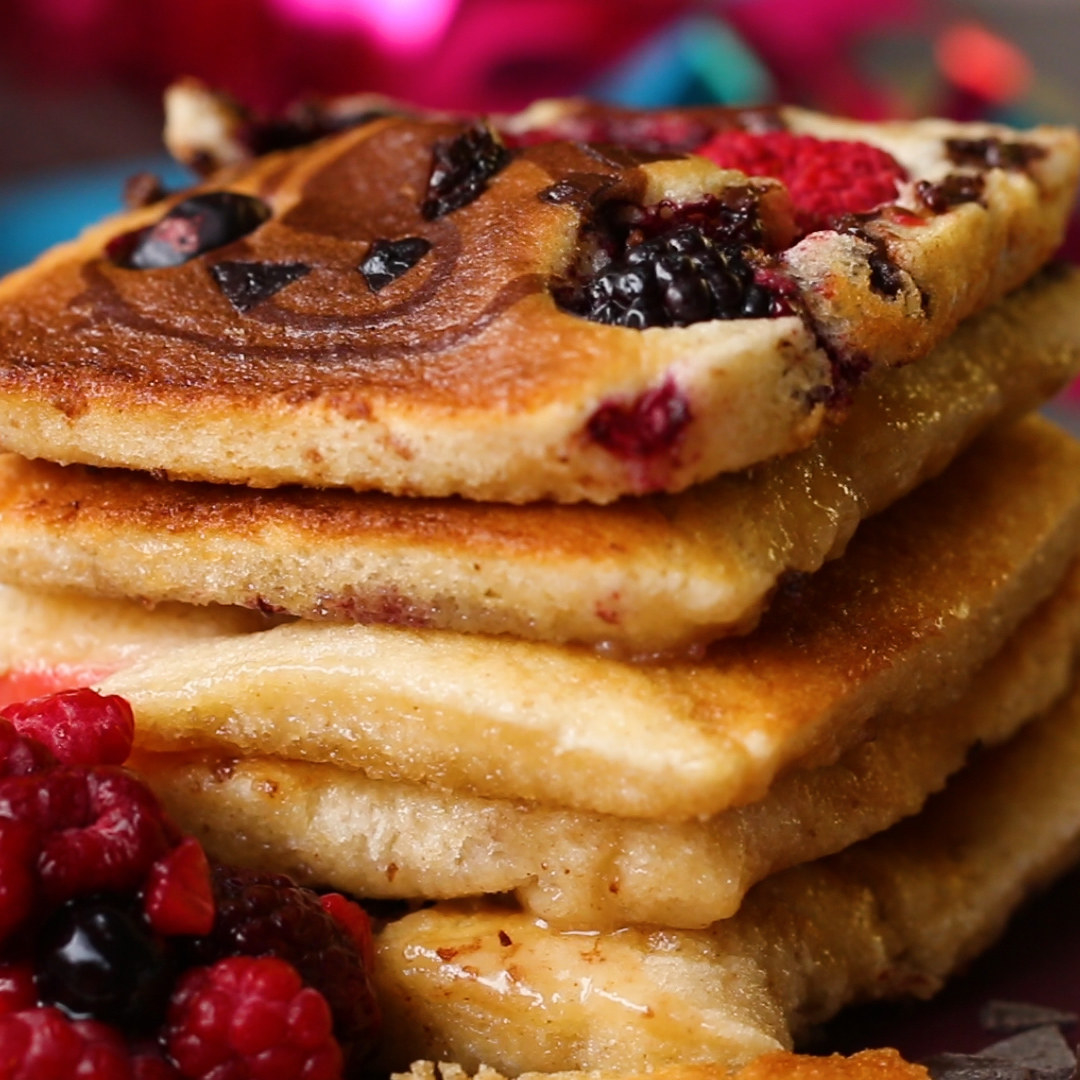 ZUTATEN & ZUBEREITUNG
20g Zucker
1 Ei
150ml Milch
75g Mehl
1 TL Backpulver
½ TL Salz
½ TL Muskatnuss
½ TL Zimt
25g Kakaopulver
20g Butter
20g brauner Zucker
Pancake Toppings
1 Apfel, fein geschnitten
1 Birne, fein geschnitten
50g gefrorene Himbeeren
50g gefrorener Beerenmix
20g Schokoraspeln
50ml Vanilleeis
50g Nuss-Nougat-Créme
oder was auch immer du sonst magst!
ZUBEREITUNG
1. Zucker und 1 Eigelb in einer Schüssel gut mixen .
2. Dann die Milch hinzugeben und erneut gut mixen.
3. Nach und nach das Mehl hinzugeben, damit es keine Klumpen gibt, und alles zu einem geschmeidigen Teig vermischen.
4. Danach Backpulver, Salz, Muskatnuss und Zimt untermischen.
5. Das Eiweiß in einer seperaten Schüssel steif Schlagen und vorsichtig unter den Teig heben.
6. Die Hälfte des Teiges in eine andere Schüssel füllen, Kakaopulver hinzugeben und vermischen.
7. Das Raclette vorheizen und die Früchte, Butter, Zucker, Schokoraspeln und deine Lieblingszutaten vorbereiten, also Früchte schneiden oder Butter würfeln.
8. Einen halben Teelöffel Butter in eine Raclettepfanne geben und schmelzen, dann mit dem Pancake-Teig, Früchten und Schokoraspeln deiner Wahl individuelle Pancakes machen. So kannst du zum Beispiel Zucker und Apfelscheiben in die Pfännchen geben und karamellisieren lassen bevor du den Teig darüber gibst.
9. Mit Schokoladencreme, Eiscréme und extra Früchten servieren.
10. Genießen!
Looks like there are no comments yet.
Be the first to comment!