Marinierte Putenbrust auf Salat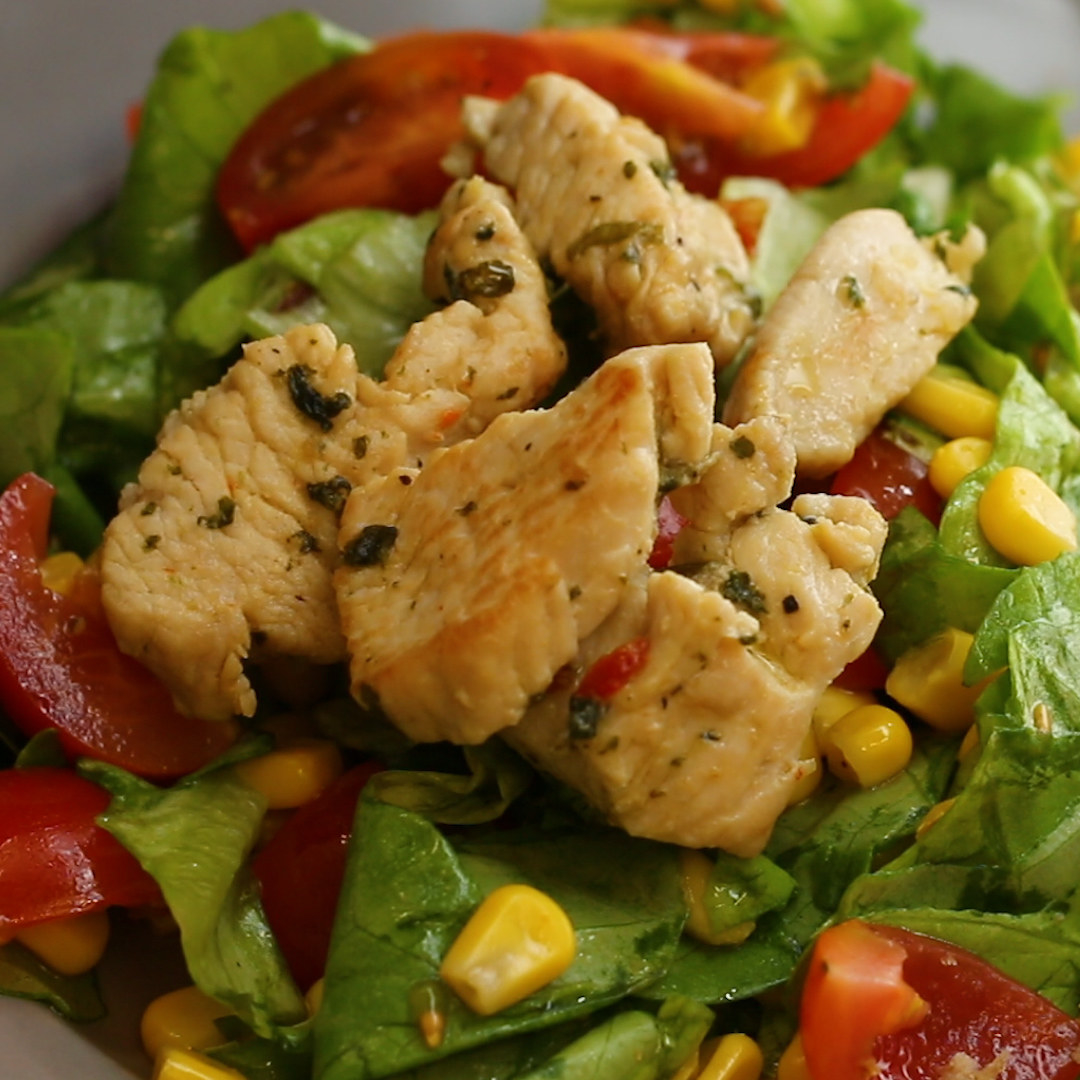 ZUTATEN
ZUTATEN
½ Handvoll Petersilie, gehackt
½ Handvoll Basilikum, gehackt
50ml Olivenöl
2 TL Salz
1 TL Pfeffer
1 TL Paprikapulver
1 TL Chilliflocken
500g Putenbrust, in mundgerechte Stücke geschnitten
2 Knoblauchzehen, fein gehackt
Salat nach Wahl
ZUBEREITUNG
1. Die kleingehackte Petersilie und das Basilikum in einen Mörser oder eine Keramikschüssel geben und mit Hilfe eines Stößels zerquetschen bis der Saft austritt.
2. Olivenöl, Salz, Pfeffer, Paprikapulver und Chilliflocken hinzugeben und alles gut verrühren.
3. Die in mundgerechte Stücke geschnittene Putenbrust in einer großen Schüssel mit der Marinade vermischen.
4. Daraufhin die marinierte Putenbrust in eine verschließbare Dose legen und die fein gehackten Knoblauchzehen darüber streuen.
5. Die verschlossene Dose nun für 24 Stunden oder über Nacht in den Kühlschrank legen.
6. Um die Putenbrust am nächsten Tag anzubraten, zunächst eine antihaft-beschichtete Pfanne auf mittlerer Hitze warm werden lassen.
7. Die marinierte Putenbrust hineingeben und, unter gelegentlichem Rühren, für ca. 10 Minuten anbraten, bis sie eine gold-braune Farbe angenommen hat und durchgegart wurde.
8. In deinen Lieblingssalat geben - wir haben Blattsalate Mais und Tomaten genommen, aber nimm, was immer dir am besten schmeckt! Das ganze funktioniert natürlich auch mit Hühnchen!
9. Reinhauen!
Looks like there are no comments yet.
Be the first to comment!