Handbrot mit Lachs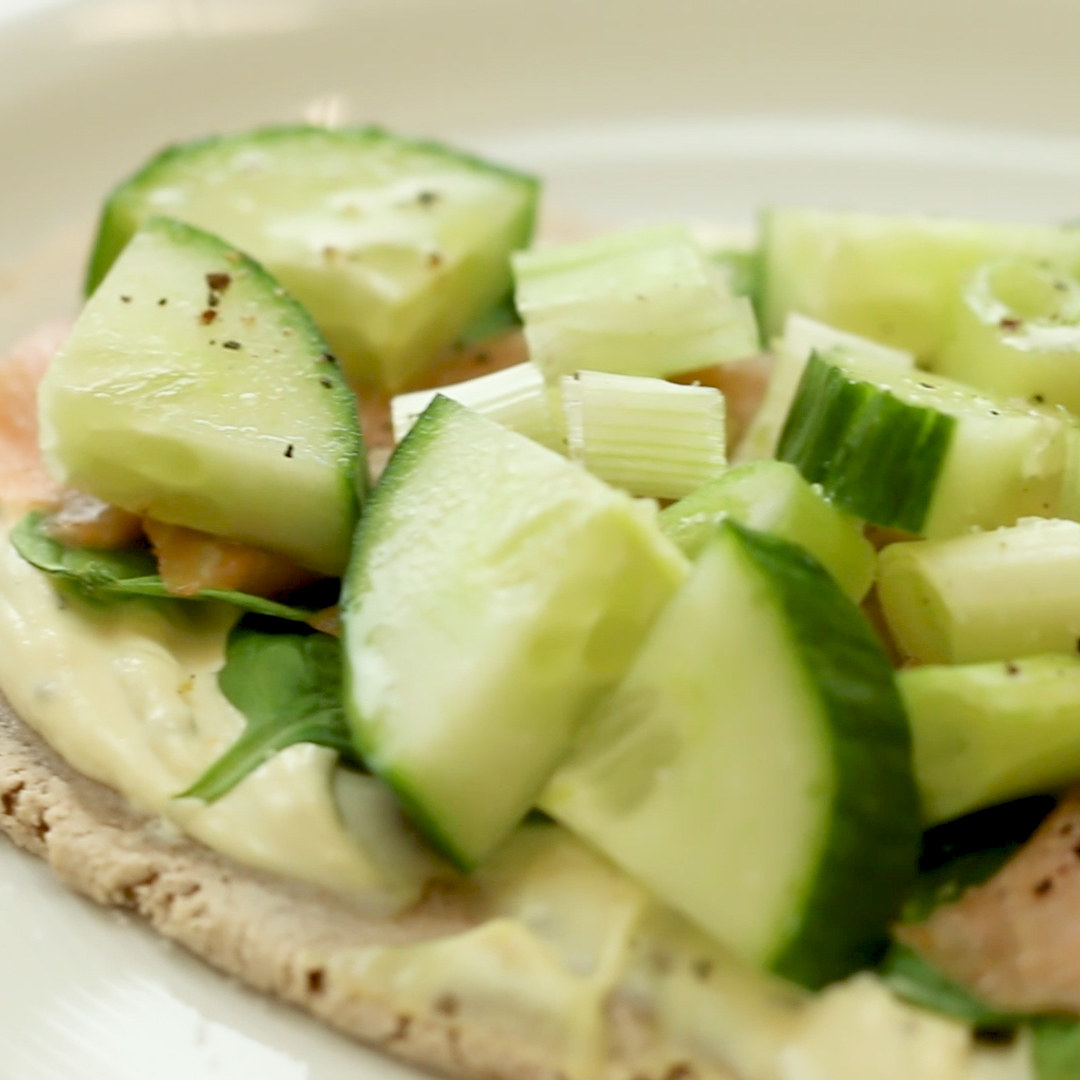 ZUTATEN
Brotteig
300ml warmes Wasser
1 EL Zucker
1 Stück Hefe für 500gr Mehl
500gr Vollkornmehl
1 Prise Salz
Olivenöl
Belag
200gr Frischkäse
100gr Blattspinat
150gr Lachs
1 Gurke
3 Frühlingszwiebeln
Salz
Pfeffer
1 Limette
ZUBEREITUNG
1. Hefe und Zucker in warmen Wasser vermischen, bis beides sich vollständig aufgelöst hat.
2. Mehl, Salz und das Hefe-Zucker-Wasser in eine Schüssel geben und beginnen zu kneten bis der Teig fest und geschmeidig ist.
3. Den Teig aus der Schüssel herausnehmen und die Innenseiten der Schüssel mit etwas Olivenöl einstreichen. Dies vermeidet, dass der Teig daran festkleben bleibt.
4. Danach den Teig wieder in die Schüssel legen und mit einem feuchten Tuch abdecken. Dies vermeidet, dass der Teig austrocknet während er für mindestens 30 Minuten, am besten an einem warmen Ort, geht.
5. Nach Ablauf der Zeit, den Ofen auf 170°C vorheizen und den Teig aus der Schüssel nehmen und ihn in mindestens sechs gleich große Stücke aufteilen. 6. Diese Stücke einzeln als Brotscheiben ausrollen und für 10 Minuten bei 170°C im Ofen backen.
6. Die Brotscheiben nach dem herausnehmen aus dem Ofen mit Frischkäse bestreichen und Blattspinat sowie Lachs darüber geben.
7. Daraufhin die Brotscheiben nochmals für 10 Minuten bei 170°C im Ofen backen.
8. Anschließend mit geschnittener Gurke, Frühlingszwiebeln, Salz, Pfeffer und Limettensaft bestreuen.
9. Guten!
Handbrot inspiriert von: http://zuckerundjagdwurst.com/weihnachtsmenue-veganes-handbrot/?lang=en
Looks like there are no comments yet.
Be the first to comment!