Käse-Laugen 'Corn' Dogs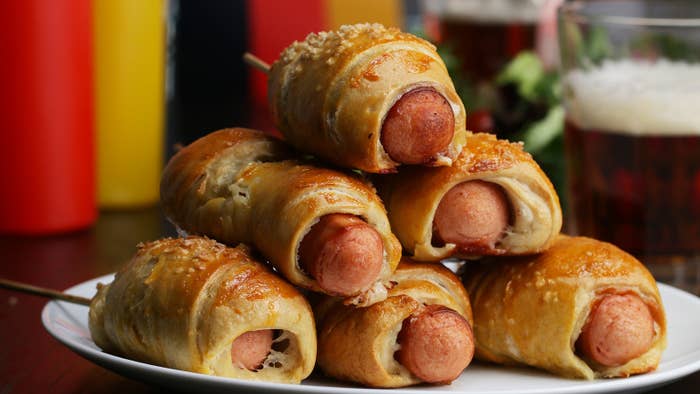 ZUTATEN
Für 6-8 Stück
6-8 Scheiben Käse
5-8 Mini-Würstchen
Brezelteig
250ml Wasser
3 EL Trockenhefe
1 TL Salz
350g Mehl
1 Liter Wasser
3 EL Back-Natron
1 Eigelb
Grobes Salz
ZUBEREITUNG
1. Ofen auf 180°C vorheizen.
2. Die Würstchen in Käse wickeln und einen Holzspieß durch das Würstchen stecken, dann auf ein Blech legen und 20 Minuten einfrieren. Wrap the frankfurters in the cheese and secure a long cocktail stick through the end of the frankfurters.
3. In der Zwischenzeit den Brezelteig machen. Wasser, Trockenhefe und Salz vermischen, dann Mehl hineingeben und mit den Händen durchkneten.
4. Den Teig 8-10 Minuten kneten, bis er sich weich und "elastisch" anfühlt.
5. Ein Stück Teig nehmen und lang ziehen.
6. Den Teig um den Würstchen-Käse-Spieß wickeln.
7. In einem großen Topf Wasser und Natron zum Kochen bringen. Die Würstchenspieße für 3 Minuten eintunken.
8. Die Spieße auf ein Blech legen und mit Eigelb bestreichen, dann grobes Salz darüber streuen.
9. Für 18 Minuten backen, bis der Laugenteig goldbraun und durchgebacken ist.
10. Auffuttern!