4-Käse-Kroketten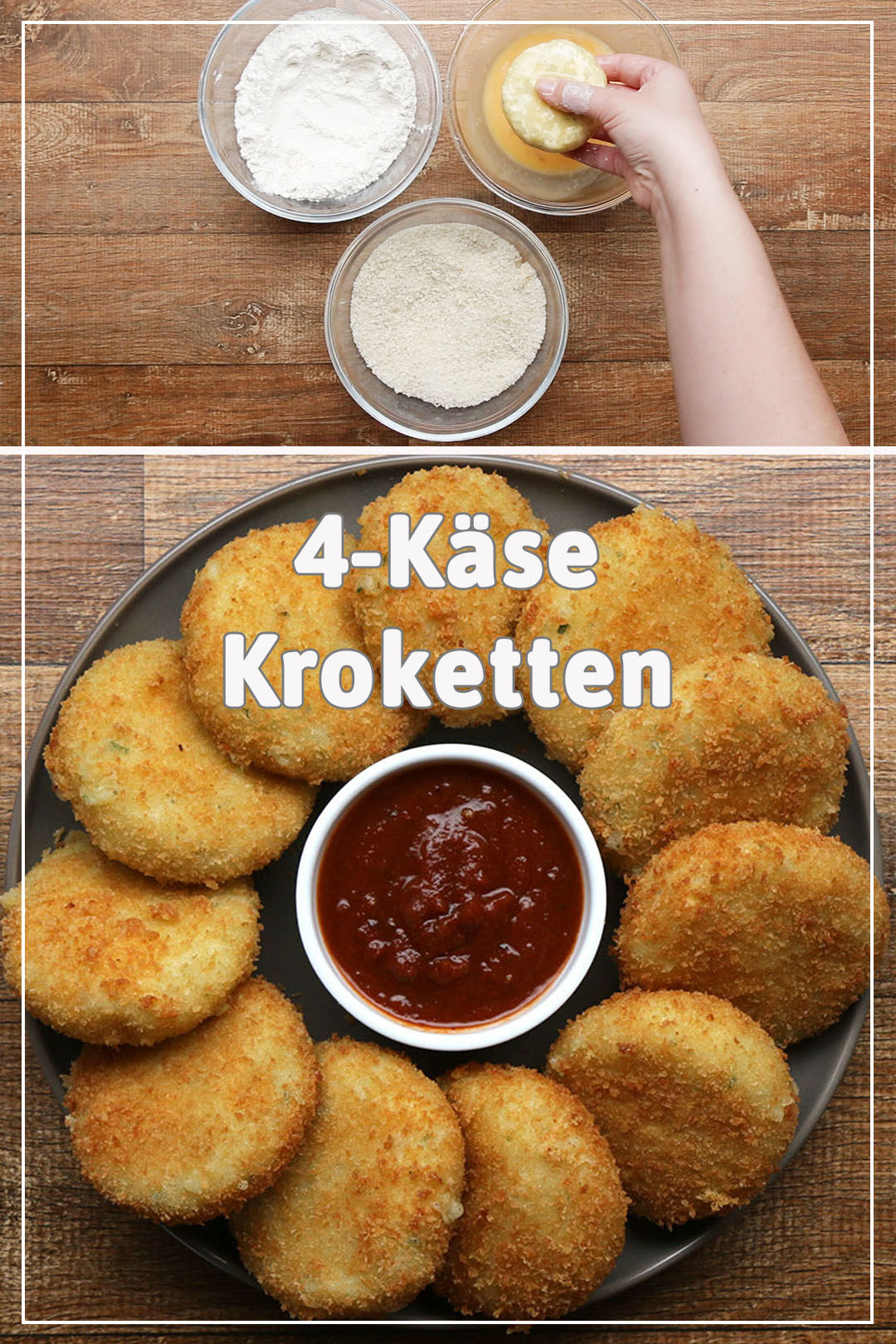 ZUTATEN
Für ungefähr 15 Stück
7 mittelgroße Kartoffeln
Salz
115 g Mozzarella
200 g Parmesan
200 g Provolone
85 g Halloumi
Petersilie
Pfeffer
Mehl
4 Eier
Panko
Öl
Dips zu Servieren
ZUBEREITUNG
1. In einem Topf Wasser zum Kochen bringen, dann Kartoffeln und Salz hinzugeben.
2. Abdecken und bei mittlerer Hitze 10-15 Minuten kochen lassen, bis die Kartoffeln weich sind.
3. Abgießen und in eine große Schüssel geben, dann mit einem Kartoffelstampfer zerdrücken, bis keine Stückchen mehr übrig sind.
4. Geriebenen Mozzarella, Parmesan, Provolone und Halloumi hinzugeben, dann Petersilie, Pfeffer und Salz unterrühren, bis alles gut vermischt ist.
5. Den Kartoffel-Mix in eine runde Form formen.
6. Mehl, Eier und Panko in jeweils eine Schüssel geben.
7. Die Kroketten erst im Mehl wenden, überschüssiges Mehl vorsichtig abklopfen, dann im Ei und zuletzt gleichmäßig in Panko wenden.
8. In einem Topf Öl auf 180°C erhitzen.
9. Jeweils 2-3 auf einmal ausbacken, bis sie von außen goldbraun sind, dann auf Küchenpapier abtropfen lassen.
10. Abkühlen lassen, dann mit Dips deiner Wahl servieren.
11. Guten Appetit!
Looks like there are no comments yet.
Be the first to comment!