Schwedische Fleischbällchen-Sandwiches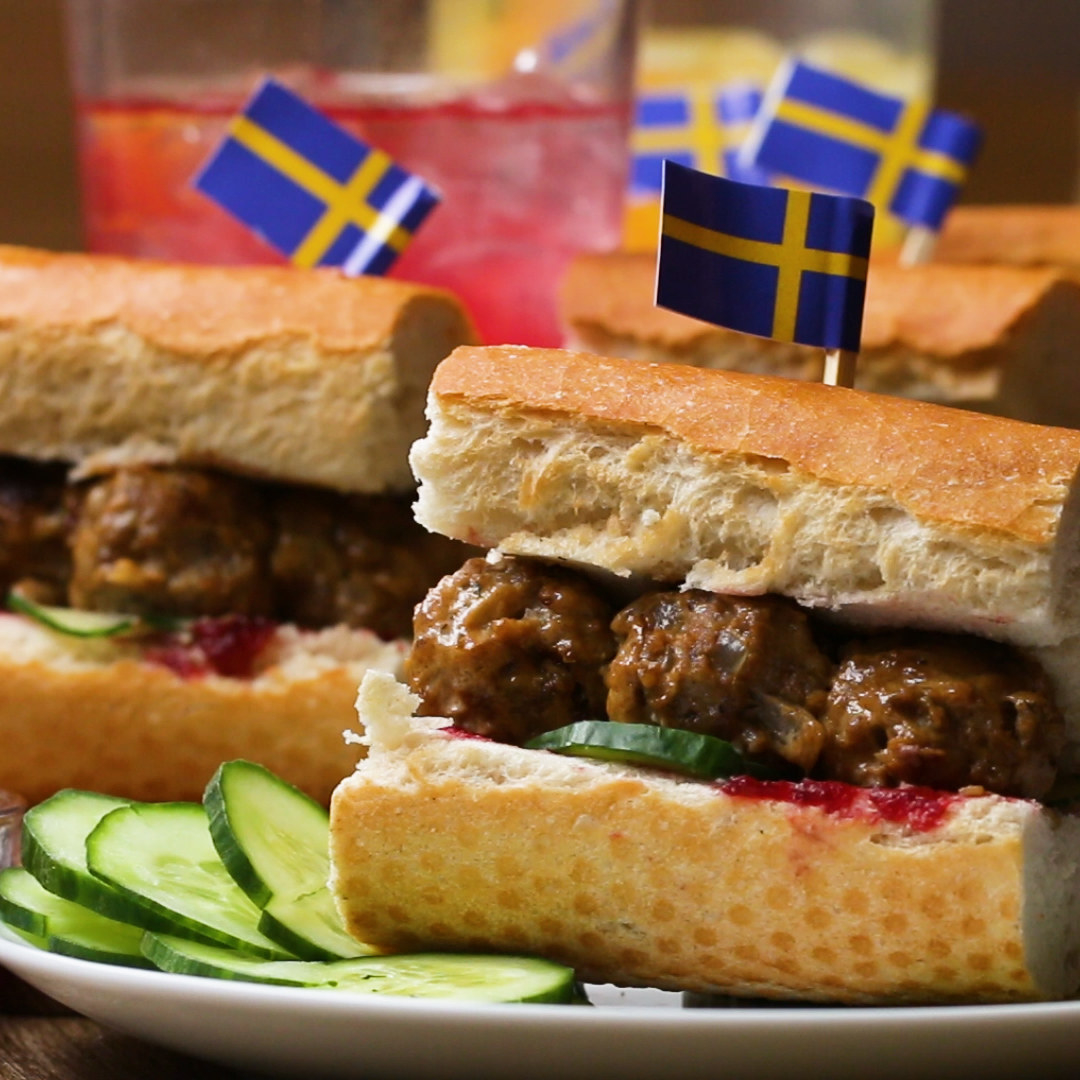 ZUTATEN
Portionen: 12
Fleischbällchen
200g Rinderhack
200g Schweinehack
1 Ei
1 EL Dill
1 Zwiebel
50g Semmelbrösel
1 TL Salz
1 TL Pfeffer
Sauce
20ml Wasser
1 Rinderbrühwürfel
200ml Sahne
2 TL Dijon Senf
2 TL Worcestershire-Sauce
ZUM SERVIEREN
3 Baguettes
1 Gurke
Preiselbeersauce
ZUBEREITUNG
1. Alle Zutaten für die Fleischbällchen gut vermischen und dann in zirka Golfball-große Bällchen formen.
2. Über niedriger bis mittlerer Hitze von allen Seiten gut anbraten, bis die Bällchen von außen goldbraun sind. Das sollte zirka 12-15 Minuten dauern.
3. Falls du für eine Party eine große Menge Fleischbällchen machst, mach sie im Voraus, dann wärme sie in einem Ofen für 10-15 Minuten bei 175°C wieder auf und stell sicher, dass sie komplett erhitzt sind.
4. Für die Sauce einen Rinderbrühwürfel in 20ml Wasser auflösen, dann Sahne, Senf und Worchester-Sauce hinzugeben.
5. Die Fleischbällchen in die Sauce geben und warten, bis die Sauce dick und cremig wird.
6. Die Fleischbällchen auf Baguette mit Gurkenscheiben und Preiselbeersauce servieren.
7. Guten!
Looks like there are no comments yet.
Be the first to comment!