Camembert-Knoblauch-Bällchen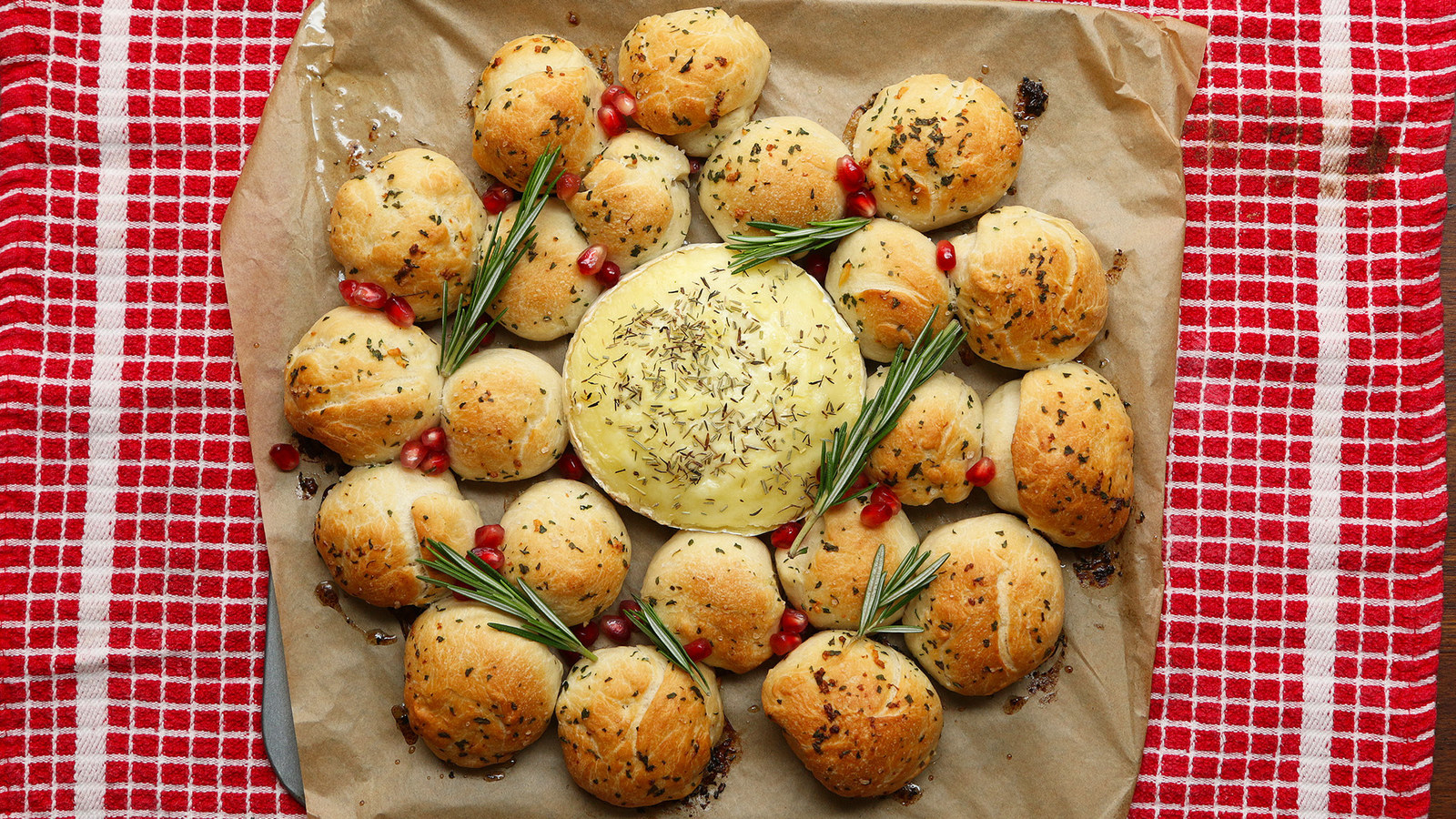 ZUTATEN
Teig
400g Mehl, etwas extra zum Mehlen der Arbeitsfläche
2 TL Hefe
Salz
250ml warmes Wasser
2 EL Olivenöl
Knoblauchbutter
50g geschmolzene Butter
4 Knoblauchzehen
1 EL Petersilie
Salz
1 Camembert
Thymian
Rosmarin
Granatapfel-Samen, zum Garnieren
Rosmarin, zum Garnieren
ZUBEREITUNG
1. Die Teigbälle vorbereiten. Dafür Mehl, Hefe und Salz in einer großen Schüssel zusammengeben.
2. Einer kleine Mulde formen und Wasser und einen Esslöffel Öl hineingeben.
3. Den Teig 7-8 Minuten kneten, bis er etwas elastisch wird und von außen glatt aussieht.
4. Eine Schüssel mit dem übrigen Olivenöl auswischen, dann den Teig hineinlegen und mit Frischhaltefolie abdecken.
5. Eine Stunde ruhen lassen.
6. Ein Backblech mit Backpapier auslegen und den Deckel des Camemberts in die Mitte legen.
7. Den Teig in kleine Bälle rollen und um den Deckel platzieren, so dass ein "Kranz" entsteht.
8. Abdecken und weitere 30 Minuten ruhen lassen.
9. Ofen auf 180°C vorheizen.
10. Den Deckel durch den eigentlichen Camembert ersetzen und Butter, Knoblauch und Petersilie vermischen, dann damit die Teigbälle bestreichen.
11. Etwas Salz auf die Teigbälle geben, dann Rosmarin und Thymian auf den Camembert geben.
12. 15 Minuten backen.
13. Mit Rosmarin und Granatapfel-Samen garnieren.
14. Reinhauen!
Looks like there are no comments yet.
Be the first to comment!