Limetten-Kokos-Riegel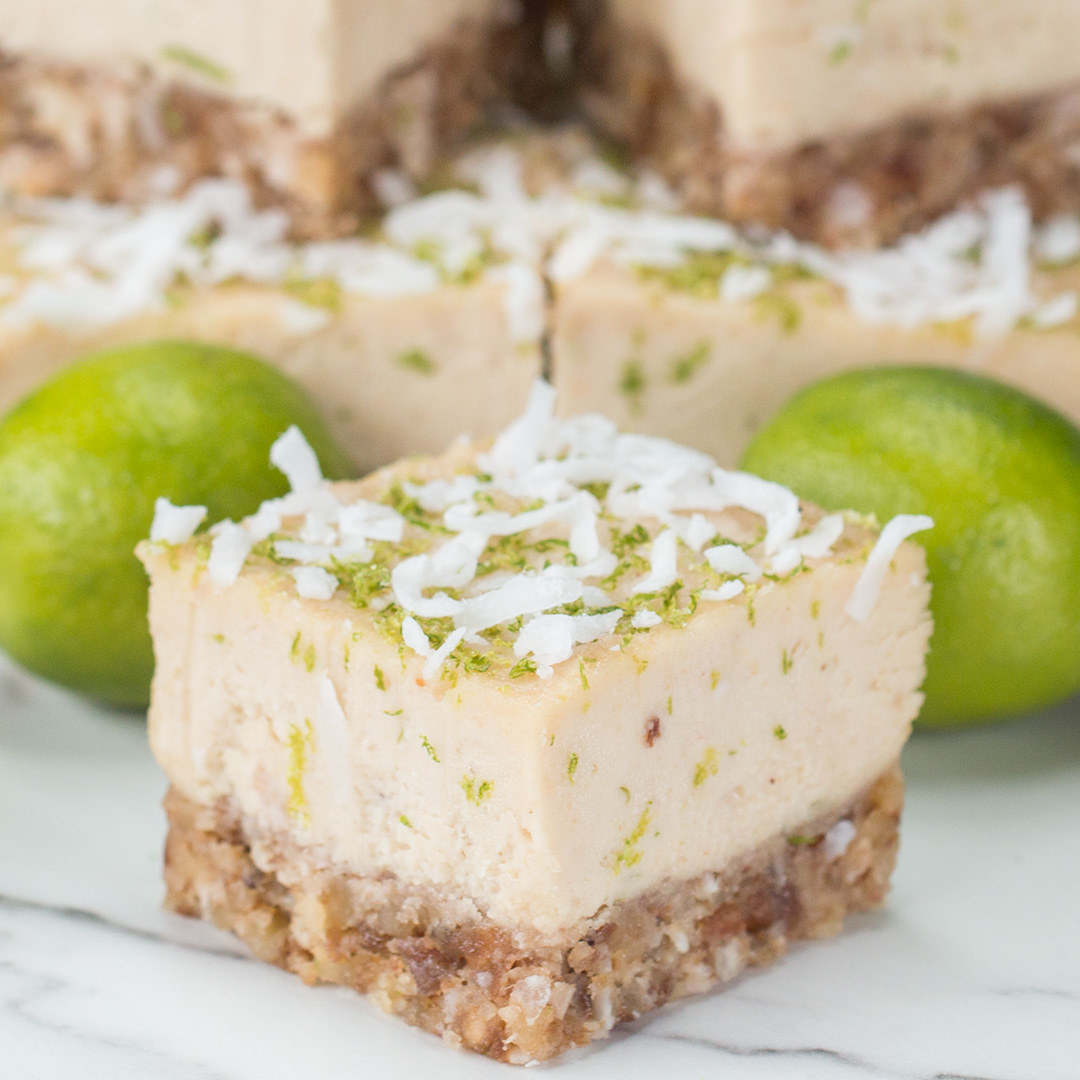 ZUTATEN
Boden
190g Walnüsse
60g Kokosraspel oder Kokosflocken
175g entsteint
1 Teelöffel Vanille-Extrakt
Spritzer Wasser
Prise Meersalz
Saure Limetten-Schicht
340g rohe Cashewnuss
Limettensaft
80g Ahornsirup
2 Teelöffel Vanille-Extrakt
Limettenschale
70g Kokosöl
Kokosraspel oder Kokosflocken, zum Garnieren
ZUBEREITUNG
1. Die Cashewnüsse am Abend vor der Zubereitung in eine Schüssel mit Wasser geben und über Nacht einweichen lassen.
2. Walnüsse, Kokosnuss, Datteln, Vanille-Extrakt, Wasser und Salz in eine Küchenmaschine oder einen Mixer geben und mixen, bis sich klebrige Hügel bilden.
3. Den Boden in eine gefriergeeignete, mit Backpapier ausgelegte 20x20 cm Form drücken.
4. Die Cashewnüsse gut abtropfen lassen und in die Küchenmaschine geben. Pürieren, bis sie geschmeidig sind.
5. Die Seiten der Maschine sauber schaben und Limettensaft, Ahornsirup, Vanille-Extrakt und Limettenschale hinzugeben.
6. Rühren, bis alles geschmeidig ist und das Kokosöl auf halbem Weg hinzugeben.
7. Die Mischung auf dem Boden verteilen und mit mehr Limettenschale und Kokosnuss bestreuen.
8. Mit Folie bedecken und für 3 Stunden oder bis es fest ist einfrieren . Guten Appetit!
Dieser Artikel erschien zuerst auf Englisch.
Looks like there are no comments yet.
Be the first to comment!