Paprika-Hähnchen mit gebratenem Reis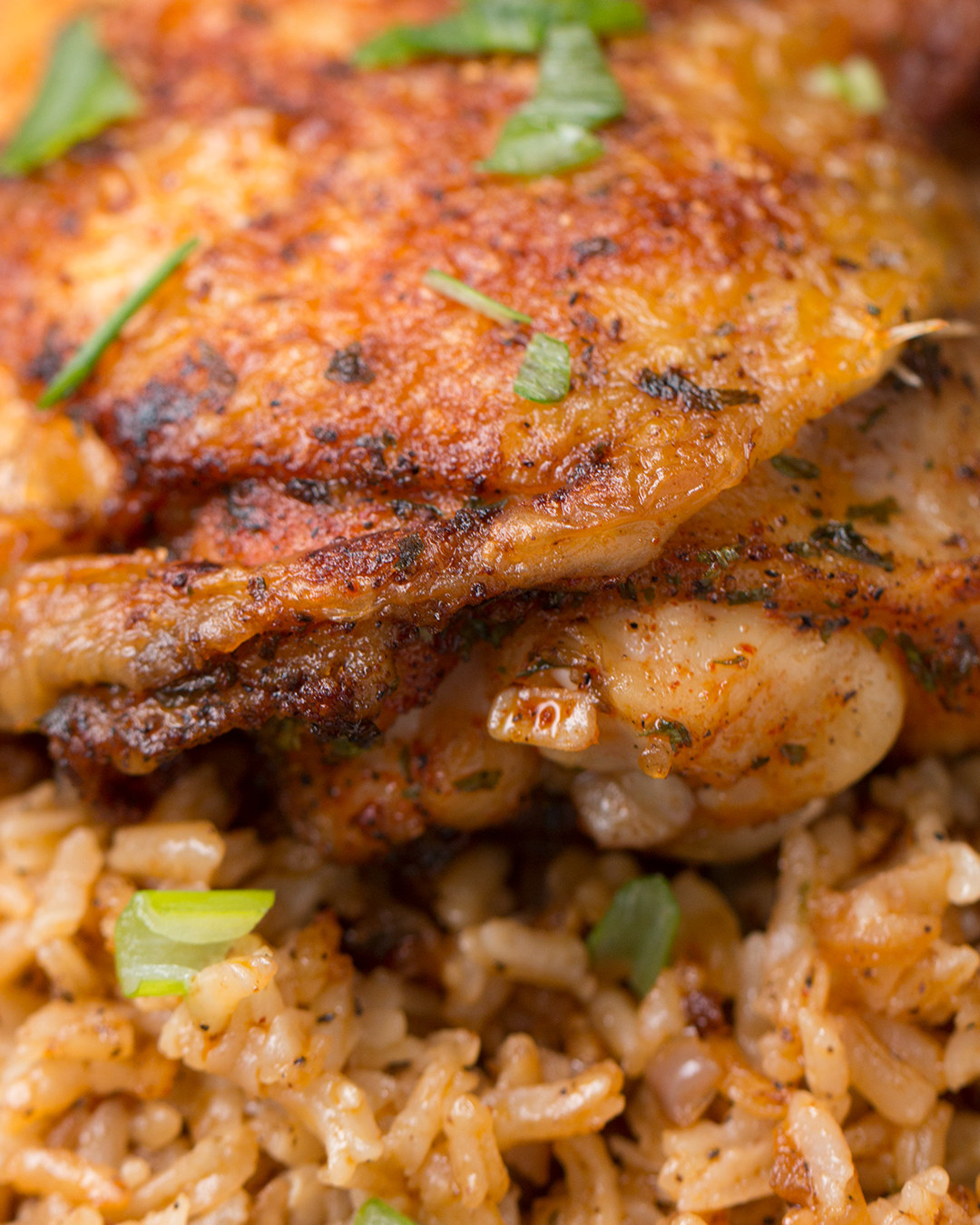 ZUTATEN
Portionen: 5
5 Hähnchenschenkel
1 TL Salz
1 TL Pfeffer
1 TL Paprikapulver
1 TL Petersilie
Olivenöl
1 EL Knoblauch
75g rote Zwiebel
200g Reis
360ml Hühnerbrühe
ZUBEREITUNG
1. Ofen vorheizen auf 200˚C.
2. Die Hähnchenschenkel in eine große Schüssel geben und gleichmäßig mit Salz, Pfeffer, Paprikapulver und Petersilie würzen. Gut mit den Händen mischen.
3. Dann in einer Backofen-geeigneten Pfanne das Olivenöl erhitzen und die Hähnchenschenkel mit der Hautseite nach unten in der Pfanne für 5-6 Minuten braten. Hähnchenschenkel umdrehen, wenn sie goldbraun und knusprig sind. Nun nochmal 5-6 Minuten braten und dann aus der Pfanne holen.
4. Den Knoblauch und die Zwiebeln in die heiße Pfanne geben und schön glasig anschwitzen.
5. Den Reis dazugeben und mit der Hühnerbrühe ablöschen. Mit Salz und Pfeffer nachwürzen. Gut rühren und zum Köcheln bringen.
6. Jetzt wieder die Hähnchenschenkel mit der Hautseite nach oben auf den Reis legen. Deckel schließen und köcheln lassen.
7. Dann für 35-40 Minuten das Ganze in den Ofen stellen, bis der Reis durch ist.
9. Einfach lecker!
Dieser Artikel erschien zuerst auf Englisch.
Looks like there are no comments yet.
Be the first to comment!