Sahniger Nudeltopf mit Hühnchen, Bacon und Gemüse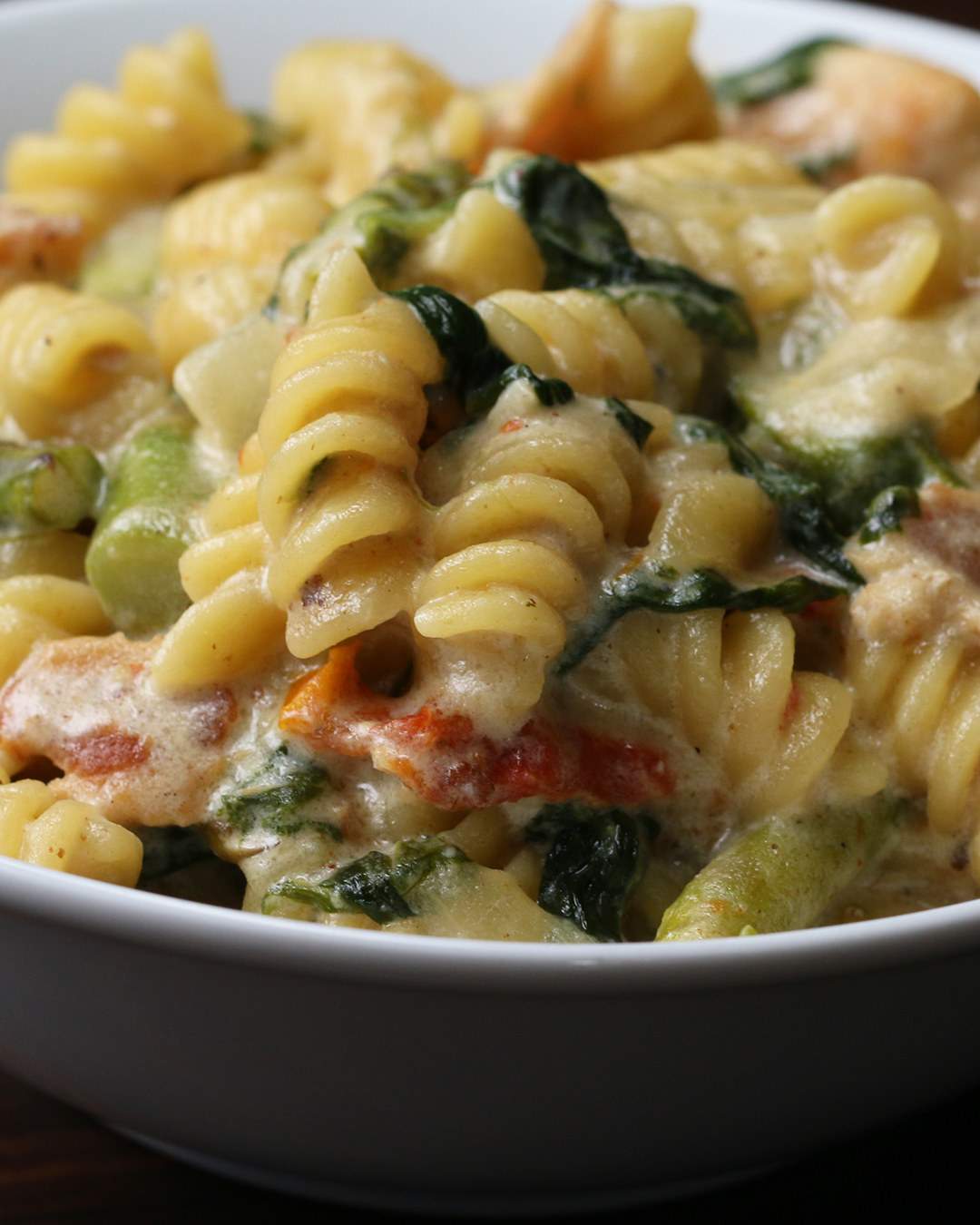 ZUTATEN
5 Streifen Bacon
450 Gramm Hühnerbrust, gewürfelt
1 TL Gewürzsalz
Pfeffer
1 kleine Zwiebel
230g Spargel
3 Knoblauchzehen
450g frischer Spinat
20g sonnengetrocknete Tomaten, grob gehackt
1,4l Milch
450g Fussili
Parmesan
ZUBEREITUNG
1. Brate den Bacon in einem großen Topf bei mittlerer Hitze knusprig. Gieße soviel Fett ab, dass etwa 3 Esslöffel im Topf bleiben. Gib das Hühnchen hinzu, würze mit Gewürzsalz und Pfeffer und lass es braten.
2. Sobald das Hühnchen braun ist, nimm es aus dem Topf, aber lass den Bacon darin.
3. Gib die Zwiebeln und den Spargel hinzu. Rühre, bis die Zwiebeln beginnen, glasig zu werden, gib dann den Knoblauch und Spinat hinzu. Rühre, bis der Spinat zusammengefallen ist, gib dann die sonnengetrockneten Tomaten hinzu und würze mit dem übrigen Salz und Pfeffer.
4. Gieße die Milch über die Mischung aus Gemüse und Bacon und bring sie zum Kochen. Rühre regelmäßig, so dass nichts anbrennt.
5. Gib die Nudeln hinzu, sobald die Milch Blasen wirft, und rühre häufig, bis die Nudeln die gewünschte Konsistenz erreichen (etwa 10 Minuten bei mittlerer Hitze).
6. Rühre den Parmesan ein und verrühre alles, bis der Käse geschmolzen ist.
7. Reinhauen!
Dieser Artikel erschien zuerst auf Englisch.
Looks like there are no comments yet.
Be the first to comment!