1.
John Travolta, Chevy Chase und Bill Murray haben alle die Rolle des Forrest Gump abgelehnt.
2.
Sally Field ist in Wirklichkeit nur 10 Jahre älter als Tom Hanks.
3.
Die Idee für die Szene, in der Forrest in seiner Schule auf dem Korridor sitzt, während seine Mutter mit dem Direktor spricht, kam von dem Norman Rockwell Gemälde "Girl with a Black Eye".
4.
Ice Cube und Dave Chappelle haben beide die Rolle des Bubba abgelehnt.
5.
Jennys Nachname ist Curran, aber er wird im Film nie erwähnt. 6.
Der Film war Haley Joel Osments Kinodebüt. 7.
Elvis Presley wurde im Film angeblich von Kurt Russel gesprochen, er wurde jedoch nie namentlich erwähnt. 8.
Der Satz: "Mein Name ist Forrest Gump. Alle nennen mich Forrest Gump", wurde von Tom Hanks beim Dreh der Szene improvisiert. 9.
Forrest hat auf jedem Foto, das man im Film von ihm sieht, die Augen geschlossen. 10.
In den Totalen der Laufsequenzen wurde Tom Hanks von seinem jüngeren Bruder Jim Hanks gedoubelt. 11.
Es gab in den Tischtennis-Szenen keinen Ball, das war alles computergeneriert. 12.
The Doors haben mit sechs Songs die meisten Lieder in dem Film. 13.
Dies ist der Satz, den Forrest bei der Vietnam Kundgebung sagt, als sein Mikrofon ausgeschaltet ist: 14.
Forrest trägt immer in der ersten Szene eines Alterssprungs ein blau kariertes Hemd.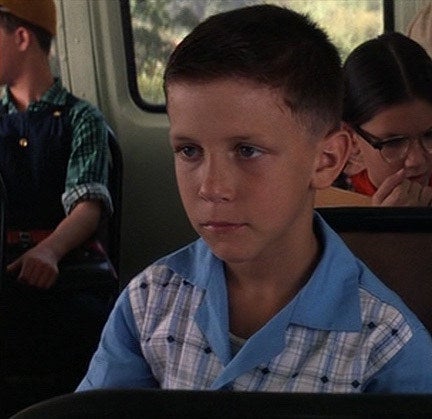 15.
Nach dem Riesenerfolg des Films schrieb Winston Groom (der Autor von Forrest Gump ) die Romanfortsetzung Gump & Co.