Fischstäbchen mit Avocado-Dip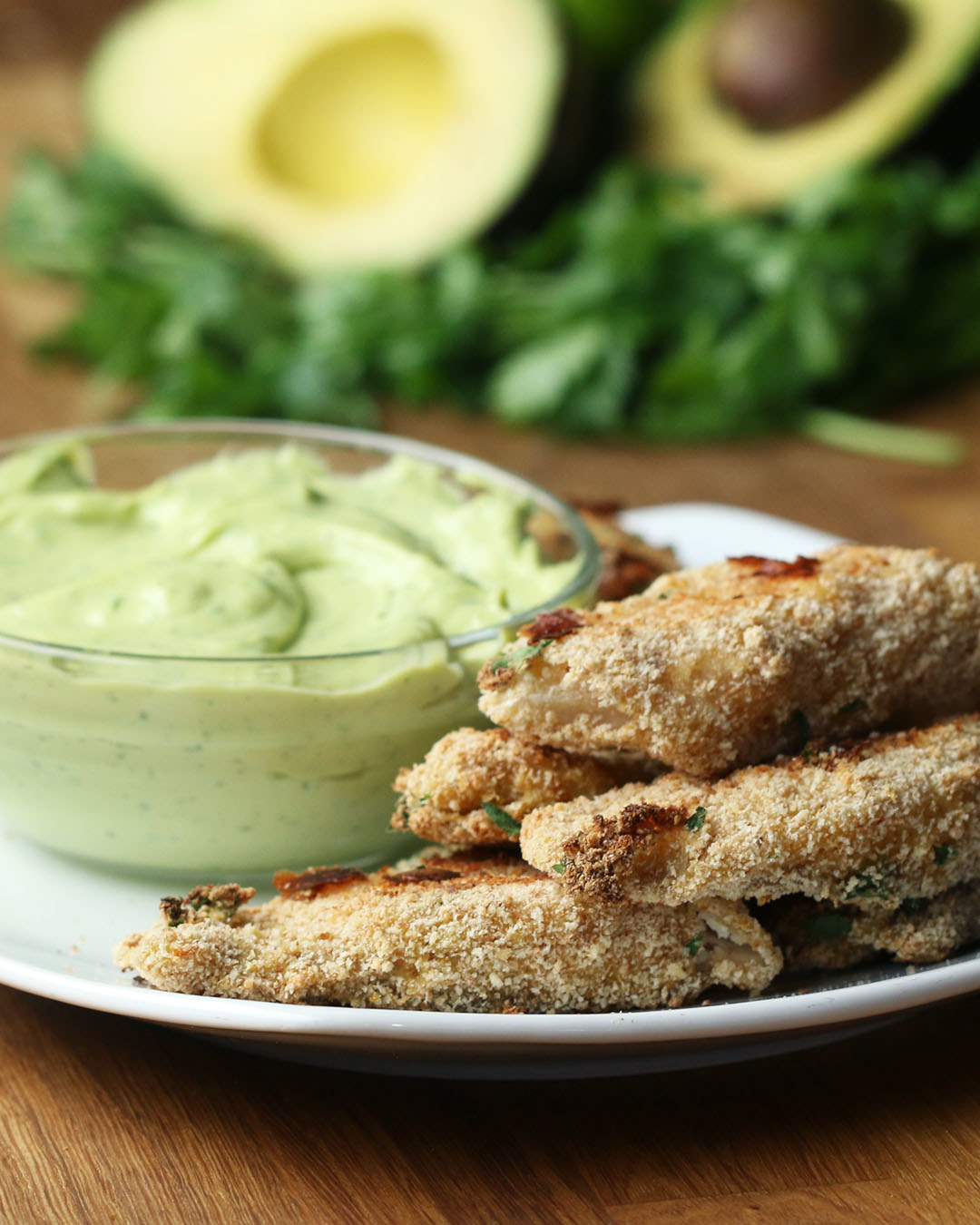 ZUTATEN
Portionen: 6
Fischstäbchen
700 g weiße Fischfilets
135g Paniermehl
2 EL gehackte Petersilie
1 Zitrone, gerieben
125g Allzweckmehl
3 große Eier, verquirlt
Avocado-Dip
2 Avocados
285g Naturjoghurt
60ml Limettensaft
60ml Olivenöl
60ml Koriander
1 Teelöffel Salz
1 Teelöffel Pfeffer
ZUBEREITUNG
1. Ofen auf 200˚C vorheizen.
2. Schneide die weißen Fischfilets in 7 x 10 cm lange Streifen. Stelle sie zur Seite.
3. Vermische Paniermehl, Petersilie und Zitronenschale in einer kleinen Schüssel.
4. Fülle das Mehl und die Eier in zwei verschiedene Schüsseln.
5. Bedecke jeden Fischstreifen mit Mehl, dann mit Eiern und Paniermehl panieren.
6. Lege die Streifen auf ein Backblech und backe sie 15 Minuten bis sie goldbraun sind, wende sie nach der Hälfte der Backzeit.
7. Vermenge die Avocados, Joghurt, Limettensaft, Olivenöl, Koriander, Salz und Pfeffer in einer Küchenmaschine bis alles glatt ist.
8. Serviere den Dip mit den gebackenen Fischstäbchen.
9. Guten Appetit!
Inspiriert von:
https://healthylittlefoodies.com/fish-fingers-with-an-avocado-dip/ und http://saltandwind.com/recipes/480-baked-sweet-potato-fries-cilantro-avocado-dipping-sauce-recipe
Dieser Artikel erschien zuerst auf Englisch.
Looks like there are no comments yet.
Be the first to comment!