One-Pot Salsiccia-Paprika-Pasta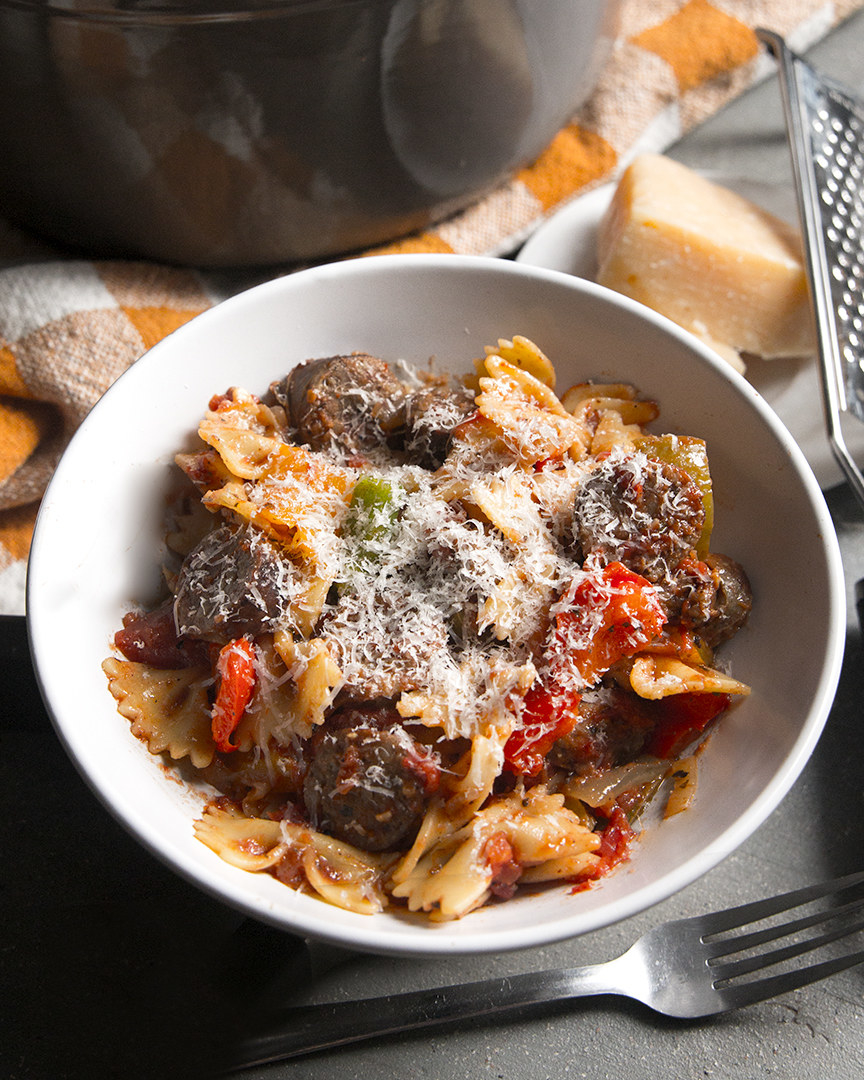 ZUTATEN
Portionen: 4-5
450g Pasta
Olivenöl
6 Salsiccia-Würste
1 rote Paprikaschote
1 grüne Paprikaschote
1 gelbe Paprikaschote
1 Zwiebel
2 Knoblauchzehen
800g gewürfelte Würfel
1 Teelöffel Oregano
1Teelöffel Salz
1 Teelöffel Pfeffer
ZUBEREITUNG
1. Wasser in einem großen Topf zum Kochen bringen, Salz hinzugeben. Dann die Pasta darin 2 Minuten kürzer kochen, als es der Zubereitungshinweis rät. Dann den Nudeltopf vom Herd nehmen.
2. Die Würste in einem neuen Topf in etwas Olivenöl anbraten, bis sie auf beiden Seiten schön braun sind. Dann in kleine Stückchen schneiden.
3. Paprikaschoten, Zwiebeln, Knoblauchzehen, Tomatenwürfel, schwarzen Pfeffer, Salz, Oregano für etwa 2 Minuten köcheln lassen. Dann die Wurst-Stückchen in den Topf geben.
4. 10 Minuten köcheln lassen.
5. Jetzt die Pasta in den Topf geben und gut umrühren. Alle Zutaten sollen sich gut miteinander vermischen. Pasta kochen, bis sie al dente sind.
6. Das Ganze mit geriebenem Parmesan garnieren.
7. Fertig und so hmmmmm.
Dieser Artikel erschien zuerst auf Englisch.
Looks like there are no comments yet.
Be the first to comment!