Chili-Käse-Würstchen-Boot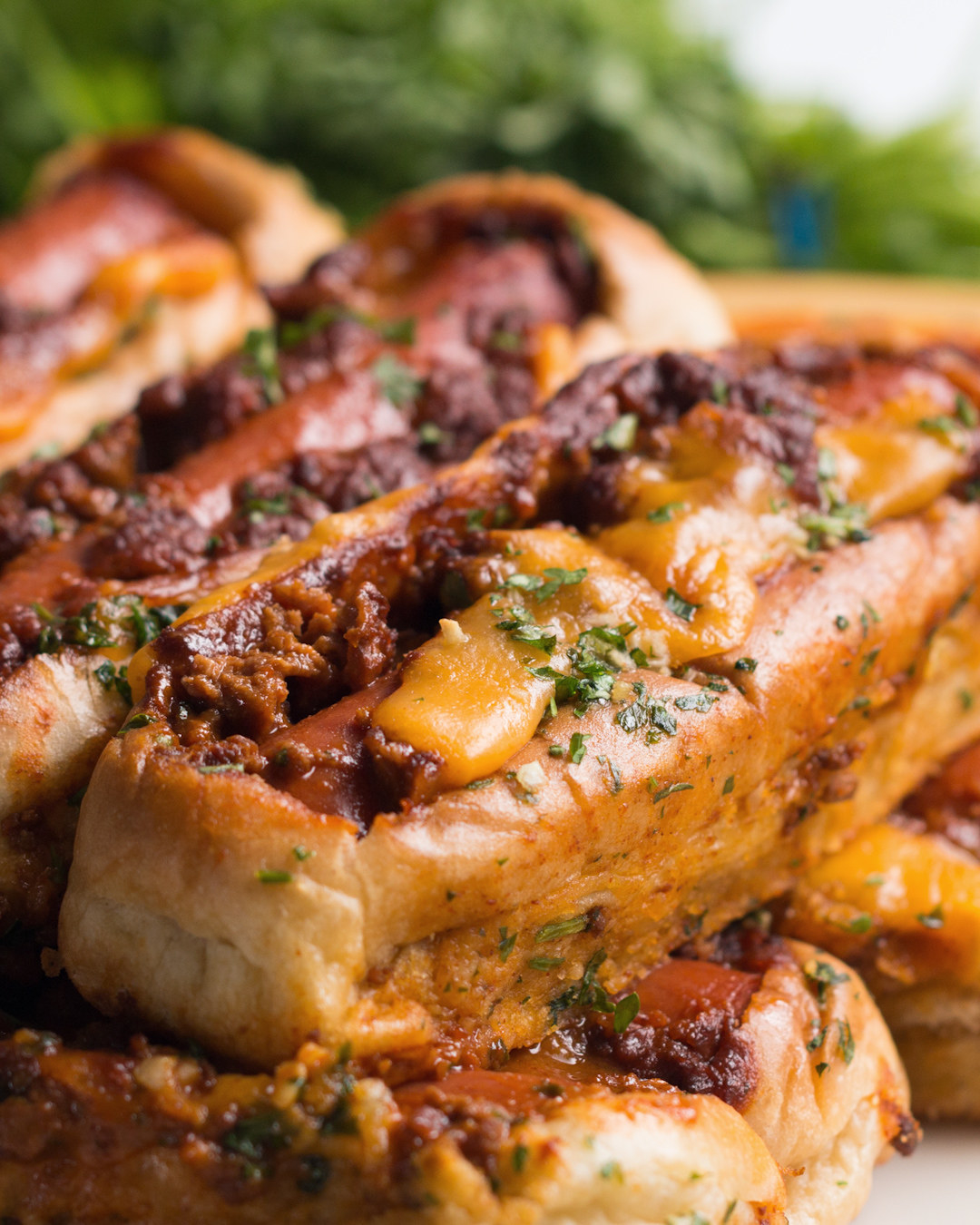 ZUTATEN
1 8er-Pack Hotdogbrötchen
60 ml Butter, geschmolzen
2 Knoblauchzehen, zerdrückt
2 Esslöffel Petersilie, fein gehackt
8 Scheiben Cheddarkäse
Würstchen
ZUBEREITUNG
1. Ofen auf 180°C vorheizen.
2. Leg die 8 Hotdogbrötchen in eine ca. 22x32cm große Auflaufform, schneide dann ein Rechteck in jedes Hotdogbrötchen und achte darauf einen Zentimeter von den Rändern zu fernzubleiben.
3. Drück die Brotaussparung nach unten und presse sie fest auf den Boden von jedem Brötchen und achte auch darauf die unteren Kanten nach unten zu drücken. Dadurch wird ein größerer Raum für die Füllungen geschaffen und eine Sauerei reduziert.
4. Vermenge die Butter, den Knoblauch und die Petersilie in einer kleinen Schüssel und bestreiche dann die Brötchen und ihre ausgehöhlten Innenseiten mit der Knoblauchbutter.
5. 5 Minuten lang backen, um die Brötchen zu toasten sowie außerdem den Seiten der Brötchen zu helfen fest zu werden, damit sie nicht unter dem Gewicht der Füllungen zusammenbrechen.
6. Leg eine Scheibe Cheddarkäse in jedes Brötchen, löffle dann ein bisschen Chili in jedes hinein.
7. Schiebe den Hotdog eng anliegend auf das Chili, dann mit mehr Chili bedecken.
8. 20 - 25 Minuten lang backen, bis der Käse goldbraun ist und das Chili anfängt zu bräunen.
9. Schneid die Hotdogboote entlang ihrer verbundenen Säume auf, dann guten Appetit!
Dieser Artikel erschien zuerst auf Englisch.
Looks like there are no comments yet.
Be the first to comment!