Pilze mit Knobi-Parmesan-Füllung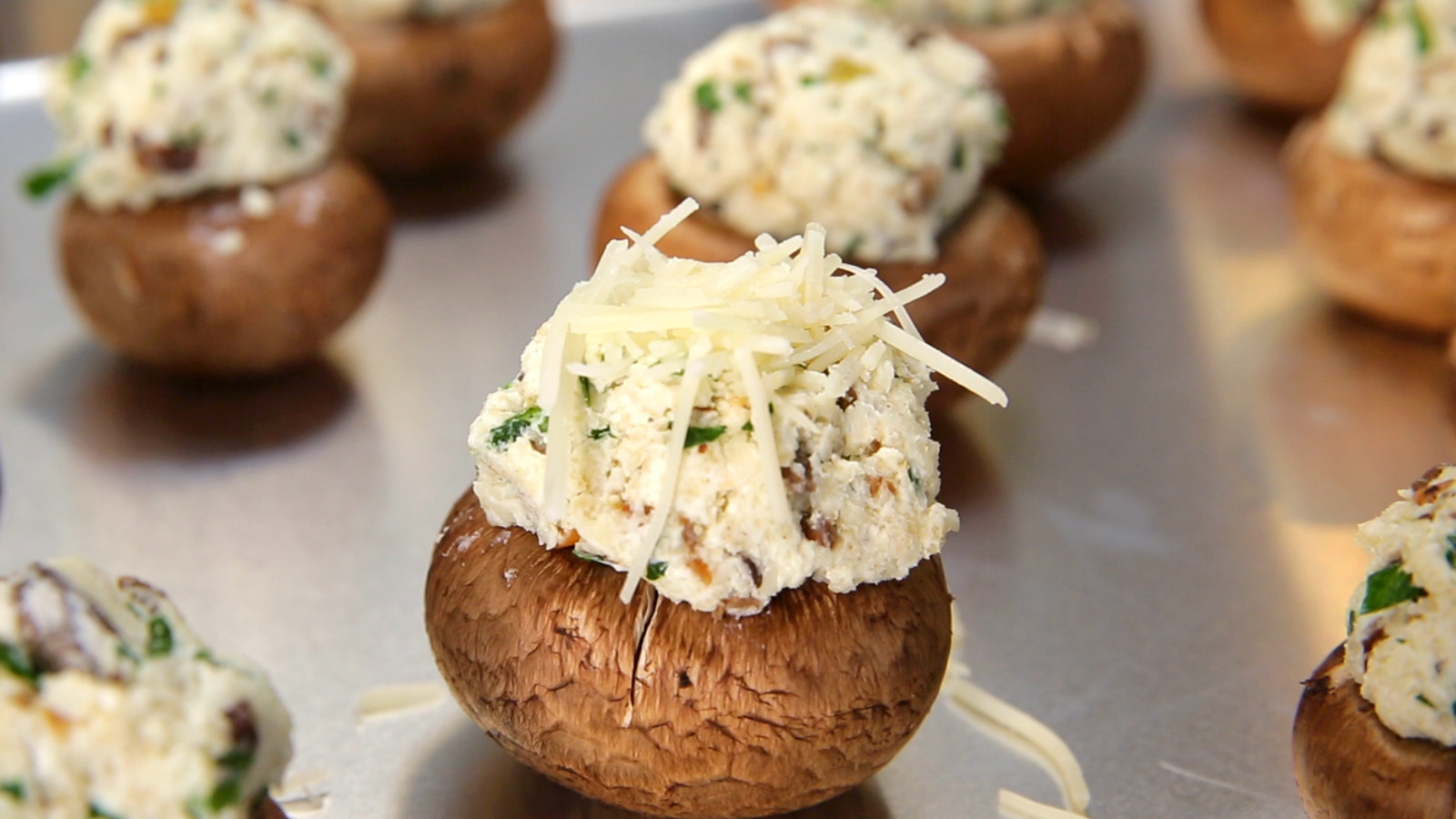 ZUTATEN
Ergibt 15 Stück
15 Pilze
1 TL Rapsöl
2 TL gehackter Knoblauch
1/2 TL grobes Salz
1/2 TL frisch gemahlener schwarzer Pfeffer
230g Frischkäse
25g Semmelbrösel
25g geriebener Parmesan
2 TL gehackte Petersilie
grobes Salz
frisch gemahlener schwarzer Pfeffer
gehackte Petersilie, zum garnieren
ZUBEREITUNG
1. Ofen auf 180°C vorheizen.
2. Die Stiele aller Pilze abschneiden und fein hacken. Die Pilzhüte für später beiseite legen.
3. Das Öl in einer Pfanne auf hoher Stufe erhitzen. Die gehackten Stiele mit Knoblauch, Salz und Pfeffer für sechs bis acht Minuten unter ständigem Rühren anbraten. Pass auf, dass der Knoblauch nicht anbrennt. Vom Herd nehmen.
4. In einer mittelgroßen Schüssel die gebratenen Stiele, Frischkäse, Semmelbrösel, die Hälfte des Parmesans, Petersilie, Salz und Pfeffer vermischen, bis eine gleichmäßige Masse entsteht. Die Masse sollte sehr fest sein.
5. Verteile die Pilzhüte gleichmäßig mit der Öffnung nach oben auf einem Backblech. Fülle die Pilze mit einer großzügigen Portion der Frischkäse-Mischung. Streue auf jeden Pilz ein wenig von dem Parmesankäse. Für 20 Minuten backen.
6. Mit einem Hauch Petersilie garnieren - dann servieren!
Dieser Artikel erschien zuerst auf Englisch.
Looks like there are no comments yet.
Be the first to comment!