Japanisches Schweineschnitzel (Tonkatsu) mit Curry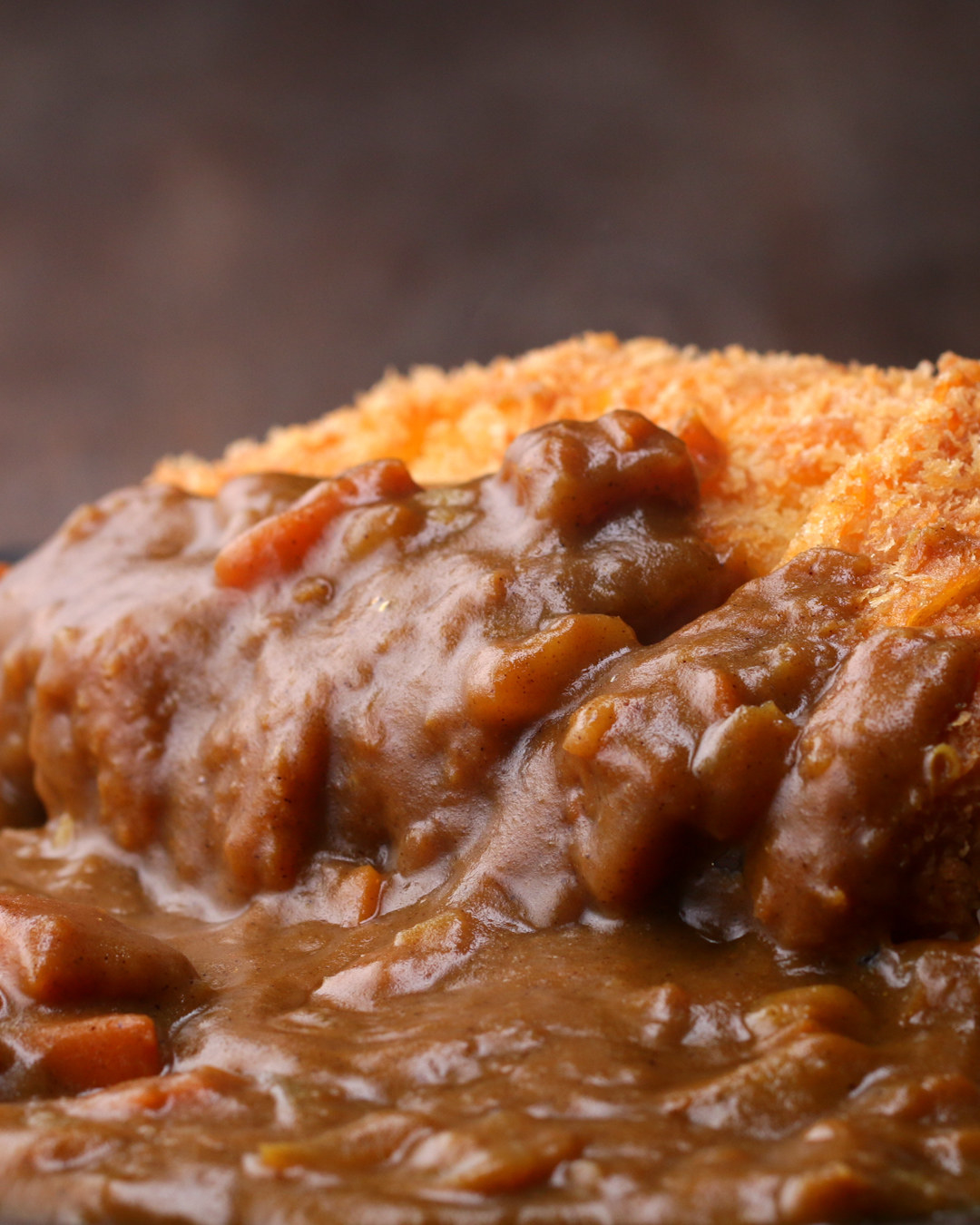 Zutaten:
Reich für 4 Personen
Schweineschnitzel:
4 Schweinekoteletts, ohne Knochen
Salz, nach Geschmack
Pfeffer, nach Geschmack
4 Shiso Blätter
4 Scheiben Mozzarella
125 g Mehl
3 Eier
400 g Panko-Mehl
Öl, zum Frittieren
Japanisches Curry:
1 EL Öl
½ Zwiebel, in Scheiben
2 mittlere Kartoffeln, gewürfelt
1 mittlere Möhre, gewürfelt
720 ml Wasser
80 japanische Currypaste
750 g gekochten Reis
Zubereitung
1. Die Schweinekoteletts beidseitig mit Salz und Pfeffer würzen.
2. Das Kotelett seitlich aufschneiden.
3. Eine Scheibe Mozzarella auf ein Shiso-Blatt legen und dann die Mozzarellascheibe über die Hälfte falten.
4. Den Käse in das Kotelett legen.
5. Das gleiche mit den anderen Schweinekoteletts machen.
6. Das Kotelett in Mehl wälzen.
7. Dann das Kotelett erst komplett ins Ei legen, danach im Panko-Mehl wälzen. Das ganze noch einmal wiederholen.
8. Das mit den restlichen Koteletts wiederholen.
9. Das Öl bei mittelhoher Hitze auf 180˚C erhitzen.
10. Ein Schweineschnitzel nach dem anderen goldbraun frittieren, dann auf einem Papierhandtuch das überschüssige Öl abtropfen lassen.
11. Die Zwiebel anschwitzen, bis sie glasig sind, dann die Kartoffeln und die Möhre dazugeben. 1 Minute köcheln lassen und dann das Wasser hinzugeben und zum Kochen bringen.
12. Hitze runterdrehen und für 10 Minuten köcheln lassen.
13. Die Currypaste dazugeben und verrühren bis sie sich aufgelöst hat.
14. Weitere 10 Minuten bei schwacher Hitze köcheln lassen, dann beiseite stellen.
15. Die Schweineschnitzel in ca. 1 cm breite Stücke schneiden.
16. Zum Servieren das Schweineschnitzel auf den Reis legen und dann großzügig Curry über das halbe Schnitzel geben.
17. Guten Appetit!
Looks like there are no comments yet.
Be the first to comment!