Prime Ribs mit Knoblauch-Kräuter-Butter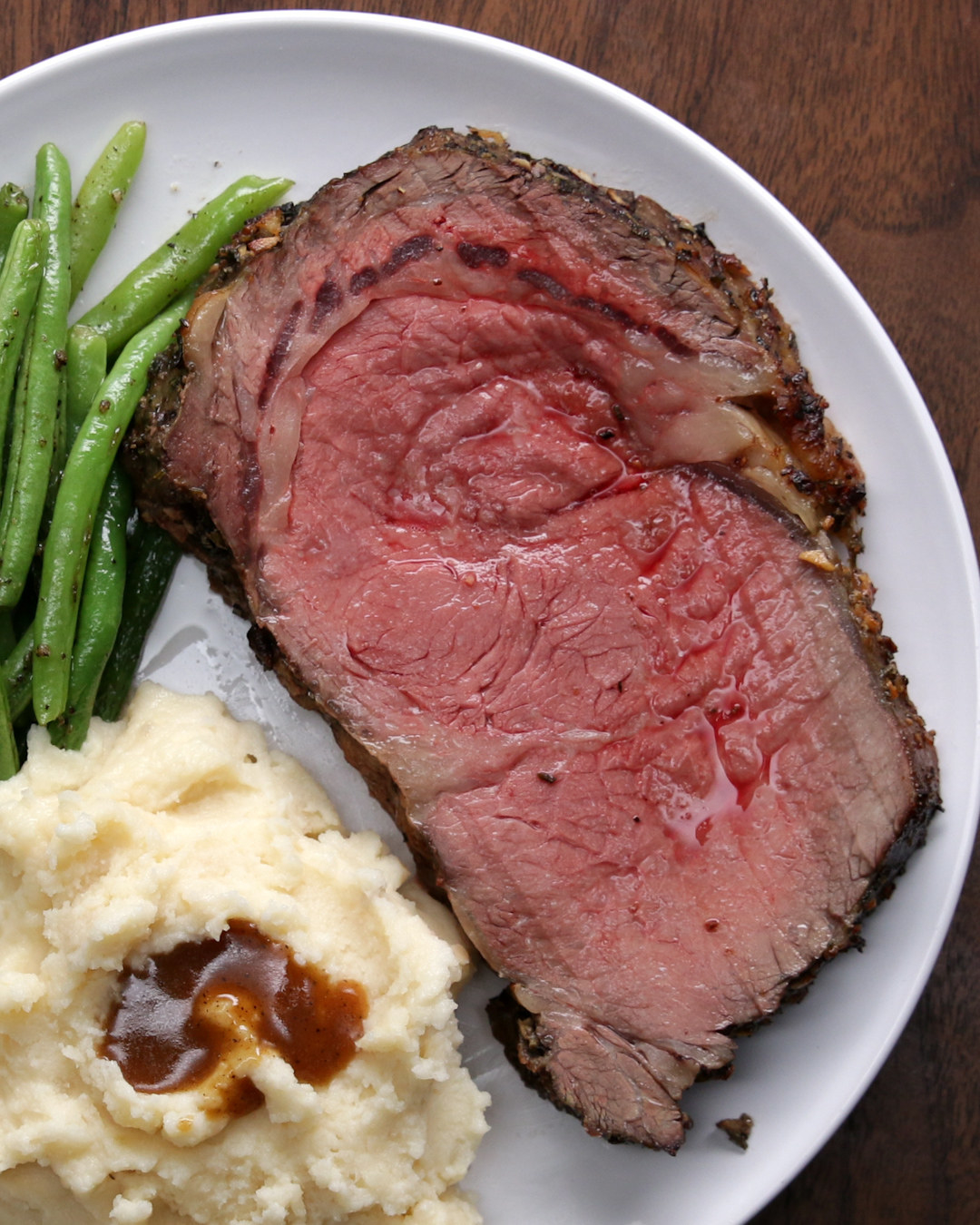 ZUTATEN
Servings: 7-9
225g weiche Butter
7 Knoblauchzehen
2 EL frischer Thymian
2 EL frischer Rosmarin
2 EL Salz
1 EL Pfeffer
2,25kg - 2,15kg Rib Roast (Hochrippe) ohne Knochen
2 EL Mehl
500ml Rinderfond
Als Beilage: Kartoffelpüree, grüne Bohnen
ZUBEREITUNG
1. Ofen auf 260°C vorheizen.
2. Butter, Knoblauch, Kräuter, Salz und Pfeffer in einer Schüssel gut vermischen.
3. Die Butter gut und gleichmäßig auf dem Fleisch verteilen, dann die Rippe auf einen Grillrost geben, unter dem ein Blech oder Gefäß stehen sollte, das den Bratensaft auffängt.
4. Pro 450g 5 Minuten garen - ein 2,25kg schweres Stück Fleisch müsste also 25 Minuten in den Ofen.
5. Die Hitze herunterdrehen und den Rib Roast für 2 Stunden im Ofen lassen, während dieser Zeit die Tür nicht öffnen, sonst entweicht die Hitze.
6. Nach den Zwei Stunden den Roast aus der Form nehmen und den Bratensaft in einer Casserole bei mittlerer Hitze erwärmen.
7. Mehl hinzugeben und gut unterrühren, so dass keine Klümpchen entstehen, dann den Rinderfond dazugeben und die Sauce köcheln lassen.
8. Von der Hitze nehmen und in eine Sauciere geben.
9. Die Rippe in Scheiben schneiden und mit Kartoffelpüree, grünen Bohnen und der Sauce servieren.
10. Reinhauen!
Dieser Artikel erschien zuerst auf Englisch.
Looks like there are no comments yet.
Be the first to comment!