Churro Donuts mit Schokofüllung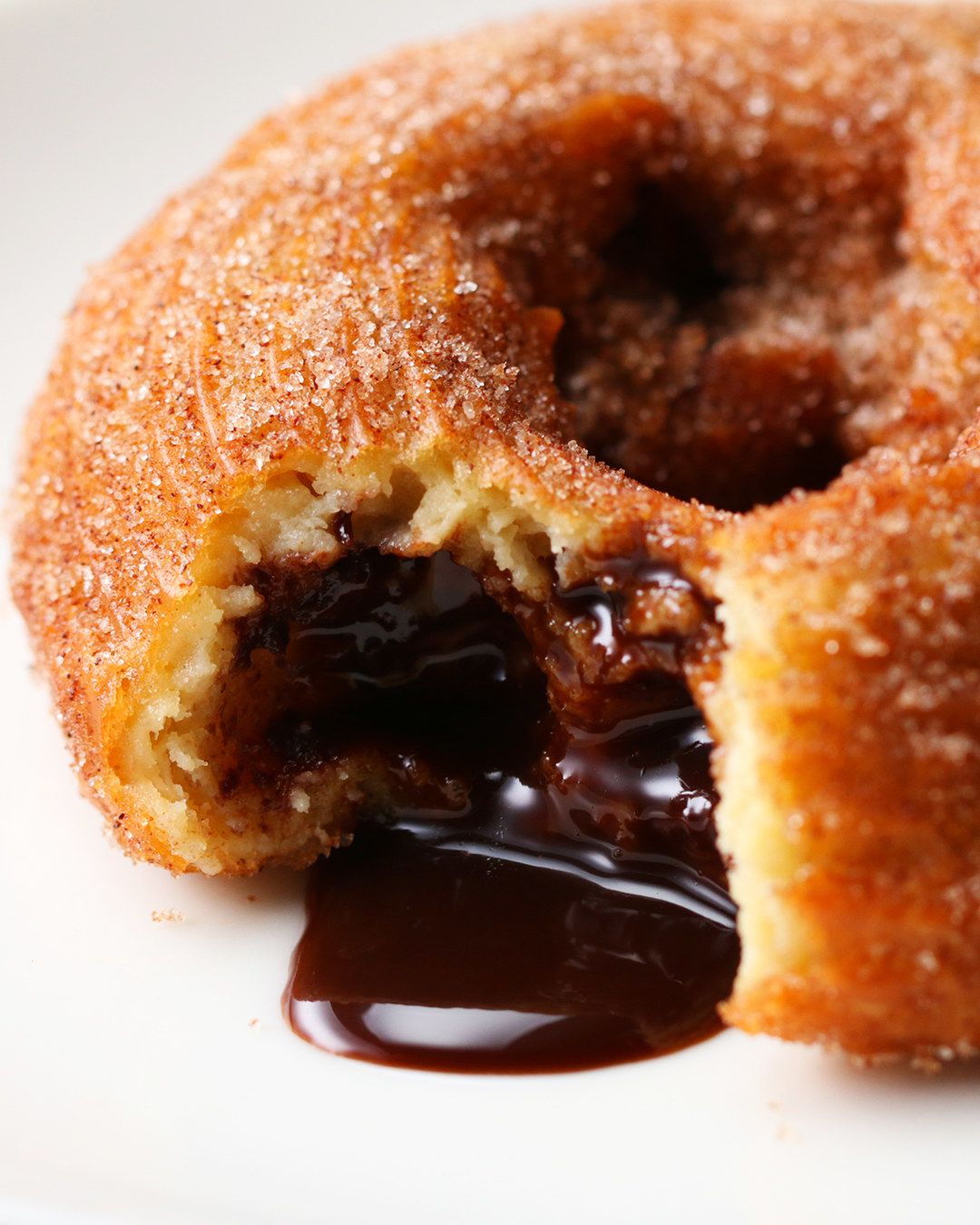 ZUTATEN
55 g Butter, gewürfelt
2 EL brauner Zucker
1/2 TL Salz
225 ml Wasser
140 g Mehl
1 TL Vanille
3-4 Eier
3-4 eggs
85 g Schokosplitter
Öl zum Frittieren
Zimt und Zucker
Zubehör
Spritztülle mit sternförmigen Aufsatz
Antihaft-Backblech
PREPARATION
1. Butter, braunen Zucker, Salz und Wasser bei mittelstarker Hitze zum Kochen bringen.
2. Sobald die Butter komplett geschmolzen ist und die Masse anfängt zu köcheln, die Hitzezufuhr reduzieren und Mehl hinzufügen.
3. Die Masse mit einem Holzlöffel rühren, bis sich keine Klumpen mehr bilden.
3. Den Teig vom Herd entfernen und mindestens 5 Minuten abkühlen lassen (damit die Eier nicht flocken).
5. Vanille und ein Ei nach dem anderen unter sorgfältigem rühren hinzugeben. Den Teig in die Spritztülle geben.
6. Mit der Spritztülle Ringe auf dem Backblech formen, diese mit den Schokosplittern belegen und mit weiterem Teig bedecken.
7. Das Backblech tiefkühlen (mindestens 3 Stunden oder über Nacht).
8. Öl in tiefem Topf auf 175˚ erhitzen.
9. Die Churro-Donuts mit einem Buttermesser vom Blech lösen.
10. Die Donuts nach und nach frittieren bis sie goldbraun und durch sind (nicht zu viele in den Topf geben).
11. Die Donuts auf Papiertüchern abtropfen lassen und in Zucker und Zimt wenden.
12. Guten Appetit!
Dieser Artikel erschien zuerst auf Englisch.
Looks like there are no comments yet.
Be the first to comment!