Knoblauchbrot mit Buletten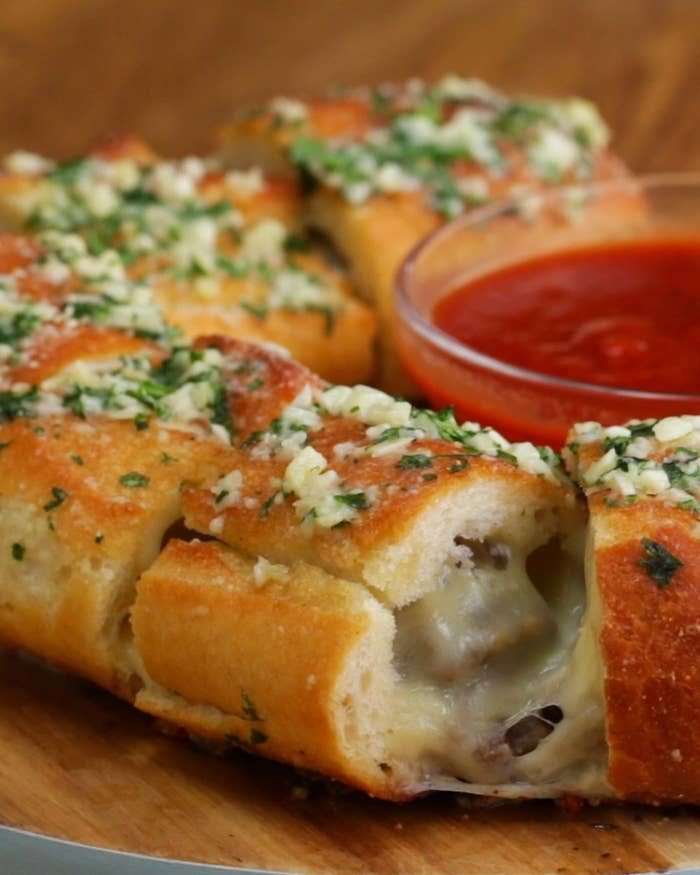 ZUTATEN
1 Baguette
450 g Rinderhack
25 g Paniermehl
2 EL gehackte Petersilie
1/2 EL Salz
1/2 EL Pfeffer
1 Eier
10 - 12 Scheibe Mozzarella
Tomatensauce
Knoblauchbutter
3 EL geschmolzene Butter
3 gehackte Knoblauchzehen
2 EL gehackte Petersilie
2 EL geriebener Parmesan
ZUBEREITUNG
1. Ofen auf 180˚C vorheizen.
2. Rinderhack, Paniermehl, Petersilie, Ei, Salz und Pfeffer zu einer Masse vermengen und zu kleinen Bällchen formen.
3. Die Fleischbällchen bei mittelstarker Hitze braten bis sie von beiden Seiten braun sind und sie dann auf einem Papiertuch abtropfen lassen.
4. Das Baguette in Viertel oder Drittel schneiden (die Teile sollten etwa so lang sein wie zwei Fleischbällchen aneinander gelegt.)
5. Die Baguetteteile aushöhlen.
7. Die Fleischbällchen in je zwei Scheiben Mozzarella wickeln und diese dann in die Baguetteteile stecken.
8. Die Baguetteteile in Scheiben schneiden und auf einem Backblech mit Alufolie anordnen.
9. Die Zutaten für die Knoblauchbutter in einer kleinen Schüssel vermengen und den Mix gleichmäßig auf dem Baguette verteilen.
10. Die Alufolie um die Baguetteteile wickeln und 15 - 20 Minuten lang backen bis der Käse geschmolzen ist und das Brot leicht gebräunt ist.
13. Die Alufolie entfernen und mit Tomatensauce servieren
14. Guten Appetit!
Want BuzzFeed Tasty right in your inbox? Sign up for our newsletter!
If you can't see the signup box above, just go here to sign up for the BuzzFeed Tasty newsletter!
Dieser Artikel erschien zuerst auf Englisch.