Hähnchen-Parmesan-Lasagne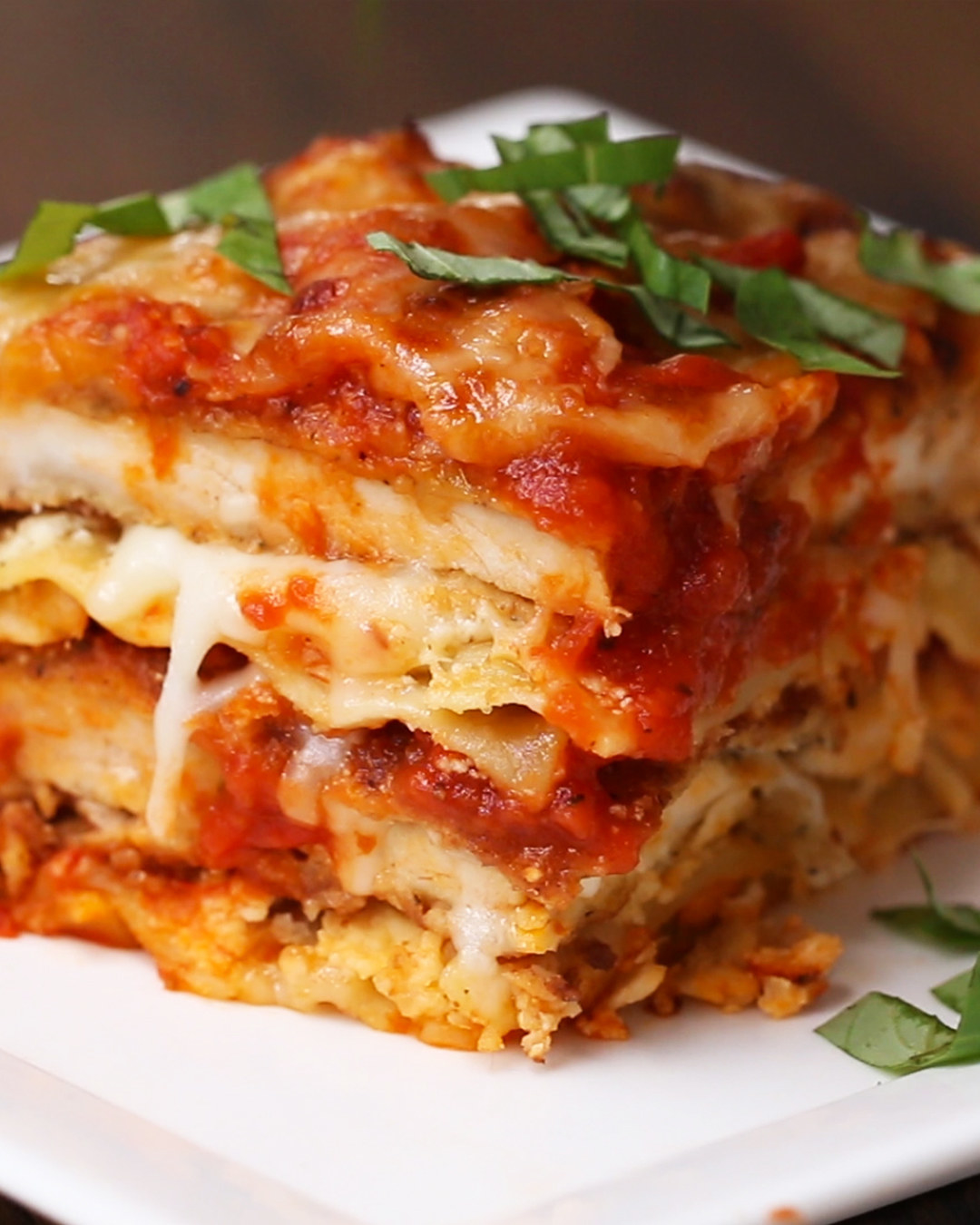 ZUTATEN
Für 10 Portionen
3 Hähnchenbrüste
250 g Paniermhel
5 Eier
120 g Mehl
700 ml Tomatensoße
500 g Ricotta
8 Lasagneplatten
250 g Mozzarella
120 g Parmesan
Pflanzenöl
Basilikum
ZUBEREITUNG
1. Ofen auf 180°C vorheizen
2. Hähnchenbrust der Breite nach halbieren und mit Salz und Pfeffer würzen.
4. Hähnchen in Mehl, dann in Ei und zum Schluss in Paniermehl wenden.
5. Öl in einer ofenfesten Pfanne erhitzen und Hähnchen auf beiden Seiten braten, bis es braun ist (etwa 4 Minuten pro Seite). Beiseite stellen.
6. In einer Schüssel ein Ei in den Ricotta mischen, beiseite stellen.
7. ⅓ der Tomatansoße in eine Auflaufform geben, Lasagneplatten überlappend darüber legen.
8. Die halbe Ricottamasse auf den Nudeln verteilen und mit dem Hähnchen toppen.
9. Das Hähnchen mit einer großen Handvoll Mozzarella und Parmesan bestreuen.
10. Diese Kombination weiter schichten und mit dem Rest Käse toppen.
11. Mit Alufolie abdecken und für 45-60 Minuten backen, dabei für die letzten 10 Minuten ohne Alufolie backen.
12. Mit frischen Basilikum bestreuen und genießen!
Dieser Artikel erschien zuerst auf Englisch.
Looks like there are no comments yet.
Be the first to comment!